For the second time this year, Sofitel and RunRio partnered up to bring you the Battle of the Sexes. I unfortunately missed the first leg due to a last minute change of event date caused by a typhoon, and I was glad I didn't miss out on this second one!
A Kind Act from the People of Sofitel for Me (After I lost my race bib)
When I woke up this morning, I hurriedly took a quick shower and got ready. My companions and I were ready to go. I then reached out for my envelope of race bibs only to find out my Battle of the Sexes bib was not inside! I scampered through my room looking everywhere for my 10k race bib! 5 minutes later, I gave up and told my companions to go on without me. I felt very disappointed. This is the first time I misplaced a race bib. I immediately texted Ms. Jane Santiago of Sofitel to inform her I will no longer be participating in the run. She quickly responded and even called me to tell me that I had to go and she'll find a way. Eventually, she informed me that she will let me use her race bib instead. Just because she'd feel bad if I didn't get to run. I was in between emotions when she called. I was happy that I'd still get to run but guilty for taking Jane's bib and embarrassed for my blunder.
I got to MOA and Jane insisted that I run in her behalf. I can't thank Jane and the people of Sofitel enough for everything! The sponsored race kits for the giveaway, my sponsored kit, and now, even Ms. Jane's personal bib just so I can run! Proves that the people here aren't just all about the money or the business. Thank you, thank you Sofitel!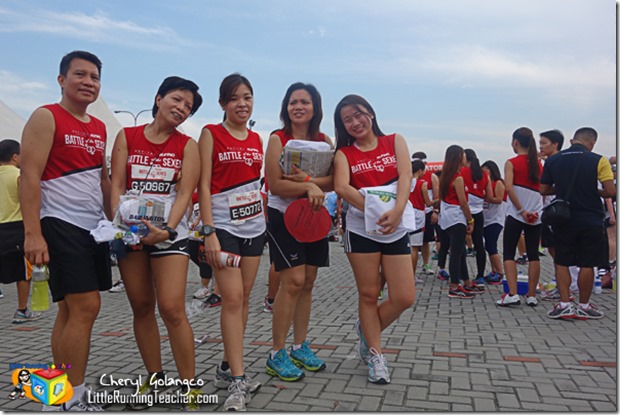 My friends and I after the Battle of the Sexes Run
I wanted to take a photo with Ms. Jane but could no longer find her after the event proper. Thank you again Ms. Jane for everything!
Battle of the Sexes Leg 2
Ever since their first leg, I have always been curious how RunRio was going to pull off a run like this. It's not the same as other runs as there will be 2 separate gun starts for the male and female. I wondered how Rio would pull it off. Today I experienced first hand just how good RunRio is. Everything went nice and smooth! The entire run was organized! I think I actually had more fun here than other races because I was running with other women! It didn't feel overcrowded and we all had enough room to sprint if we wanted to. The route was also really nice and the weather was just perfect!
The men and women at Sofitel-RunRio's Battle of the Sexes Leg 2
If there's one thing that could be fixed, it would probably be the claiming of finisher's kits. I finished early s I was easily able to claim mine before everyone else arrived. Later on however, I noticed that despite there being around 4 to 5 tents to claim the finisher's bags, the lines were still really long. There were only a few people inside the tent distributing the bags plus I think they ran out before everyone got one. Other than this, the event was fun and well organized! I definitely look forward to a leg 3 or another set next year!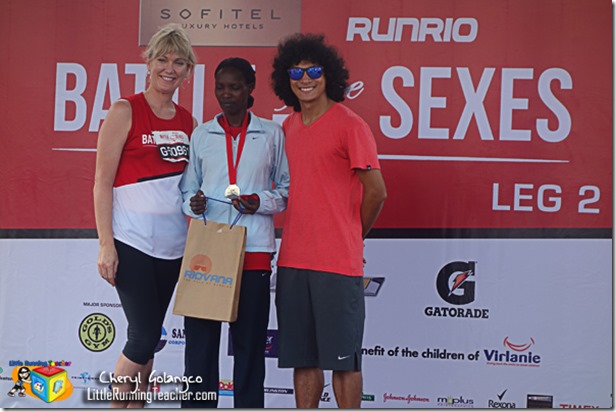 Woohooo! The ladies got this one! Overall champion, 10k division – FEMALES!
Other winners per age category during the Sofitel-RunRio Battle of the Sexes Leg 2
During the program proper, the top male and female finishers for each age group were awarded on stage! I liked the way this awarding is done because more people get a chance to win. A male Kenyan was the overall top finisher in the 5km category, while a female Kenyan topped the 10km category. So guess it's a tie for both sexes in Leg 2! Whoohoo! Leg 3 for the win?? Let's see!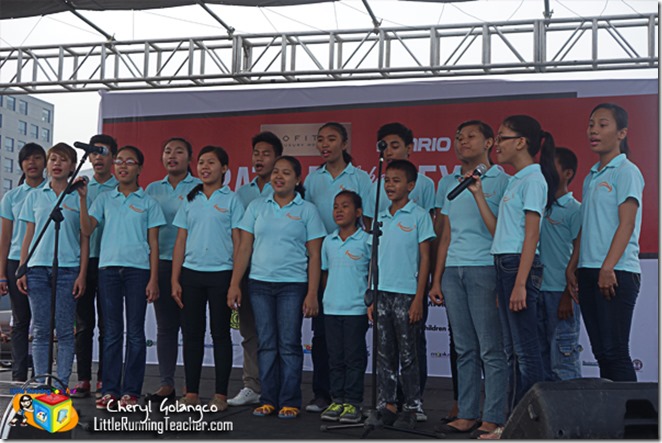 A short presentation was also given by the children of the Virlanie choir. Their voices were AMAZING! It's so nice how Virlanie finds these children and gives them another shot at a brighter future. If you guys wanna help out, do contact Virlanie!
Finally, the moment everyone has been waiting for, the announcement of the winner for the 3 days 2 night stay at the Sofitel's deluxe suit! I secretly hoped the winner wouldn't be present. haha But a number was called and the winner, Mr. Albert quickly rushed up on stage to claim his prize! Congratulations to you sir! I am soooo jealous! Enjoy your stay at Sofitel!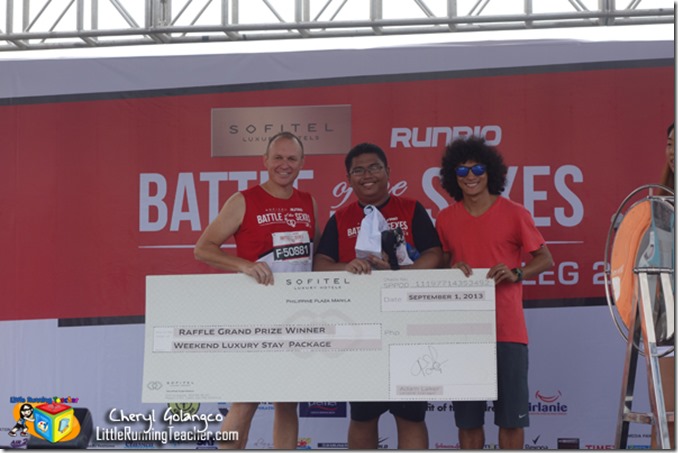 Congratulations Sir!
Overall, the run was fun and well organized! I look forward to the next.
What are your thoughts on this morning's run? What were your favorite parts of the Battle of the Sexes and what do you think the organizers should change, improve or add on to the next race? Share your thoughts in the comments below.
Battle of the Sexes: Thoughts, Results and Experiences