After the successful Run 800 in 2013, Run 1000 in 2014 and Run 1500 in 2015, 7-Eleven will be holding Run 2016 this coming January 17, 2016.
For the past years, 7 eleven has been celebrating each milestone through the 7-eleven runs. Early this year, they celebrated the opening of their 1000th store and through a very successful run along Cavitex. But before you start imagining 2016 7-eleven stores, the organizers have opted to rename the run by the year instead. Don't worry as we will still be getting the same awesome experience from the organizers!
Just as in the previous years, the top 3 male and female finishers for the 21k and 42k categories will be sent to compete in one of the international races! This year, they were sent to Phuket, Thailand where they participated and bagged several major prizes in the Laguna Phuket International Marathon.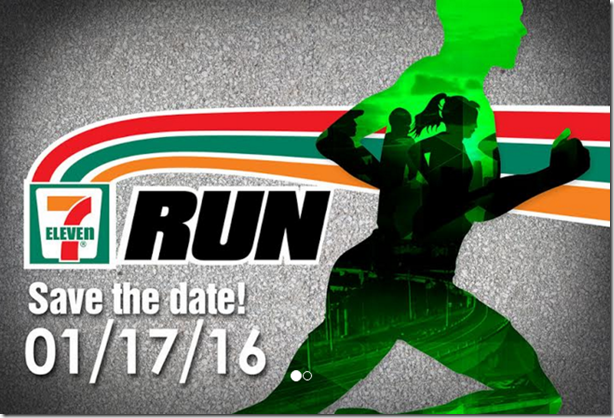 7-Eleven Run 2016
When: January 17, 2016 (Sunday)
Where: Filinvest, Alabang/ Skyway
Race Owner:         7-Eleven
Race Categories: 42KM, 21KM, 10KM, 16KM, 10KM, 10KM Buddy, 5KM, 3KM and 500 Meter (Kids run).
Assembly and Gun Start Times per wave: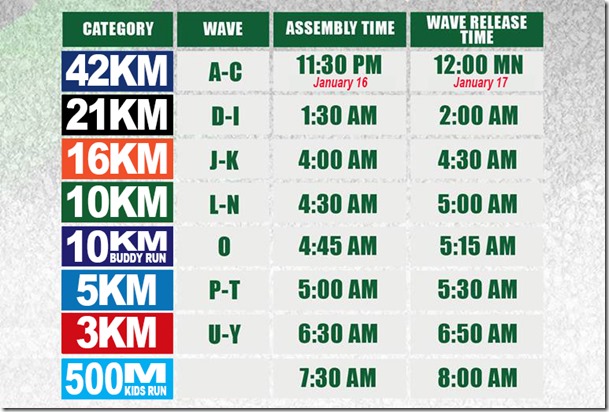 7-Eleven Run 2016 Registration Details
Online Registration at http://www.run711.com/ until Dec. 30, 2015
*pay the fees at any 7-Eleven store within 48 hours
*race Kits can be claimed on the date indicated on the receipt, and from the same store where payment has been made.
Registration Fees:
42k – P1,500
21k – P1,000
16k – P800
10k (solo) – P700
10k (buddy) – P1000
5k – P600
3k – P500
500m (kids' run) – P400
Registration via Everyday Rewards
You can use your existing regular points or RUN E-stamps to redeem a Run 2016 Race kit and enter any race category.
400 Regular points = 1 Race Kit
100 E-Stamps = 1 Race Kit
* If you want to redeem 10KM Buddy Run Race Category, you will be needing 800 points or 200 E-Stamps.
Products from the listed brands will earn you RUN-E Stamps:
Participating items worth P50 and below will earn (1) E-Stamp
Participating items worth P51 and above will earn (2) E-Stamps
Participating Brands:
Safeguard
Selecta – Cornetto and Magnum
Pocari Sweat
Del Monte
Nature's Spring
Gatorade
Powerade
Summit
7-Eleven Run 2016 Runner's Kit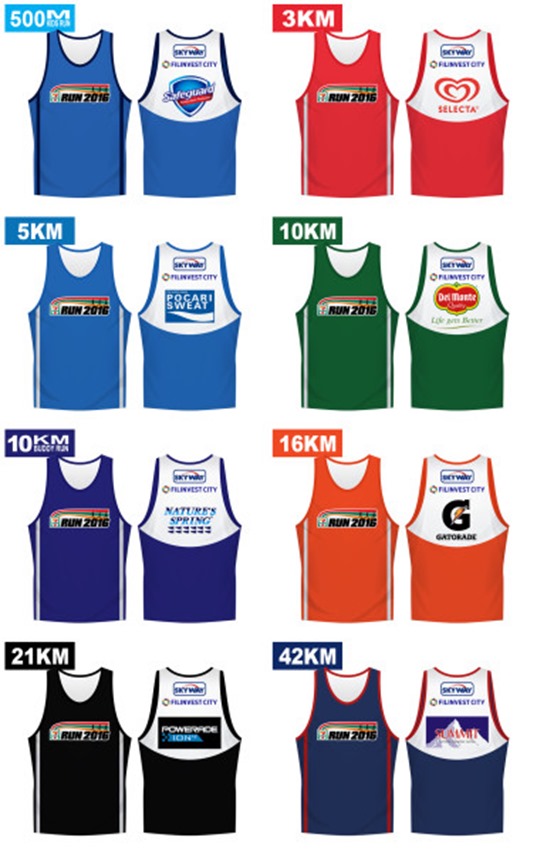 42km Finisher's Shirt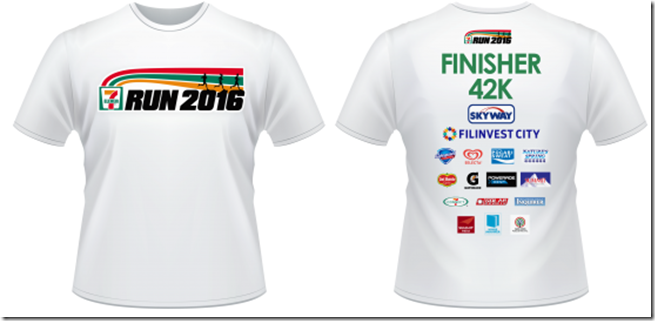 Finisher's Medals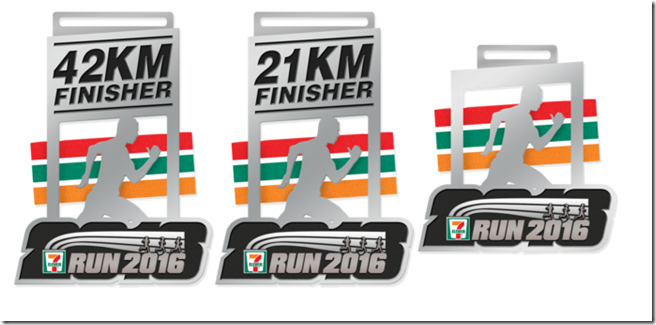 7-Eleven Run 2016 Race Routes
*Click the links and zoom in for the full race route
7-Eleven Run 2016 Prizes and Awards
*Top 3 organizations (schools/ companies/ clubs/ institutions) with the highest number of registration will receive a special trophy
Top Finisher's Prizes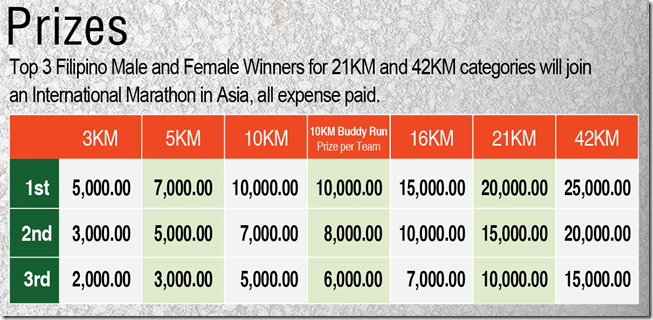 It's not often that you get to see this many brands in one run! So if I were you, grab this opportunity and see you in Alabang!
For more information visit
https://www.facebook.com/run711/
Also check out how the winners enjoyed Thailand early this year!
For updates on other runs or to just keep in touch
visit http://www.facebook.com/littlerunningteacherpage
twitter.com/cherylgolangco
instagram: @cherylgolangco