3 starting points… MAKATI, PICC and MALL OF ASIA… 1 finish line at the Mall of Asia Concert grounds! 10.10.10! The BIG day! Can we make it to the Guinness Book of World Record for the Largest Eco-foot race?
There was an estimate of 160, 000 runners registered for today's event! Yep, 160 THOUSAND!!! The most number of people in a race is usually just below 10 thousand! I attended one that had 11,000 runners and turned out to be really hectic already! What more 160k?!
MY EXPERIENCE
Gun start was 6am, so I got up 2 hours before the time. Took a quick shower just to feel alive and started to get ready. I left the house around 5:15. That's usually enough time for me to get to CCP, considering that there is no traffic this early in the morning. However, I couldn't get a cab! My fiance and I waited outside the house for 30minutes and couldn't get a cab! This was the first time during an early Sunday morning run that we couldn't get a cab! Luckily, a cab arrived. He opened his door and asked us to get in. However, he had a passenger up front. She however said it's okay. Normally, I wouldn't get in but since we were in such a hurry, I just went with it and prayed that I wasn't about to get kidnapped! (haha!)
Turns out, the girl was also on her way to the run! She was a student, though I didn't catch the name of her school. Her name is Jem. Nice meeting you Jem! Thanks for letting me hitch a ride! Around 10minutes before 6, she called her friends asking where they were! Turns out, there was an early gun start and everyone had already started running! By the time we arrived at the starting line, the race had already gone on for 30minutes!
I wanted to run…. I wanted to at least TRY to catch up (even though it was unlikely), but I just couldn't! There were too many students coming from FEU, UST, UERM in front of me! There were many companies such as Air 21, 2go, and Accenture as well! Most of them were just walking and I just couldn't run pass them! I would run a bit but then suddenly come to abrupt stops whenever I'd come across a group of teenagers walking. I ended up just walking most of the way.
And on the way home… another 5k walk back… giving me a total of 10km for today! Had to walk back to PICC 'coz there were no cabs around MOA due to the thousands of people. Traffic was really building up so we had to walk further to grab a cab!
RUN FOR A CAUSE
Regardless of the huge number and crowded roads, the run still turned out to be pretty fun especially since it was for a good cause. People from all walks of life joined together and made a small sacrifice (to run 3km, 5km and 10km) all in hopes of saving one of the countries most prized treasures…the Pasig River.
.
There were old people….
.
And young people…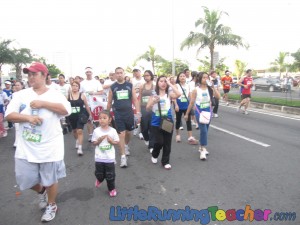 .
Students…
.
and employees…
.
Even the navy, marine and police forces got involved!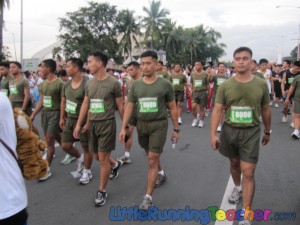 .
After crossing the finish line, the runners were asked to head to the Mall of Asia concert grounds (stage area) but were not told why. All the while, I though it was just so that we could enjoy the after party! There place was closed and had only 1 entrance which was being "guarded", there were people here counting the number of runners entering. This number will be tallied and computed to see if we made it to the Guinness Book of World Records! Unfortunately, due to the huge crowd, a lot of runners decided to just go home and no longer enter the concert ground, while others, found different means of entry! I hope we still make the record though.

On the other hand, I also hope everyone had their hearts in it as well; that everyone really wanted to save Pasig River. I hope that saving the river does not end after the run, I hope that everyone does their part as well. It's really simple, just STOP throwing your trash into the river… or anywhere else but the trash bins. or better yet… why not recycle it.
.
I ran into an old lady who was talking really loudly… and heard her say "Mayaman na ang Pasig! Pero mga kabataan magtatapon ulit doon bukas!" *Pasig River is now rich, but the young generation and teenagers will just pollute it again tomorrow* LET US PROVE HER WRONG! Let us save our country's beautiful and majestic river.
Anyways, here are some pictures from the event!