So another typhoon like rain has come and gone. What people expected to simply be a day of no work and school turned out to be 4-days of no food, no water, no electricity and no homes for many! It was not a good experience to go through and I;'m sure we're all wishing we never have to go through it again!
Many factors contributed to the floods, some were natural causes, others were man-made. There are some things that cannot be changed, and others that can still be fixed. So what do you suggest we do? One major root cause of continuing floods in the metropolis is our perennial garbage problem…and at the heart of the garbage is MISUSE, ABUSE AND OVERUSE of plastics.
Several cities have already banned the use of plastics in their place, one of which is Marikina. And this October 2012, Pasay City will also implement the same rule. To get the fire started, the Office of the Vice Mayor teamed up with RUNDEZVOUS INC. for a race-extraordinaire dubbed as "Walang Plastikan: Run Against Plastics "
Walang Plastikan: Race Against Plastic is geared towards creating awareness and outright implementation of this advocacy so that participant-runners have that firsthand experience of making a difference. The race will be central to other fun activities planned for the day to educate people on options against the use of plastics.
-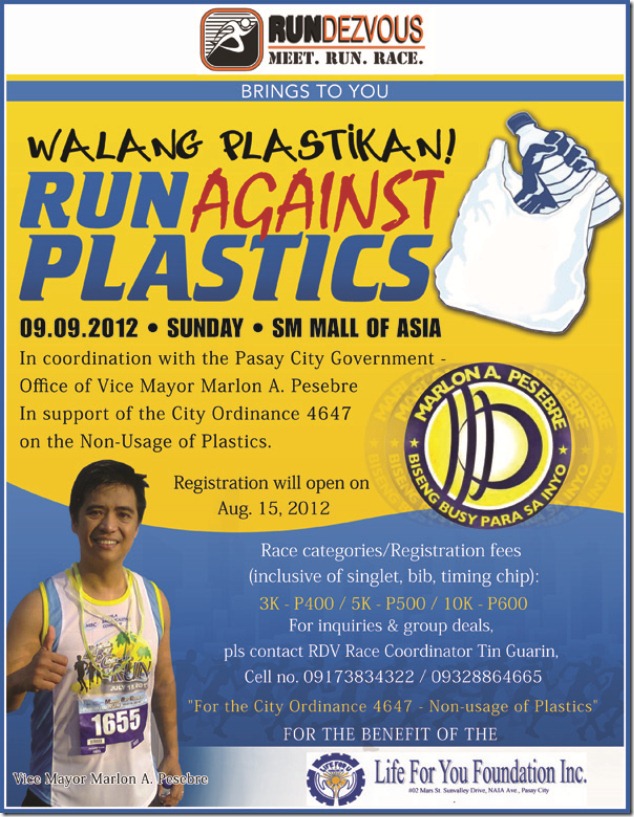 -
What: Walang Plastikan: Run Against Plastics
When: September 9, 2012, SUNDAY
Where: SM Mall of Asia
Beneficiary:  Projects of the LIFE FOR YOU FOUNDATION, Pasay City.
Race Categories and Registration Fees:
3K – P 400.00
4K – P 500.00
5K – P 600.00
Registration Sites (Beginning Aug. 20, 2012)
Download Registration Form HERE
Secondwind Running stores (Ortigas Home Depot, QC and Greenhills)
*Inclusive of: bib, timing chip and singlet.

Walang Plastikan: Run Against Plastics Singlet Design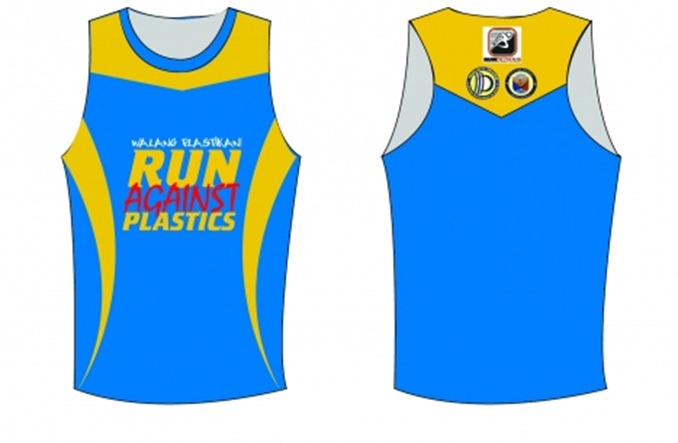 Walang Plastikan: Run Against Plastics Bib Design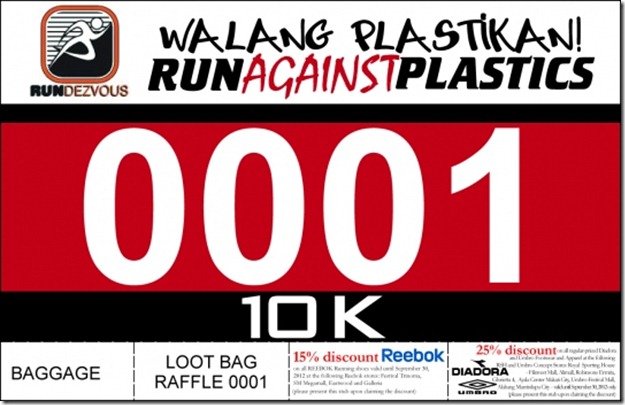 For inquiries, early registration and group deals, please contact Race Coordinator Tintin Guarin at RDV Office 636-2847; 09173834322; 09322884665.