Being a teacher is a lot of fun! I get to hang out with my students, play with them, do art activities, etc. However, being a teacher can also be A LOT of work. We don't just teach the kids for the sake of getting it done… we teach because we want our kids to learn. Teaching really is a WORK OF HEART. It's something you can only do if it really is your passion. We don't get paid by the numbers… we get paid by constant hugs from the kids and a simple thank you from their parents. As unpractical as that may sound, it really makes the job of a teacher so much more rewarding!
Which is why I am so PROUD that there is an event such as this to give proper recognition to the hard working and dedicated teachers from the Philippines! CONGRATULATIONS!!!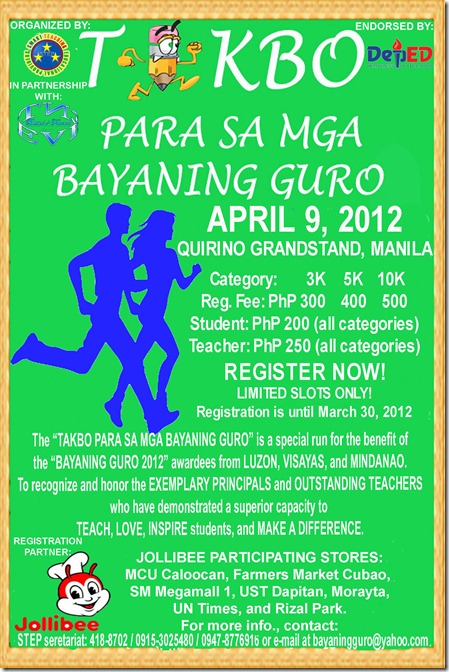 What: Takbo para sa mga Bayaning Guro ( A Run for the Heroic Teachers)
When: April 9, 2012, 4:00am to 9am
Where: Parade Ground, Quirino Grandstand
Beneficiary: BAYANING GURO AWARDEES
Race Categories: 3k, 5k and 10k
Registration Fee: 300php, 400php and 500php respectively
*DISCOUNTS! Students pay only 200php and teachers pay 250php to register in ANY category
Registration Partners:
Jollibee: MCU Caloocan, Farmers Market Cubao, SM Megamall 1, UST Dapitan, Morayta, UN Times, and Rizal Park
REGISTRATION UNTIL MARCH 30 ONLY!!!
Objective of the run: "The TAKBO PARA SA MGA BAYANING GURO is a special run for the benefit of the BAYANING GURO awardees from Luzon, Visayas and Mindanao. To recognize and honor the EXEMPLARY PRINCIPALS and OUTSTANDING TEACHERS who have demonstrated a superior capacity to TEACH, LOVE, INSPIRE students and MAKE A DIFFERENCE"
Go register now and give these teachers what they deserve!