It's that time of year again, and I'm sure you're all scurrying to find a good gift that fits your budget. I've actually been doing the same. Scouting for good presents that fit my friend's personalities.Something for the teacher, for the nurse, for the coach, and especially for the runners! Stuff for runners can be a bit pricey, but with Runnr's Christmas deals, they're sure to save you a couple of pesos!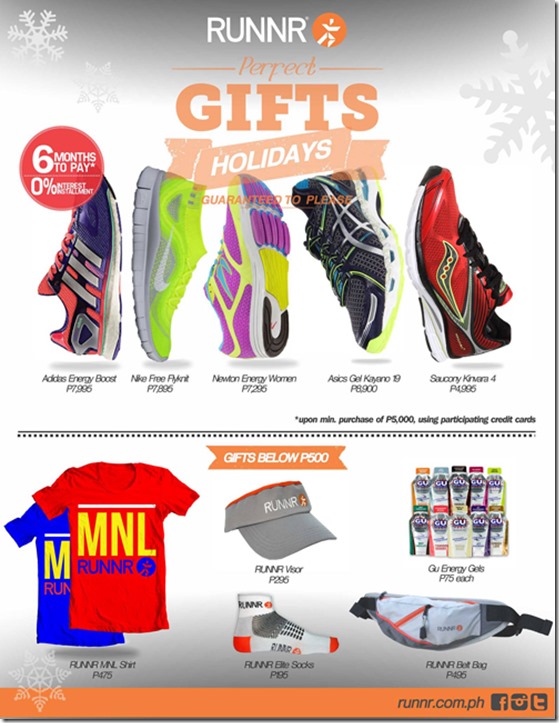 But why risk buying your loved ones something they might not even like? Give them the chance to pick their own gift with RUNNR gift certificates! Let them choose from a wide assortment of running essentials from top brands like Nike, Adidas, Newton, Skora, Brooks, CW-X, Fuelbelt, TYR and more!
On a tight budget? Head over to RUNNR and enjoy savings on these bundled Christmas gifts! Head over to the nearest RUNNR outlet and enjoy these great deals!
Promo runs from Dec. 6 to Dec. 31, 2013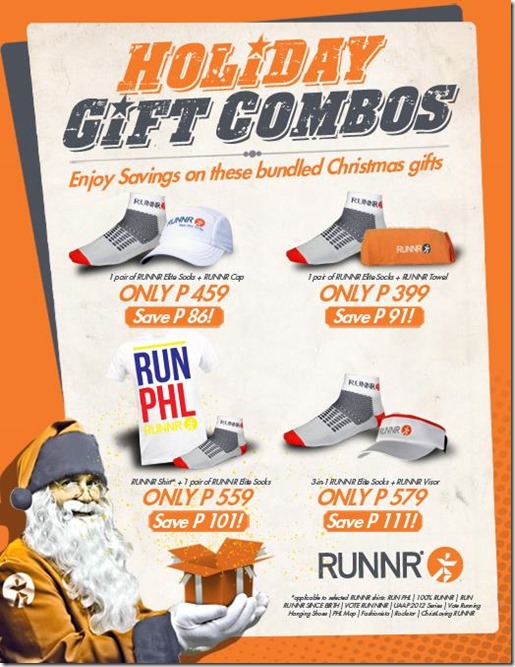 –
Got it? So, you know what to get me this Christmas! heehee kidding! Happy Holidays guys!
–
For more information,
log on to their website at www.runnr.com.ph
follow them on Facebook  and Twitter @RunnrStore
or FB at  facebook.com/RUNNRph
–
For updates on other runs or to just keep in touch
visit http://www.facebook.com/littlerunningteacherpage
twitter.com/cherylgolangco