The most wonderful time of the year is quickly approaching and of course, what makes it even better is the holiday sale! Runnr and Brooks are kicking off the holiday sale and giving us an early Christmas with a variety of pre-holiday promos!
Running and Cycling Expo at Runnr BHS

From November 14 – 16, visit Runnr BHS and enjoy up to 70% off in their running and cycling expo at Runnr BHS! They will also be having a free running clinic and an instagram contest with P5,000 worth of RUNNING ITEMS up for grabs!!
For more information, visit https://www.facebook.com/RUNNRph or log onto runnr.com.ph
Brooks Christmas Shoe Sale at SM North Annex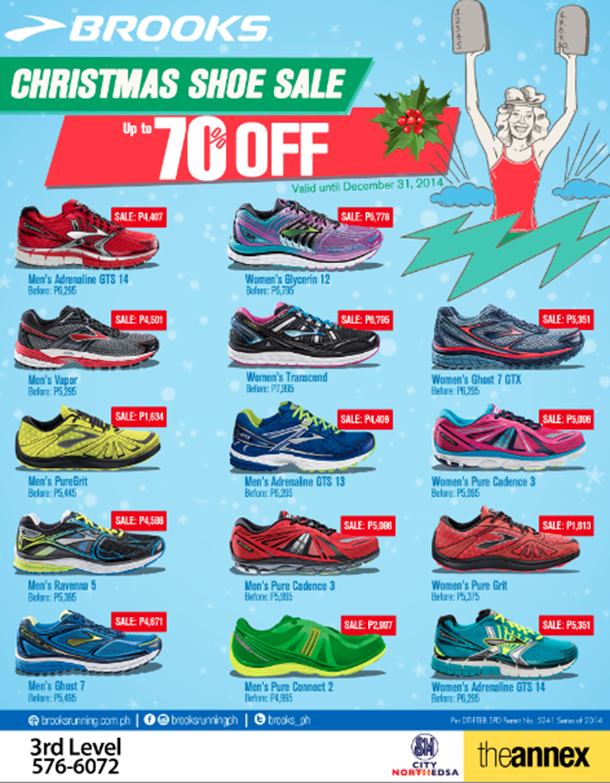 This Christmas,  why not gift yourself with a new pair of running shoes? Or better yet, why not buy a pair for a friend or loved one? Not only are you giving them something useful, but you're also giving them a chance at a healthier lifestyle.
Check out the Brooks Christmas Shoe Sale and get up to 70% off on a great selection of Brooks Running Shoes at SM North Annex! Promo is until December 31, 2014
For inquiries, log onto their Facebook fanpage thru https://www.facebook.com/brooksrunningPH or contact Brooks SM Annex at 376-6072.
So what are you waiting for? Head on over to Runnr and Brooks today! Happy holidays everyone!!
Holiday Sale Kicks Off at Runnr and Brooks for Runners and Cyclists
For more information visit
https://www.facebook.com/RUNNRph
https://www.facebook.com/brooksrunningPH
For updates on other runs or to just keep in touch
visit http://www.facebook.com/littlerunningteacherpage
twitter.com/cherylgolangco