October 19, 2011…As part of my daily routine, I checked my email and was surprised to see a message from an unfamiliar person with the subject "Feature for Runners' World Philippines". I quickly opened it and almost fell out of my seat with excitement after reading the message.

In case you couldn't read the small font, the message says,
"Hi Cheryl, I'm working on a story for Runner's World Philippines that will feature running bloggers. Since your blog is one of the most followed running blogs, we want to include you in the feature. May I have your email address so that I can tell you more about the feature, and possibly schedule a shoot with you next week"
When I read the email, a large grin automatically covered my whole face and I wanted to shout with excitement. But being the low confident girl that I am sometimes, I had to double check everything. In fact, I even thought they accidentally sent the message to the wrong person. Is this email really for me? I wanted to tell all my friends the exciting news but I wanted to keep it discreet at the same time in fear that I'm making it a bigger deal than it should be. In short, I was really really NERVOUS.
I immediately emailed back, carefully thinking how to answer without sounding too excited.. (even though I really really was!) and we scheduled a photo shoot.
Preparation for the Photo shoot
Guest writer, Mon Barreto was doing the featured article. She suggested that we have the photo shoot done in the blogger's place of work… which in my case, was the school. Unfortunately, I work in a private Chinese school, and something like that isn't really easy to request for with the big boss. LUCKILY, I am still in very good terms with my former employer and so I texted her to ask a favor.
Mrs. Sandy Co is the vice-president/owner of Little Presidents' Learning Palace (located near Malacañang) and also my former employer. The school is a really good one and I highly encourage you to send your kids there if they don't have a school yet. This caters to the preschool level by the way. So anyway, I texted her asking if I could do my photo shoot in my former classroom after dismissal. She gladly obliged. I was jumping on my feet with excitement.
My next problem now was what to wear. I don't really own ANY specific running gear. I usually just wear my old singlet when I run and my running shorts was a cheap Adidas imitation. Yikes! So I had to find one fast! Luckily while walking around the Mall of Asia, I saw a blue Nike running singlet and black running shorts that I really liked and quickly purchased them without any second thoughts! But then, I realized I also didn't have any running shoes at the moment! My Nike shoes had just recently gotten broken and there was a huge hole in front where my little toe  could peek out of, I didn't want to wear this for a photo shoot! I was still saving up ton buy a new one when I was emailed so I couldn't buy one yet! Luckily, my running buddies and I have the same shoe size and Teacher Belle Alvero lent me her Asics running shoes! Thank you Teacher Belle! :)  All set!
Photo shoot date
Everything was set. I met up with Monica and her crew at Little Presidents' Learning Palace for the photo shoot. I was REALLY REALLY shy and still couldn't believe what was happening even as it took place before my eyes. Was this really happening? Are they sure they didn't make a mistake? They started applying make up and fixing my messy hair. I wasn't use to the very girly and sophisticated make up. I wanted thicker eyeliners and darker eye shadows, but I trusted what they were doing. I actually liked how it turned out, just wasn't used to it. Moreover, I wasn't used to having my hair all tied up! (hehe) I usually leave some bangs to cover my face a bit. But I really loved the way it was tied in the back… I think I should learn how to do this too! haha
Monica and all her members were really very friendly and they tried their best to make me feel as comfortable as possible. She kept saying that I looked so tensed in the photos…and I knew I did. I was just really nervous that everything that should've came naturally seemed to be lost! My close friends noticed that in my magazine photo! haha Still, I had the best time! We had to take many many shots because I looked really tensed and uncomfortable in most shots, but Monica soon found something she liked, and it was a wrap. Now I just had to answer those interview questions and everything was done.
Now comes the waiting, it was only October and the magazine was set to come out in January! Boy was that a long wait! I wanted to shout it out but tried my best to keep it down! Only told my closest friends about it and we were all eagerly waiting!
January Finally Arrives!!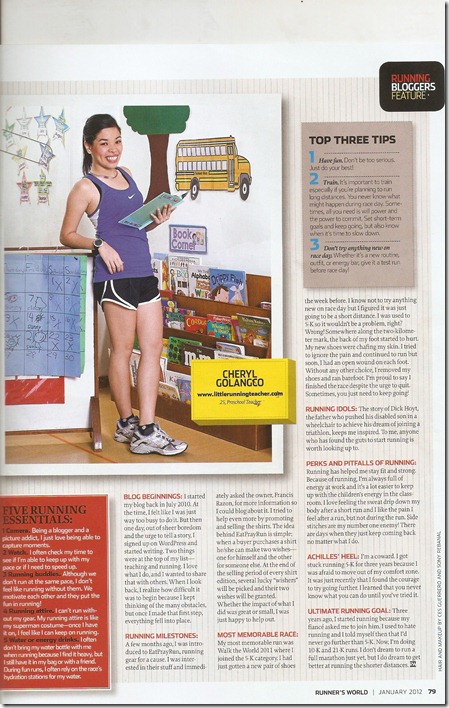 Oh the long wait was torture! But finally it arrived!!! I was so eager to buy one but National Bookstore hadn't released it yet. So I had to grab one elsewhere but I had no time to go to the mall! Eventually, I saw a copy at Booksale and finally saw my magazine feature!! YEY!!!
A lot of people; friends and acquaintances commented how I looked a lot fatter in this picture than normal. I didn't really notice it much but what I DID notice was my VERY nervous smile! haha Ivica of RunNurse.wordpress.com and my fiance, Philippe commented on the same thing! haha Still love loved it nonetheless! Forgive me for my long post, I was just really overwhelmed by it all!
Other runners/bloggers also featured in this issue are Dennis Ravanzo (RunningPinoy), Ate Vima Mendoza (KulitRunner), Sir Rene Villarta (JazzRunner), Jinoe and Queenie Gavan (Takbo.ph), Jaymie Pizarro (The Bullrunner), Patrick Conception (RunningShield) and Noelle de Guzman (KikayRunner). It was such an honor for me to be one of the chosen runners to be in this feature! Especially after seeing the other featured runners/bloggers! Several of these are the blogs I follow… several of these are the blogs that inspired me even before I started blogging myself. These are great runners/bloggers right here and I encourage all of you to check out their blogs and maybe even meet them yourselves! They're really nice!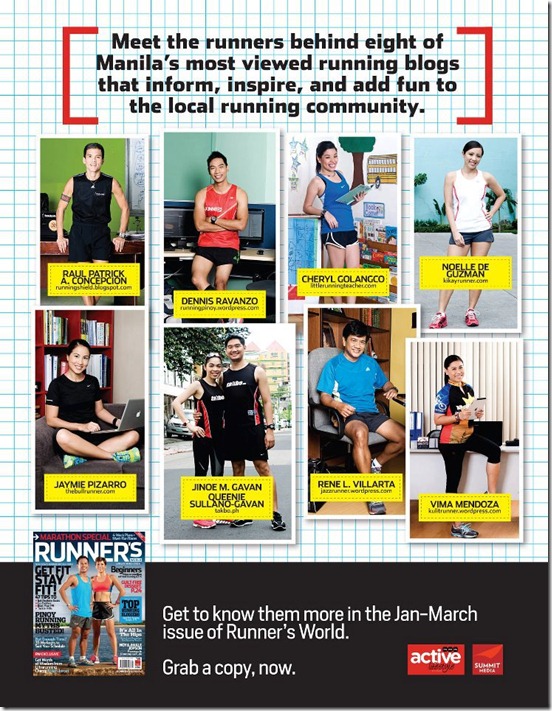 This issue of Runner's World Philippines is also dubbed the "Marathon Issue". Several articles here will prepare professional and newbie runners prepare for their first 42k or 26.2 mile marathon injury free! Who knows, a tip or two might even help you set a new personal record!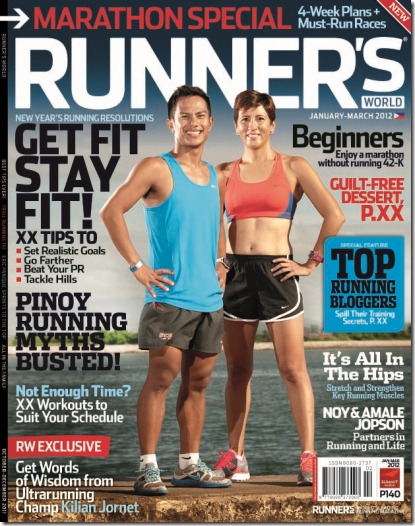 The January-March issue of Runner's World Philippines is now available in newsstands, bookstores, and supermarkets nationwide for P140. For more of Runner's World online, become a fan on Facebook via www.facebook.com/Runner'sworld.ph
So if you haven't grabbed this month's issue of Runners' World Magazine, GO GRAB ONE NOW!!!!