If you remember Superbook, RAISE YOUR HAND. If you don't, you missed out half of your childhood! Superbook is this awesome cartoon series about a boy, a girl and their robot! Join Chris, Joy and Gizmo in their awesome adventure through time.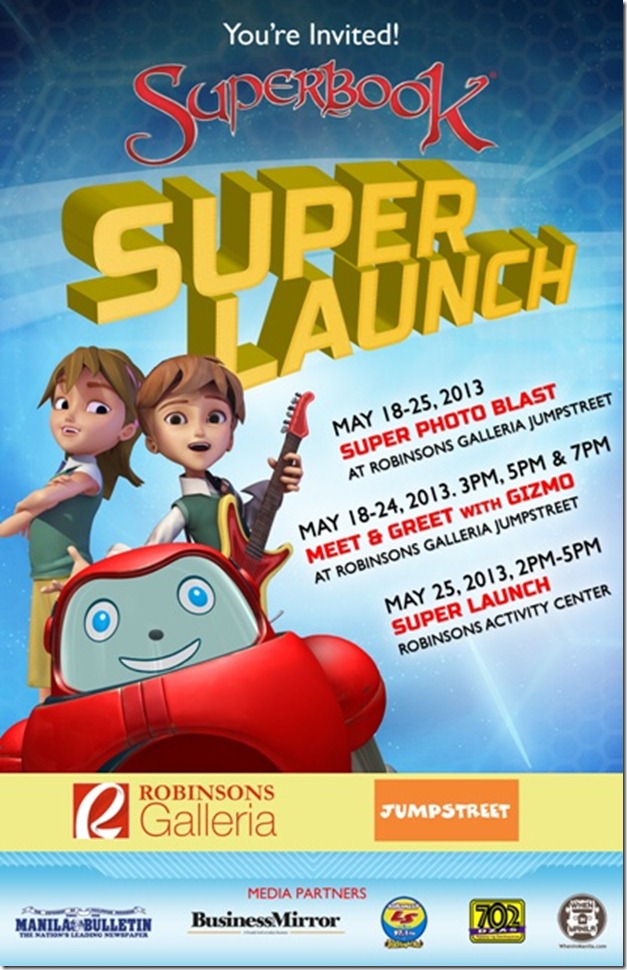 It's a day you wouldn't dare miss. Be ready as SUPERBOOK once again takes you for another great and unforgettable quest.
After the successful Superbook Reimagined and the Superbook Reunion, now comes the much awaited SUPERLAUNCH. And here's greater news: YOU are invited!
Bring the entire family and re-live the adventure at the Superbook SUPERLAUNCH on Saturday, May 25, 2013 at Robinsons Galleria Activity Center at 2:00 p.m.
So what's in store for you and your family? Loads and loads of FUN, LEARNING and GIVEAWAYS! Experience and enjoy interactive games, presentations, photo booths and activities that the whole family will surely love, plus a chance to meet Gizmo and our celebrity friends!
Experience the greatest adventure ever written and told. The new Superbook, reimagined for the new generation airs June 2013 on GMA.
For more information,
visit www.batangsuperbook.com
or LIKE then on Facebook at www.facebook.com/BatangSuperbook