I'm an animal lover, I've always love all kinds of animas since I was young. If only I had enough funds, I would want to put up a no-kill shelter and save our animals from being hurt or abused. It just pains me to see how heartless some people can be that they choose to hurt and abuse helpless little animals.
This October, Soleus is putting together a run to help raise awareness and funds to victims of animal abuse.
The Soleus Run for the Aspins (or ASong PInoy) aims to raise funds to help P.A.R.T. (Philippine Animal Rescue Team) in sustaining a decent living condition for all the dogs under their care and give them a second chance to life.
But the main thrust of this race is to spread the vision of the PART) and that is to effect change in society by raising awareness about dog cruelty and abuse, promote responsible pet ownership and spread compassion for animals.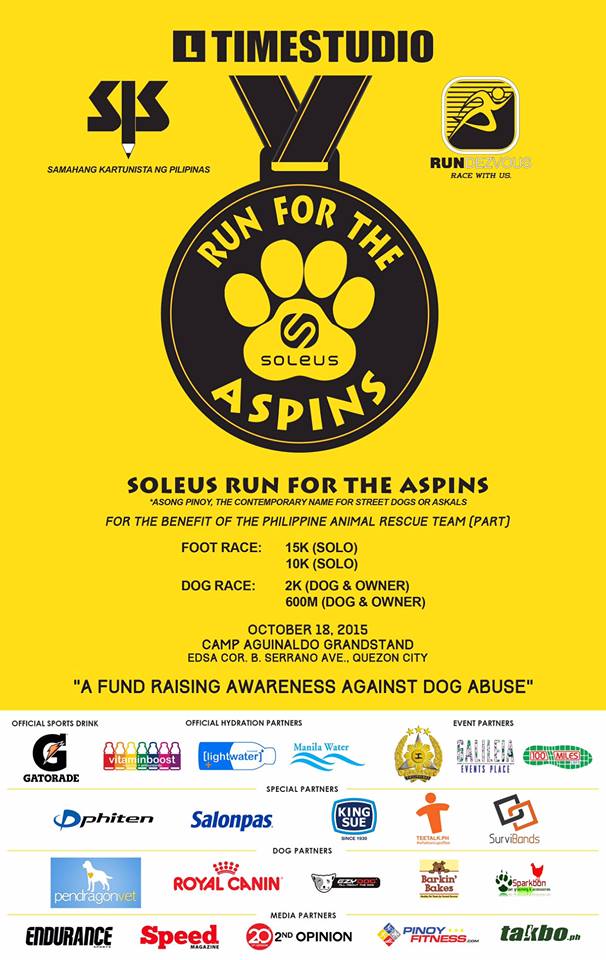 Soleus Run for the Aspins
When: October 18, 2015 (Sunday)
Where: Camp Aguinaldo Grandstand
Race Owner:         Soleus
Race Organizer:   RUNdezvous
Race Categories: 600m Dog Parade, 2k Dog Race, 10k Solo, 15k Solo
Assembly Time: 4:00am
Gun Start Times:
15K – 5:15AM
10K – 5:30AM
2k – 7:00AM
600M – 7:15AM
Race Beneficiary: Philippine Animal Rescue Team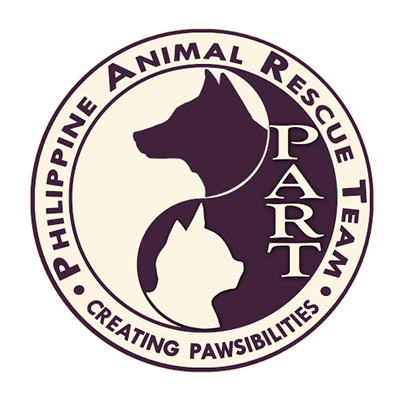 The Philippine Animal Rescue Team (PART) is a SEC registered, non-profit, non-government, NO-KILL animal rescue organization founded and run by a dedicated group of volunteers committed to changing the way animals are viewed and treated, not only in the Philippines, but around the world.
They rely on the kindness and generosity of our members and animal lovers everywhere to help us care for sick and injured animals and to give them a second chance in life to be happy, healthy, and well-loved. Find out more about them and how you can help through their website: http://www.philanimalrescue.org/
Soleus Run for the Aspins Registration Details:
Registration Period: August 24 – September 15, 2015
Registration Mechanics:
Online Registration

Follow the NEW LINK: http://rundezvous.strikingly.com/blog/run-for-the-aspins
Fill-up the required information on the online form.
Pay the corresponding registration fees with your credit card (additional web service fee is charged).
Print the confirmation message.

–
Bank Deposit
Pay corresponding registration fee thru BPI via over the counter or fund transfer. See bank details below.
Download, fill-up, and sign the appropriate registration forms (runner/handler registration form and/or dog registration form) http://rundezvous.strikingly.com/blog/run-for-the-aspins
Take a photo or scan the deposit slip / fund transfer slip and The accomplished registration forms.
E-mail the scanned copies to: [email protected] with subject: Run for the Aspin – <Distance Category>
Bank Details:
Bank Name: Bank of the Philippine Islands
Account Name: Rundezvous Inc., CA
Account Number: 2431-0082-14
–
In-Store Registration –
Register in 100 Miles Café at Fort Pointe Building, 28th Street, Bonifacio Global City (near Fitness First)
Registration Fees:
15K Solo – P900
10K Solo – P800
2k Dog Race – P700
600M Dog Parade – P700
SPECIAL BUNDLE FEES with any of the Dog CATEGORIES
*Must be the same runner for both categories
*50% deduction from the Dog Category Race fee
15K Solo – P900 + P350 = P1250
10K Solo – P800 + P350 = P1150
Race Kit Claiming Schedule:
Date: October 9-11, 2015 (Fri-SAT)
Venue: 100 Miles Café – Fort Pointe Building, 28th Street, Bonifacio Global City (near Fitness First)
Runner's Kit:
Upon Registration:
Technical Race Shirt (For Human Runner)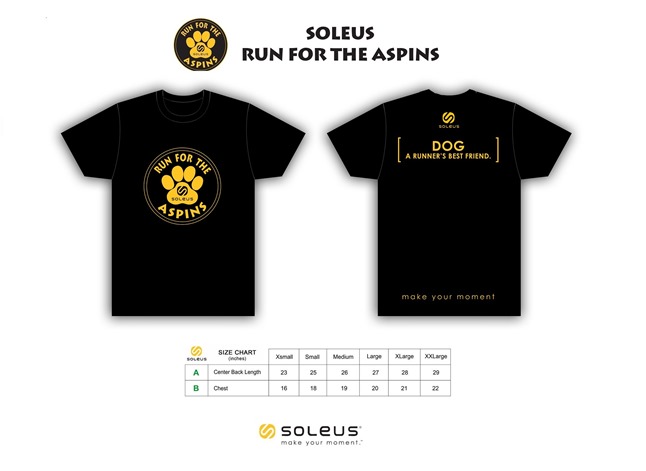 Race Bib Holder and Race Kit Pouch
Dog Bandana (for 2k & 600M only)
Post-Race Inclusions:
Finisher's Medal
Soleus Bag
sponsors' products
L Timestudio Gift Certificate
Run for Aspins Race Route
For more information visit
https://www.facebook.com/events/1453858218275810/
For updates on other runs or to just keep in touch
visit http://www.facebook.com/littlerunningteacherpage
twitter.com/cherylgolangco
instagram: @cherylgolangco