Last February 23, teams battle it out to be the first in Sierra 51050, a concept race that highlights team effort in running. What made this relay run so different from others is that you get to run at least 10km with one of you relay buddies – making the run more fun and exciting.
I was sad to not be part of this event as it took place only a week after I completed my first full marathon at the Bull Runner Dream Marathon. I felt at this point, it was important to rest and recover. Which is why I am so glad they've decided to do it again, this time adding the Sierra Duo to the already exciting Sierra Team Relay.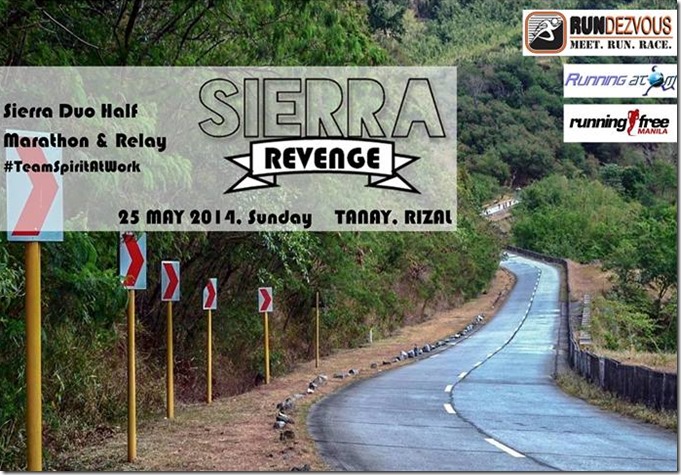 Sierra Revenge Race Details:
What:        Sierra Revenge
When:       May 25, 2014 (Sunday)  Postponed, New date TBA

Where:      Tanay Rizal
Organizer:                 Rundezvous
Race Categories:    21k Duo Half Marathon, 50k Team Relay
Gun Start Times:     5:30am (Duo) and 5:00am (Relay)
*Message from the organizers
"After much evaluation, Rundezvous has decided to move Sierra Revenge at a later date to properly address the demands of the participants. As Sierra 51050 was conceptualized as a race for the runners by the runners and to instill the team spirit, we have carefully considered the inputs of the pioneer participants and those who would like to join. Rest assured we will advise you as soon as everything is ready."
Sierra Revenge Registration Details:
Sierra Revenge Registration Fees:
Sierra Duo Half Marathon – Php 2000 per team (2 members)
Sierra Team Relay – Php 5000 per team (5 members)
*Inclusive of race bib, Sierra shirt and freebies
* For Relay, bibs will be given in the Team Leads Meeting
*For Duo, it will be communicated at a later date when to claim
Sierra Revenge HOW TO REGISTER
1. Deposit payment through: BPI Current Account
Account Account Name: Rundezvous Inc.
Acct Number: 2431 0082 14 2.
2. E-mail your deposit slip to: [email protected]
3. Fill-up registration form immediately
Sierra Revenge Registration Sites
Online Registration through the Sierra Series Facebook page or proceed directly HERE.
In-store registration at Second Wind Running Specialty Stores (March 15-May 16)
Malingap St., Teachers Village Quezon City
Unit 107 G-Strip, Greenhills Shopping Center, San Juan
Ortigas Home Depot Julia Vargas, Pasig City soon.
Sierra Revenge: How the Team Relay Works
In this unique relay, only the first runner will EVER run alone. Runner 1 runs from kilometer 1 to kilometer 20. However, at km 10, Runner 2 will join him/her. Runner 2 will continue until km 30. Runner 3 on the other hand will join runner 2 from km 20 up till km 40. Runner 4 will run from km 30 to 50, while runner 50 will only be running 10km from kilometer 40 to 50.
Sierra Revenge Shirt Design:
For more information visit
https://www.facebook.com/SierraSeries
https://www.facebook.com/RundezvousInc
For updates on other runs or to just keep in touch
visit http://www.facebook.com/littlerunningteacherpage
twitter.com/cherylgolangco