Are you familiar with Barley grass? Most people know it to be a decorative topping on food or an ingredient in beer, but did you know Barley grass had a lot of health benefits too? For those unaware, Barley can actually help lower blood sugar, reduce blood pressure and even helps with weight control.  For athletes and runners, you'd also be glad to know that Barley also helps with endurance and stability. Just what we need to finish that marathon!
A couple of years ago, in hopes of bringing healthier alternatives to the Filipino people, Santé Barley International was franchised and brought to the country. In fact, to prove just how well the Barley works, Sante Barley even has its own triathlon theme where our favorite weather man Kuya Kim Atienza is an active member of.
What is DomiNation?
DomiNation's inception is a product of Sante Barley's advocacy to provide a holistic approach to premiere wellness through proper nutrition & supplementation, work-life balance, physical and mental activity.  With the changing times, the computer era and a fast-paced lifestyle, our priorities seem to be other aspects in our life that we least look after which is our own health.  This is why we, at Sante Barley, would want to help individuals go beyond and conquer their limits.
Not only is Sante Barley a provider of premier wellness products made from New Zealand, our company is also very much visible in multi-sports events like run, bike, swim, triathlon, etc. We not only conduct trainings and clinics for the public but our very own group, Team Sante Barley, has achieved numerous championships in various sports events. Our venture into the sports industry came as no surprise as a number of athletes reported increased energy and better recovery in their workouts after taking barley.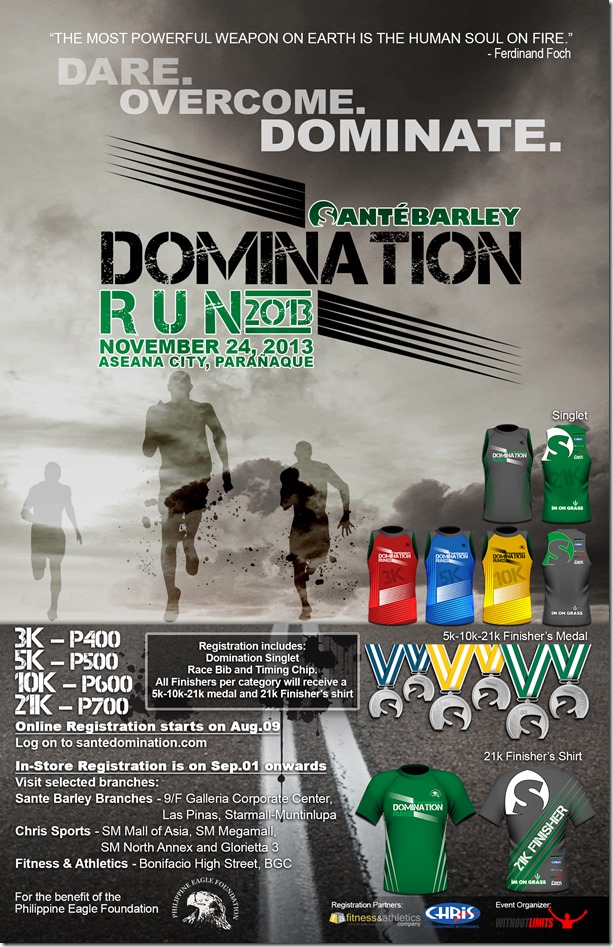 What: Sante Barley Domination Run
When: November 24, 2013 (Sunday)
Where: Aseana / Cavitex
Race organizer: Without Limits
Beneficiary: Philippine Eagle Foundation
Did you know that the Philippines only has a few hundred eagles left? This run hopes to help provide the necessities crucial for our eagle's growth and survival through the Philippe Eagle Foundation.
The Philippine Eagle Foundation firmly believes that the fate of our vanishing Philippine Eagle, the health of our environment, and the quality of Philippine life are inextricably linked.  We are therefore committed to promote the survival of the Philippine Eagle, the biodiversity it represents, and the sustainable use of our forest resources for future generations to enjoy.

Sante Barley Domination Registration Details:
Race Categories: 3k, 5k, 10k, 21k
Gun start:
3k – 5:20am
5k – 5:15am
10k – 5am
21k – 4am
Registration Fees: P400, P500, P600, P700 respectively (Pretty affordable don't you think?)
*Inclusive of singlet and loot bag for all categories
*Medals for all categories except 3k
*Finisher's shirt for 21k finishers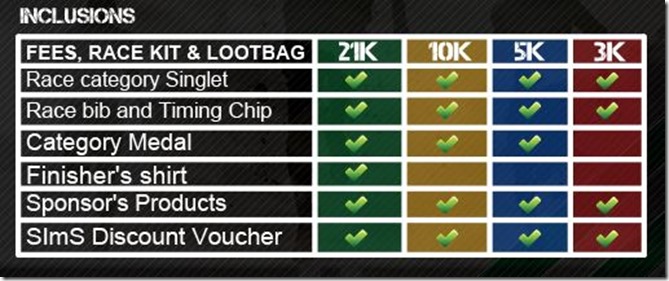 Each category will have a different singlet color!
Green for 21k, yellow for 10k, blue for 5k and red for 3k
hmm… I think I wanna run 21k, but I also think I want the yellow singlet! Noooo! haha

Sante Barley Domination Run Registration Sites:
Online registration from August 9 onwards via www.santedomination.com
*delivery charge of P150 anywhere in the Philippines. Shipment starts on Sept. 15, 2013
In-store registration from Sept 1 onwards
Sante Barley branches
9F Galleria Corporate Center

Las Pinas

Starmall, Muntinlupa City
 Chris Sports
Sm Mall of Asia

SM Megamall

SM North Annex

Glorietta 3
Fitness and Athletics
Sante Barley Domination Run 2013 Finisher's Medal
*Different colored strap per category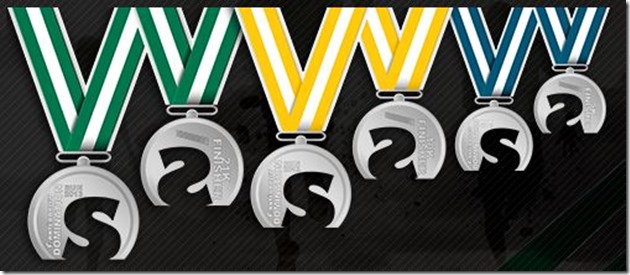 Sante Barley Domination Run Finisher's Shirt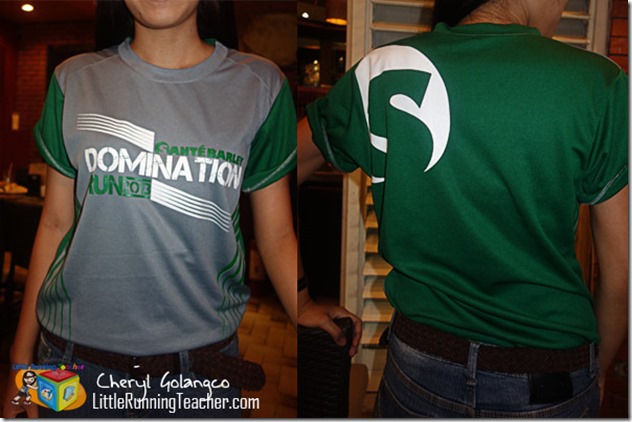 More Good News!
If the affordable registration fees, the colorful singlets and the cool medals aren't enough, here's more! Top finishers per category will be awarded, but for the 21k runners, you'll also be divided into age groups!
21k Category age groups:
17 years old and below

18 – 23 years old

24 – 29 years old

30 – 34 years old

35 – 39 years old

40 years old and above
There will also be special prizes for the oldest and youngest runner, plus the biggest contingent. For the various groups, the total time from X number of runners from one team will also be compared to other teams to get the top group finisher! Moreover, the run happening this November 24 is just the beginning! Look forward to more runs, duathlons, triathlons, adventure runs and the like in the year 2014!
Sante Barley Running Clinics
The Sante Barley team also have free running clinics every other Sunday of the month at the UP Diliman Academic Oval (in front of the College of Music). The next running clinic will be on August 25, then September 15, then Septemer 29 and so on. Visit the Sante Runnex Running Clinic FB page for updates.
For more information,
visit the Sante Barley website at http://www.santedomination.com/
or their Facebook page HERE
Santé Barley Domination Run takes over Cavitex on November 24
Stay updated with the latest news in the running community by following Little Running Teacher now!