After several successful zombie outbreaks taking place in different parts of the metro, Outbreak Manila is once again back for more! These zombies are hungrier  than ever but they're looking for more of an adventure this time around.
This October, the organizers of the hit zombie run Outbreak Manila take thrill to a whole new level. Outbreak Missions is a live-action, zombie survival experience that promises a screaming good time. Because it is a separate event series from Outbreak Manila, it is not your usual 5-kilometer zombie feeding fest. But there are still two stark similarities to Outbreak Manila: first, you will need to run; second, there will be hungry zombies.

Outbreak Missions Race Details:
What: Outbreak Missions
When: October 4, 18 and 19 (10pm onwards)
Where: Filinvest City
Outbreak Missions Registration Details:
Registration Fee: 1000PhP
*inclusive of Outbreak Missions Souvenir Shirt, Stainless Outbreak Missions Authorization Card, "Life Representing" Flag Belt, Lootbag with goodies from sponsors
*All alive finishers also get collectible dog tags
Outbreak Missions Registration Sites:
Toby's Sports
Shangri-La

Mall of Asia

Glorietta
Runnr
Alabang Town Center

Bonifacio Global City
Brooks
About Outbreak Missions
Outbreak Missions is no longer merely a run. It is a choice-dependent adventure. Participants will be grouped into teams and asked to complete several tasks by looking for survivors, performing challenges, and uncovering clues around the course. Each choice takes the team to different tasks that bring them deeper into a post-zombie apocalypse world. And the ending depends on the decisions they make while trying (and screaming) hard not to be zombie food.
–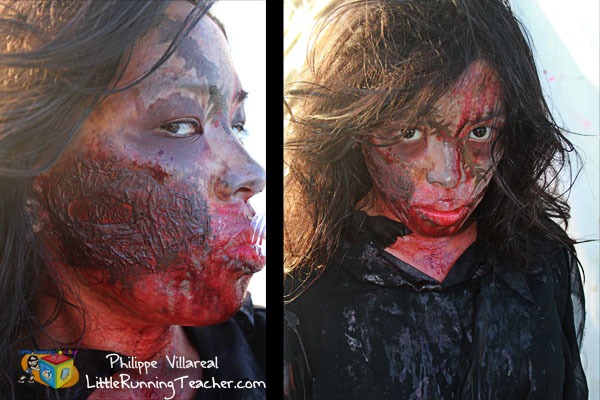 I'm gonna get youuuu…..
–
There are two missions to choose from: The Adarna Initiative happening on October 4 and 18, and The Narrows on October 19. The Adarna Initiative is a quest to find a rumored cure for the zombie outbreak, while The Narrows has them fighting for survival as they set a path to a bus that will bring them out of the infected zone. Like Outbreak Manila, participants will be given a belt with three red flags representing their lives. The goal is to complete the mission and finish with at least one life flag intact. And as exciting as it all sounds, no physical contact amongst participants and zombies are allowed at any time.
–
Outbreak Missions:
The Adarna Initiative (October 4 and 18)
A medical convoy transporting a rumored cure to the outbreak was ambushed by zombies while on its way to a nearby lab facility. Curiously named "Adarna Initiative", there is no available information about the cure other than its version 2.0 is only 96% completed.
This mission is a thrilling adventure from start to finish. Navigate through hordes of zombies, avoid malicious surivors with self-serving plans, and perform challenges to find out if the Adarna initiative is truly effective. Proceed with extreme caution; you're out there alone with only a few geeky scientists to guide you.
Running out of resources, the outpost has fallen on tough times, and most of the members of their community are gone, leaving for the promise of an escape– a bus with a straight shot out of the infected zone.
The mission is to fight for survival and set a path to the bus, the only way out of the area. Navigate your way through the mall and its narrows while being on the lookout for lives that are scattered around. Be careful, the most dangerous thing out there might not even be the zombies.
–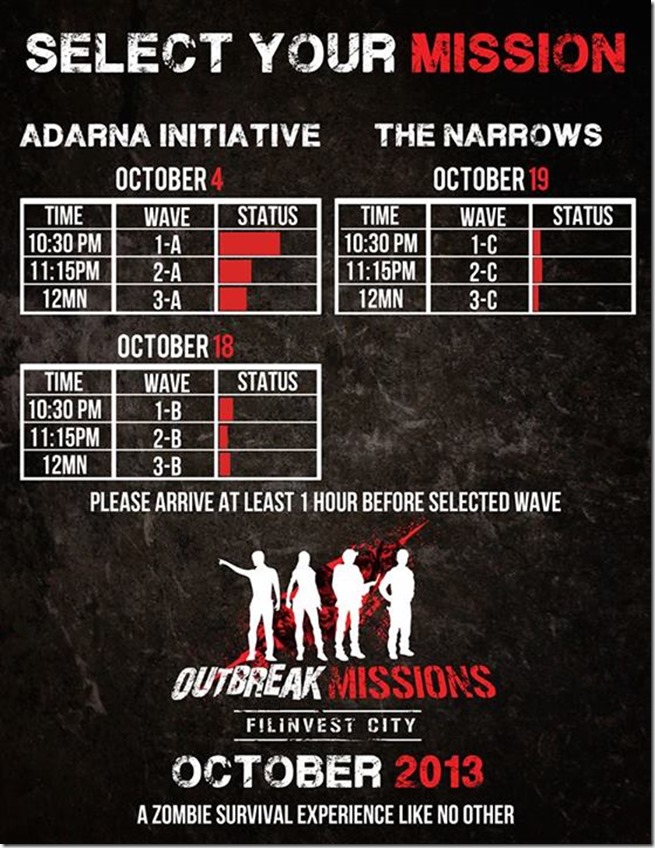 With so many choices, side missions, special characters, and clues to experience, the best decision to make is to take part of this one-of-a-kind challenge.  Do you think you can handle it? I fear my life as I write this post! haha
Outbreak Missions is presented by Boardwalk, Fox, Summit Natural Drinking Water, 100 Plus; co-presented by Filinvest City, Festival Supermall; in cooperation with Impact High Performance Whey Protein, Smart, Mogu Mogu, Coleman, Booster C Energy Shot, and Makeup Design Academy. It is also brought to you by Cello's Doughnuts, Berocca, Toby's Gino's Brick Oven Pizza, BROOKS, RUNNR, Symbol Science, Burnwater ArtxDesign, WheninManila.com, Pinoy Fitness, ClickTheCity, Gala Magazine, Mellow 94.7, philSTAR.com, and INQUIRER.net.
Outbreak Missions Race Kit Giveaway
*Race Kit only for October 4!
*To make you eligible to win, you must complete ALL mandatory tasks
Congratulations to Paul Ocampo and Eden Beta Jacob!
For more information, visit outbreakmanila.com/missions
or visit them on facebook at https://www.facebook.com/outbreakmanila
For updates on other running events, follow me!
Facebook http://www.facebook.com/littlerunningteacherpage