Whenever learning about the different animals, I always find myself at a crossroads as to what activity to do. There are so many animal crafts all over the internet and art books. All seem to be so wonderful that we always have a hard time deciding which one to go with. For our lesson on animals that fly/ birds, we decided to make an owl craft.
My partner and I came up with 2 different ideas and we decided to merge them together. This was the result.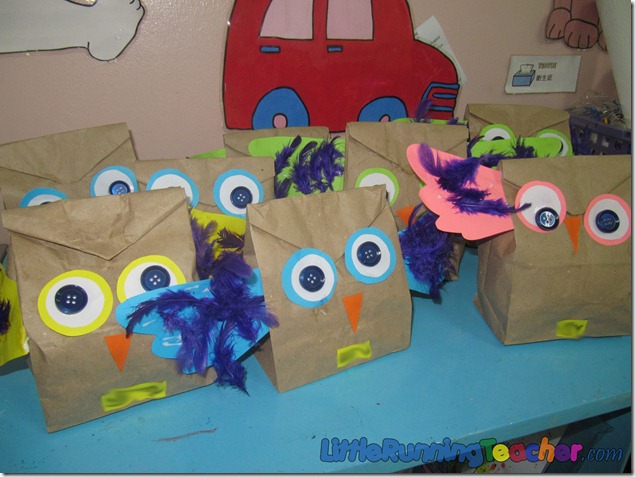 What you will need:
Brown paper bag
Construction Paper
Bond Paper
Colorful feathers
Large buttons
Glue
Scrap Paper
What you will do:
Step 1 (Preparation):  Cut out some circles using the construction paper and bond paper to serve us background for the buttons. Also cut a pair of wings and a beak for each child
Step 2: Have the kids crumple up some scrap paper and stuff the brown paper bag with it
Step 3: Seal the brown paper bag by folding it into a triangular shape. (You might want to cut it off a bit to make it straight first)
Step 4: Glue the buttons unto the colorful circles
Step 5: Glue the feathers unto the wings
Step 6: Put them all together to form the owl!
Have a HOOTIN' WEEK ahead!