"Breast milk is best for babies up to 2 years of age." Anyone remember hearing this at the end of any milk commercial as kids? If you do, then… yey 90's! (haha) Most of us know the importance and multiple benefits of breastfeeding, yet we choose to look the other way.
To those unaware of the benefits of breastfeeding, here are some fun facts.
Did you know that infants who are not breastfed are 5 times more likely to die  from pneumonia and 14 times more likely to die from diarrhea than babies exclusively breastfed for at least 6 months?
Did you know that breast milk constantly changes its composition to meet the changing needs of your baby? It has the exact combination of nutrients needed at various stages of your babies growth.
Did you know that fresh breast milk is never contaminated with bacteria? In fact, it has antibacterial properties.
Did you know, one researcher found that breast-fed children were, on average, more mature, assertive and secure with themselves as they developed.
Did you know that breast feeding also helps moms? Mothers who breastfeed are less likely to develop osteoporosis later in life, are able to lose weight gained during pregnancy more easily and have a lower risk of breast, uterine and ovarian cancer.
These are just some of the many benefits of breast feeding a lot of us didn't really know. Which is exactly why ladies behind BBB (Beauty, Brains and Breastfeeding) though of holding an advocacy run this April 13 to make everyone become more aware of the importance of breast feeding.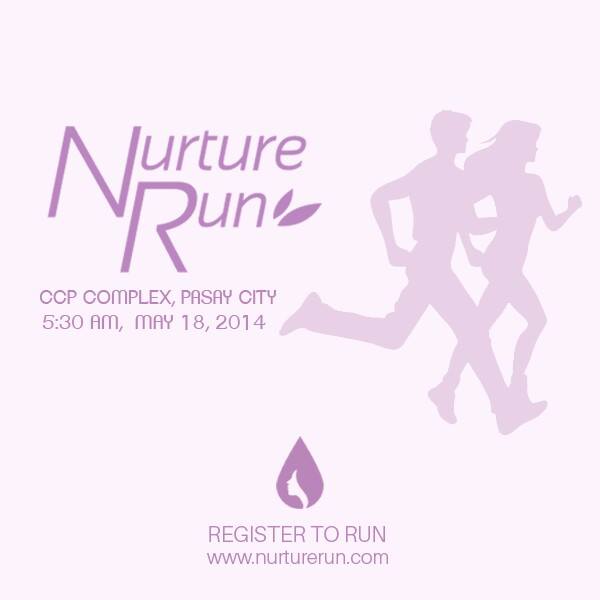 Nurture Run 2014 Race Details:
What:        Nurture Run
When:       May 18, 2014

Where:     CCP Complex, Pasay City

Race Categories:     3k and 5k
Assembly Time:       5:30am
Beneficiary/ Advocacy:
To raise funds to be used to initiate support in breastfeeding in emergency and the establishment of public lactation stations
*During the recent typhoon Yolanda, the government and other groups focused much attention on the food and shelter families needed, however, the need for breast milk was overlooked. It was because of this that several infants died. Powdered milk, water or other formulas can NEVER replace breast milk. It is Beauty, Brains and Breastfeeding's (BBB) goal to be able to find means to store or collect breast milk for emergency cases like this.
*Though it may bother some people, lactating moms need to feed their babies often. When in public places, a loving mom has no choice but to feed her baby regardless of all the stares. It is therefore BBB's goal to put up more breastfeeding stations in public places. So far, they've already been able to put up a few in places like Zamboanga, Naga and Iloilo.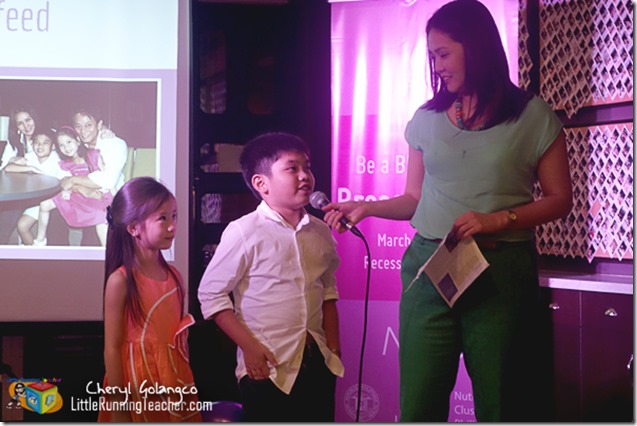 Ms. Iza Abeja, founder of BBB with her son and daughter, whom she both breastfed until they were 6 years old!
Nurture Run 2014 Registration Details:
Registration Fees:
PHP 450.00 for 13 years old and above
PHP 350.00 special rate for 12 years old and below
*Don't forget to bring your IDs upon registration
Discounted prices:
Group of 25 to 49 – discount of PHP 15.00/runner
Group of 50 to 99 – discount of PHP 30.00/runner
Group of 100 and above – discount of PHP 50.00/runner
– Inclusive of race bib and a Nurture Run (cotton) shirt.
*inclusive of shirt and race bib
*medals will be awarded to top finishers male/female of each category
Registration Sites:
Online registration at http://www.nurturerun.com/store/p1/RACE_KIT.html
*Payment via PayPal or Credit Card
*Race Kits will be delivered
In-store registration at selected Chris Sports branches
SM North – 3rd Floor, SM North The Annex EDSA Annex 1 Tunnel
Glorietta – 2nd Floor, Glorietta 3
SM Megamall – 2nd Floor, SM Megamall
SM Fairview – Lower G/F, SM City Fairview, Quirino Hi-way cor. Regalado Ave., Quezon City
SM North EDSA – G/F, SM City North EDSA, EDSA North Ave., Quezon City
SM Manila – G/F, SM City Manila, Concepcion St., cor. Arrocerros, Manila
SM Bicutan – Upper G/F, SM City Bicutan, Dona Soledad Ave., cor. West Service Rd. Paranaque City
SM Sucat – G/F, Building A, SM City Sucat, Dr. A Santos Ave., Paranaque City
Nurture Run 2014 Race Shirt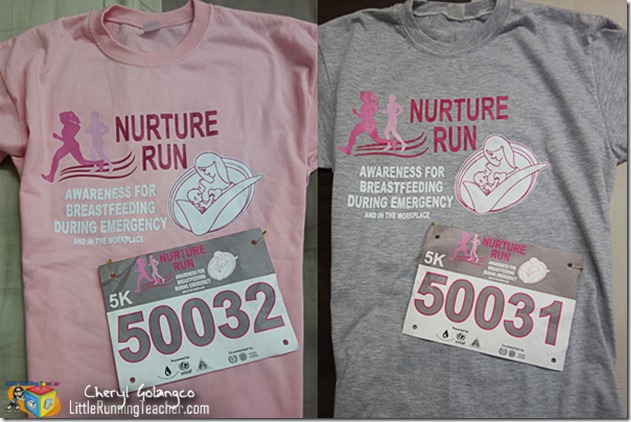 *Registrants may pick between the pick or grey race shirt upon registration
Nurture Run Race Routes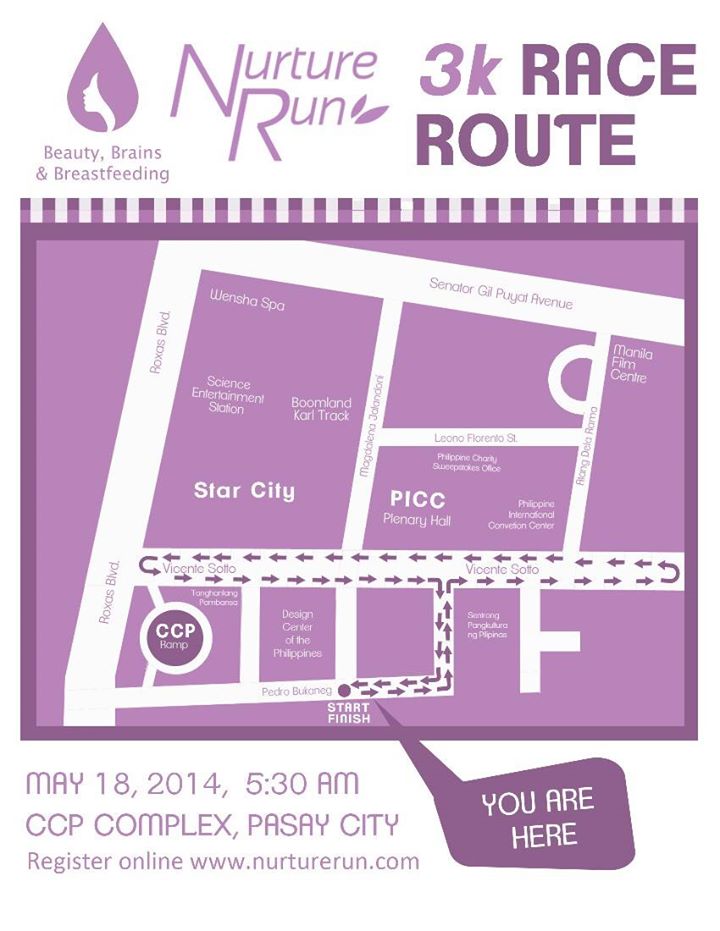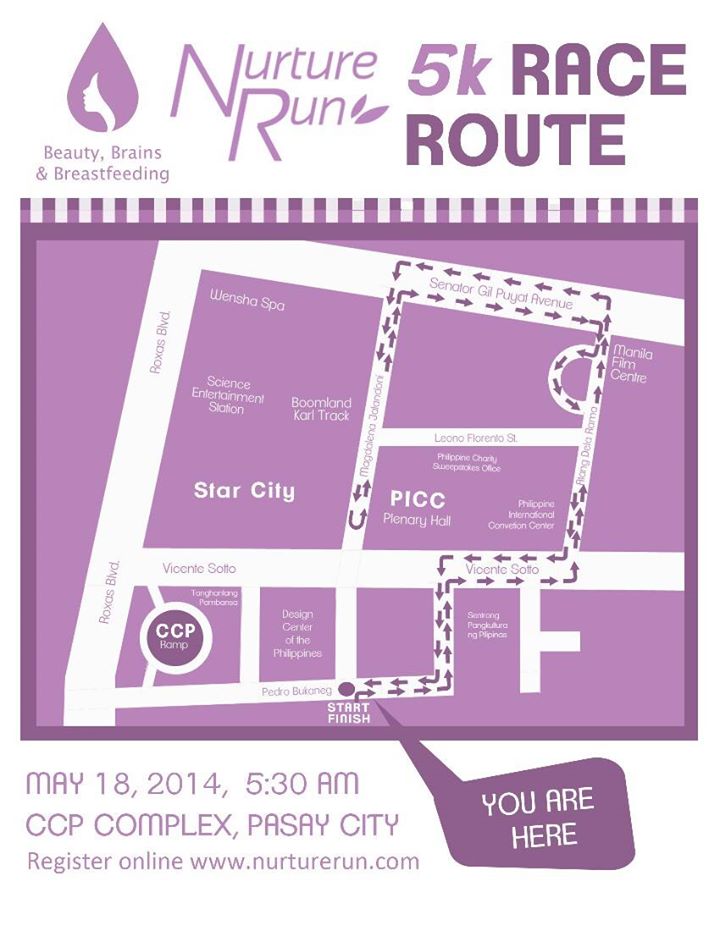 For more info on Nurture Run or BBB
visit http://www.nurturerun.com
or http://www.beautybrainsadbreastfeeding.com
FB: http://www.facebook.com/beautybrainsandbreastfeeding
Events Page: https://www.facebook.com/events/364766690333197/
Twitter: @womenbreastfeed
For updates on other runs or to just keep in touch
visit http://www.facebook.com/littlerunningteacherpage
twitter.com/cherylgolangco