This has been one of the most awaited races of the year, and after much excitement, details on Nike We Run Manila have finally been released!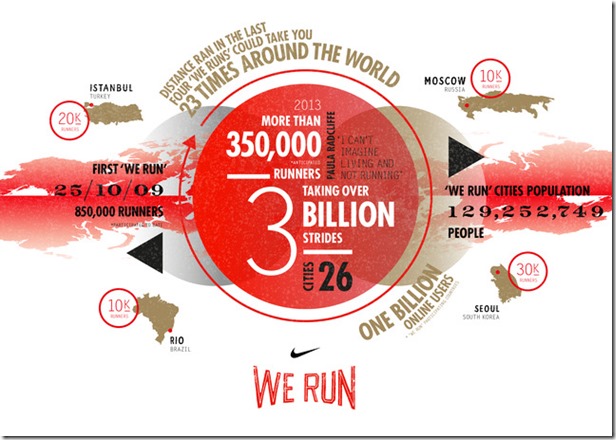 Nike's We Run series continues to celebrate, motivate and inspire  athletes around the world with races in 26 different cities! The run started of in Prague, Czech Republic last Aug. 31  and will end in Jakarta Indonesia on Dec. 15.
Nike's We Run races range in distance from 5K to a full marathon and reflect the unique enthusiasm of each city. From Sao Paulo, to Seoul, to Singapore, runners will be moved to action through a series of unique experiences. Tailored to the individual city, the We Run races bring together athletes and local musicians and build on the aesthetic of each landscape through an interactive run course.
This December 1, 2013, the Nike We Run series will hit MANILA!

Nike We Run Manila Race Information
What:        Nike We Run Manila 2013
Where:     Marikina Sports Center
When:      December 1, 2013 (Sunday) at 4pm

Race Categories:      10k Buddy Run only (16yrs. old and above only)
*Cut off time:            2.5hours
Nike We Run Manila Registration Details:
Registration Fee: 1,700 PhP for 2 runners
*inclusive of an exclusive Nike We Run Manila 10K Tee , D-Tag , Nike Sports water bottle, Nike tote bag
Registration Sites: ONLINE only via http://werunmnl10k.com
*deadline of registration is on Nov. 17, 2013
Payment methods:
Credit Card (Paypal charges shall apply on top of the published registration fees) or
Cash Purchase of prepaid cards at the following venues from 11:30am-8:00pm only:
Nike Park Fort

Nike Park Trinoma

Nike Park MOA

Nike Stadium ATC

Nike Park Ermita

Nike Stadium Shangri-la

Nike Stadium Glorietta 2

Nike Forum Greenhills
Nike We Run Manila 2013 Claiming of Race Kit:
DATE: November 21-24, 2013
VENUE: Bonifacio High Street, Bonifacio Global City, Taguig Metro Manila
*Important: Please bring your ID and confirmation slip to collect your race pack
*For those who are unable to personally collect their Race Entry Pack, please download and fill in this Letter of Authorization. Your representative must show this form along with a copy of your Confirmation Slip
Nike We Run Manila 2013 TRAINING RUN
Nov. 5, 2013 (Women Only)
Venue: Ayala Triangle, Makati City
Time: 6-8pm
Venue: SM Mall of Asia
Time: 6-8pm
Nike We Run Shirt Design
No official news yet on the shirt but here are some images I found online that might give you a clue how the shirts would look. Red? Grey? Who knows. Not bad though!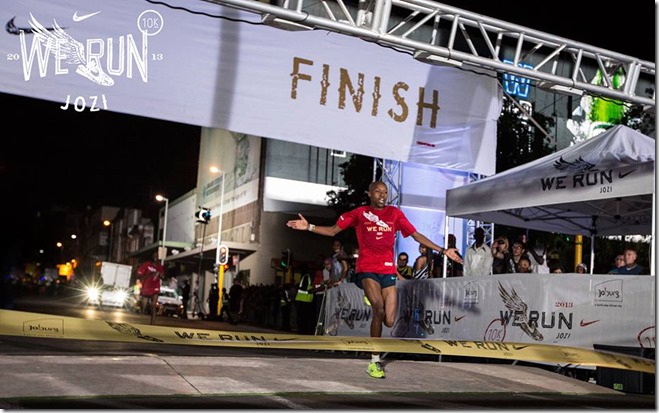 Nike We Run Jozi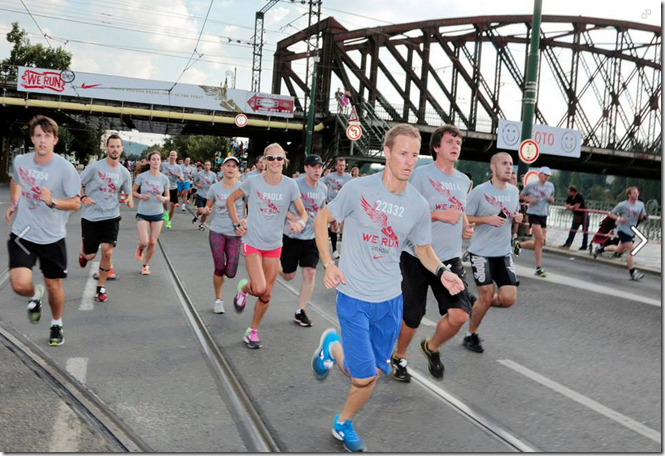 Nike We Run Prague
Nike We Run Manila 2013 Shirt Measurements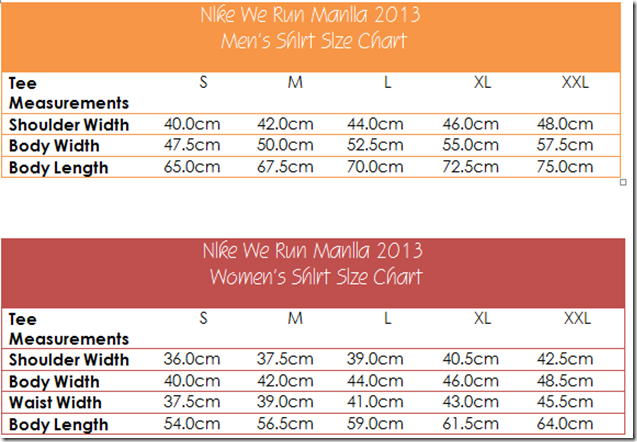 Nike We Run Medal Design
The Top 100 finishers were given a medal last year. Again, no official word on this one but I saw this online as well. Who knows right? I do hope EVERYONE gets one! It looks so cool!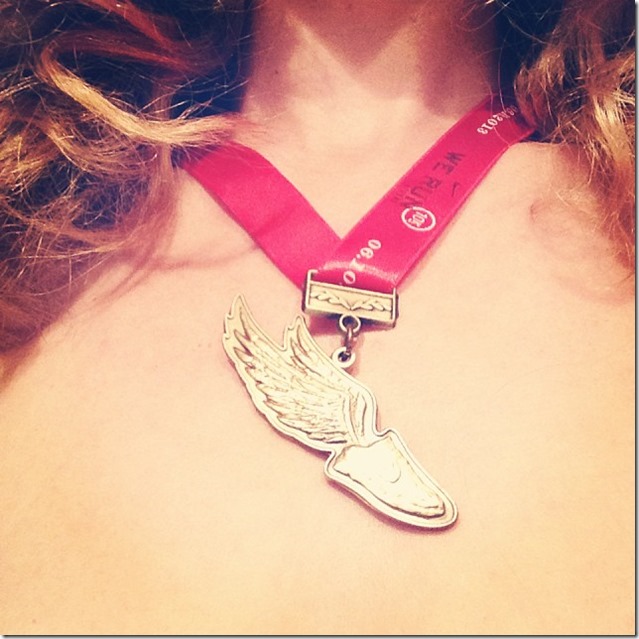 Image from dkalo.wordpress.com
Nike We Run Manila 2013 Top Finisher's Prizes

For more information
visit http://www.RunRio.com
For online registration/prepaid card concerns: +632 703-1736
General Info: 02-703-1736
Email: [email protected]
For updates on other runs or to just keep in touch
visit http://www.facebook.com/littlerunningteacherpage
twitter.com/cherylgolangco