When Nike invited some female bloggers and magazine editors for a media event, all we expected was the usual "press launch" and a short run afterward. Boy were we in for a surprise when we saw the entire setup right outside Planet Sports in BGC.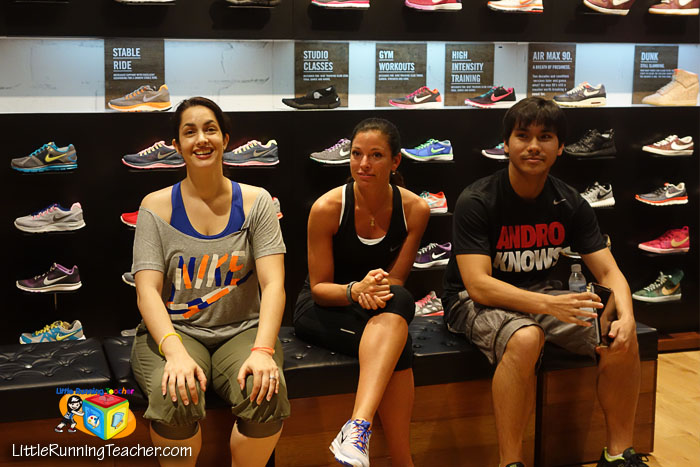 Nike Philippines' Country Marketing Head Ms. Courtney Cole-Faso with Nike Master Trainer Ms. Marie Purvis and Nike product specialist Andro Torres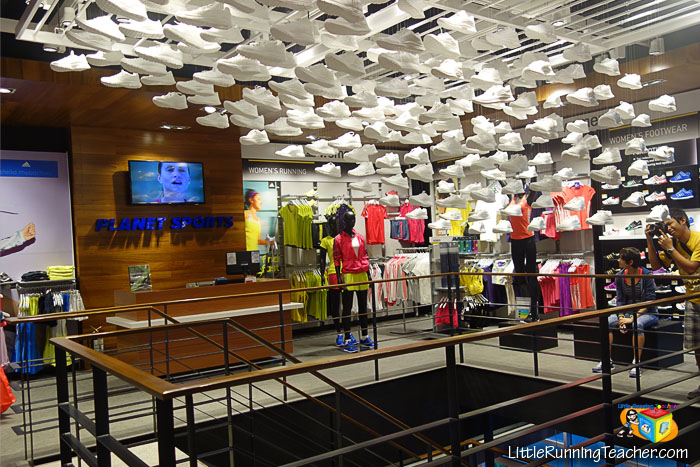 The awesome display of the new Planet Sports women's section. I think I'm in love!
Women love working out just as much as men do. Who doesn't want a sexy body right? But based on experience, working out doesn't exactly come easily for us ladies. Being a runner, running has always been my first solution to losing weight, however, it's often difficult for me to find a good and safe place to run. Gyms full of macho men can also be difficult at times. Moreover, a woman's need not really be the same as the men's.  We have our own routines too you know.
Well, Nike Philippines realized this and decided to start an All Women's Training Club! How cool is that?
The complete details are still in the works but Nike did give the ladies a little preview last Monday, May 6, 2013.
Nike Inspires Filipino Women to Run Free
Over 200 female runners joined Nike to Run Free through the streets of Bonifacio Global City at an exclusive all-female celebration of running and training. The event started with an uber cool dance number from these fine ladies.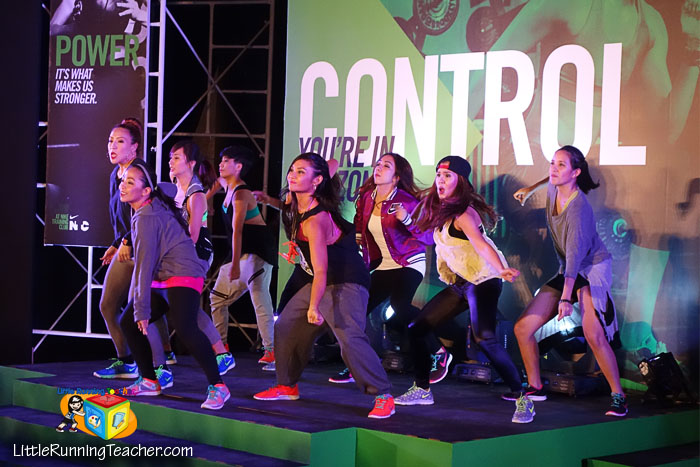 I wish I could dance like them!
Led by Nike Master Trainer Marie Purvis, Run Free celebrated the power of women runners in a be-proud-of-your-sweat Nike Training Club workout session emphasizing the need for a holistic athletic training regimen for runners.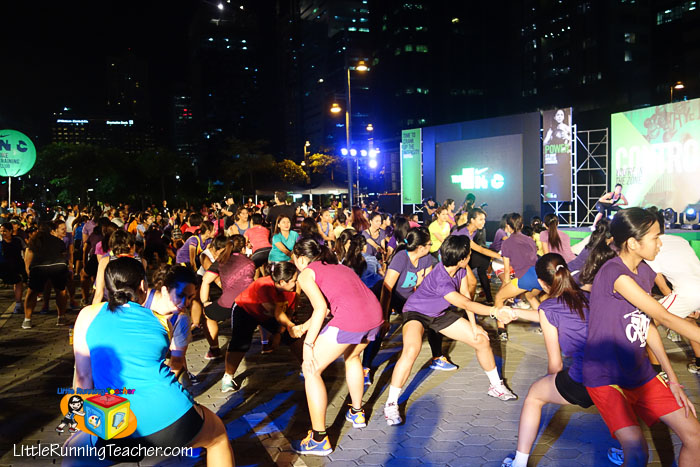 Hip hop workout with Marie Purvis

The workout was not your typical weight lifting or cardio exercise, personally, I felt like it was a mix of Hip Hop Abs and Zumba! There was a lot of movement, "dancing", and definitely a lot of fun! I felt tired but not worn out. I actually didn't expect my body to be sore the following day because I just had so much fun!
The ladies were also invited to try out the new Nike Free Run 5.0. I'm sure the color itself is already enough to get several women interested.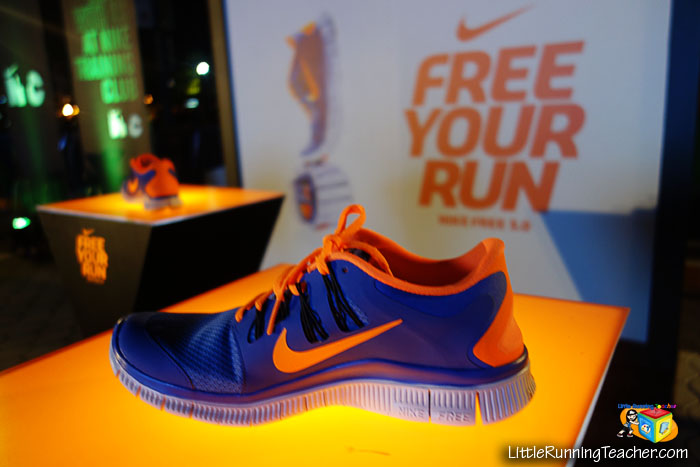 I definitely love the purple and orange combination
After a variety of exercises and workout routines, the beautiful ladies were led by no other than Coach Rio dela Cruz for a short 1.5km run around BGC! The run was well prepared, even having signs along the way! As we neared the last few meters, we were greeted by a few dashing men holding long stem roses. Now THAT'S how to end a ladies run! I super loved it and I'm sure everyone else did too.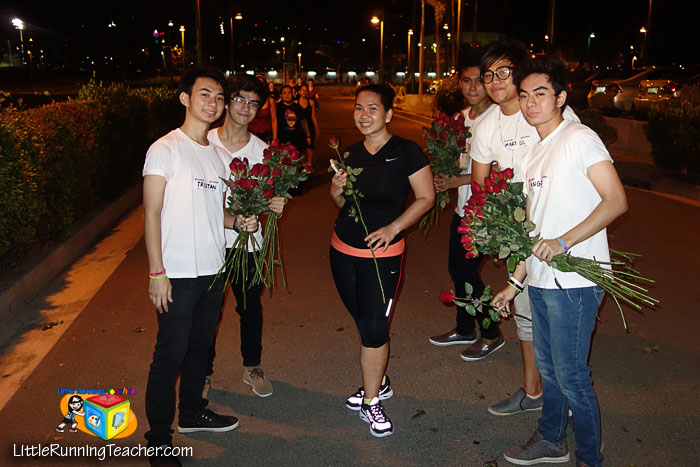 Ms. Bards of BananaRunning enjoying all the men… I mean flowers! :)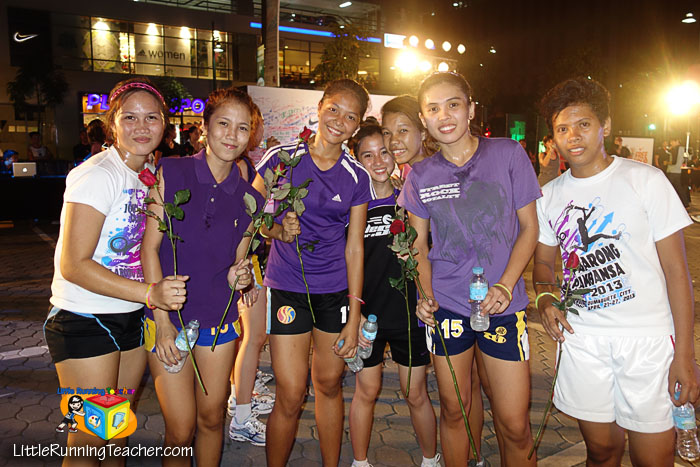 Wouldn't it be nice to end a run with a long stem rose?
–
It didn't end there though, 'coz after a few cool down exercises, the ladies were all led to more treats in a fantastic debut-like setup! There were free drinks, fresh bananas, sweet Oreo cookies and our favorite… delicious ice cream!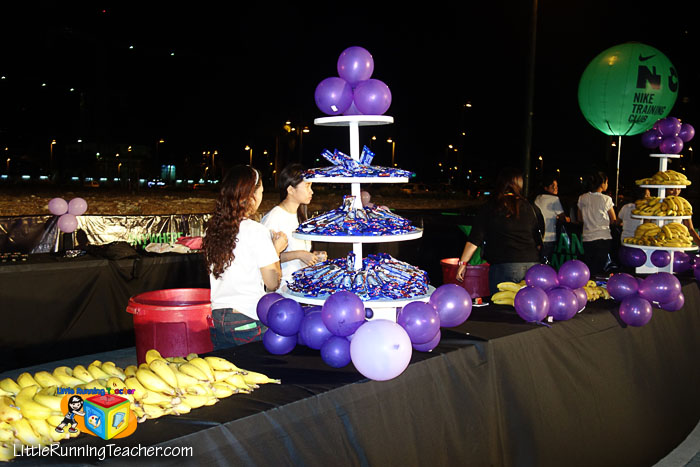 Don't you just love the display?
–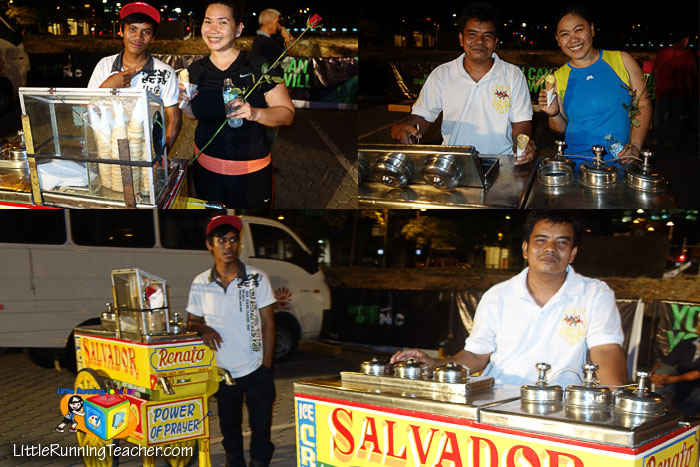 Banana Running and Kulit Runner enjoying some dirty ice cream c/o Nike
Besides the official program, there were also a bunch of fun activities on the side which we didn't fail to take advantage of! One of our favorites was the fun and equally scary trampoline.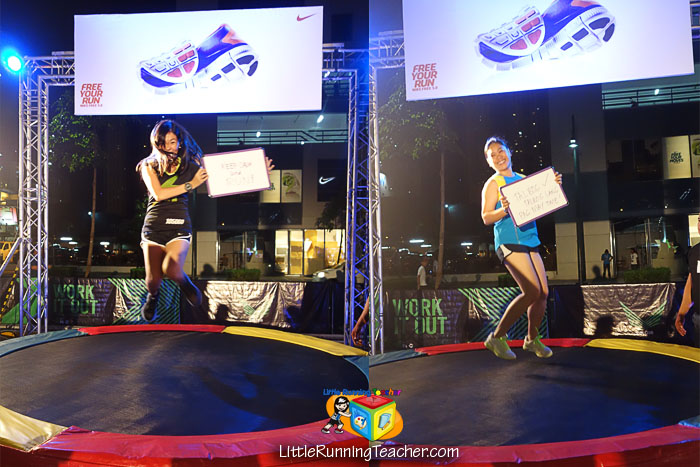 It was so much fun but I kept feeling like I was falling off.
Me on the left and Ms. Vima on the right.
–
The Nike Training Club wall. Took the photo before I got to sign myself. Oops!
"With the trend of digital media going social, Nike+ presents the perfect opportunity for runners to run anywhere, anytime while staying connected to the global running community. In the same way, we want aspiring young female runners to know that there are women all over the world who can inspire them to become the best runners they can be. We definitely look forward to establishing the foundations with female runners as we drive the running revolution in the country," shared Nike Philippines Country Marketing Manager Courtney Cole-Faso.
It was definitely an exciting night for the ladies, so stay tuned because Nike has more in store!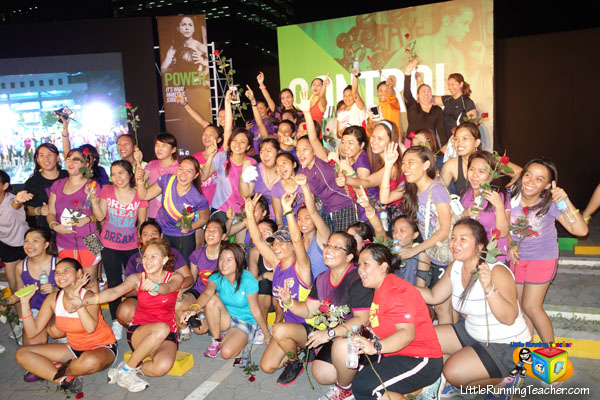 Group photo with the ladies after a fun workout session
–
To stay updated,
Follow the Little Running Teacher on Facebook and Twitter
make sure you also like Nike Ph on Facebook
and follow them on Twitter