Women today are very versatile. We crave exercise. We seek adventure. We are strong and "macho" yet continue to be the passionate and gentle caregivers we need to be. A few weeks ago, I attended the Nike Women Digital Media Conference and got the chance to listen to different Nike women share their thoughts, insights and experiences using Nike.
Defining the Nike Woman
The first to take the stage was Nike Southeast Asia Brand Director Bulbul Khera who shares how Nike engages and inspires the female athlete in Southeast Asia and globally. She shares how Nike women are like water – we crave versatility. We crave to do more and we know in our hearts that we can do better. Strength is slowly evolving to be the new standard of beauty. What use is a pretty face if you can't  life a few pounds right? Fitness is becoming an integral part of life – defining not just what we do but who we are.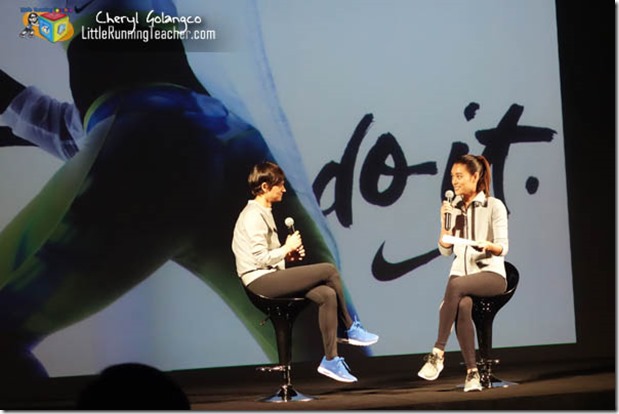 I enjoyed listening to Ms. Bulbul Khera. The way she described Nike shows how much she personally believes in their company's goals and aspirations. Nike truly believes in the multiple potential of each woman, and this year, they are making sure that they are able to help maximize these through their product line.
Valerie Ng, Brand Merchandiser from Nike Women SEA, spoke with host Kim Jones on how NIKE creates designs for the Nike women. Nike always starts by listening to the voice of their athletes. Through this, they begin to conceptualize and dig deeper to ensure Nike women get nothing but the best when it comes to our workout apparels. When Nike creates their designs, they also make sure to have a balance of both art and science. It's not enough for a product to just feel good, it has to look good to. After all who would want to wear an ugly pair of shoes right?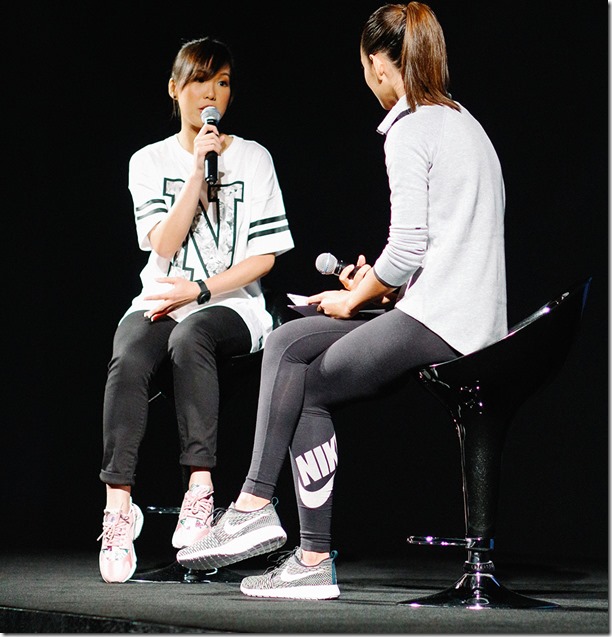 "We believe that great design unleashes the potential inside every single athlete," says John Hoke, Nike Vice President of Global Design. "Our designs are led by performance, formed by beauty and backed by science. We strive to enable her body in motion, flatter her senses, inspire her individual expression and, ultimately, help her achieve her performance goals."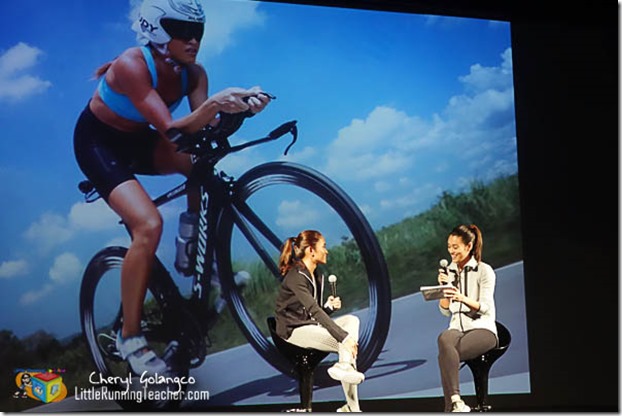 Monica Torres, Philippines' #1 Female Triathlete sharing her challenges and experiences
Nike Products for HER
After the short discussions, the bloggers were led to what you could call a Nike gallery where a bunch of their apparel were on display. I looked at all their products in awe.  I love the different colors and designs and just wanted to grab them all and run! Ms. Valerie Ng along with Nike Philippines Product Specialist Andro Torres described the hard work Nike put into each product line.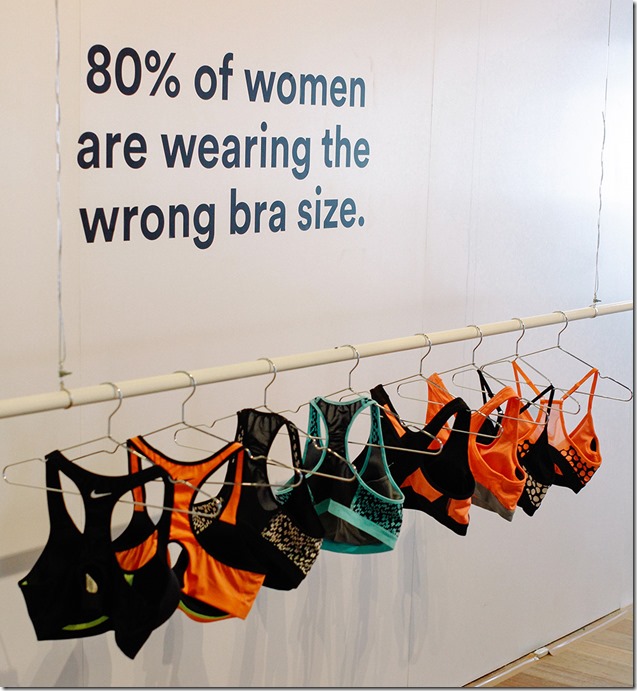 The sports bra is at the heart of every female athlete's workout. It's often the first thing she puts on and is arguably the most important. Women are very versatile, we have different sports and different body types. Hence, Nike has also come up with a variety of sports bra to properly support our versatility.
A sports bra that doesn't fit right is motivation not to work out.  "We have a saying here, 'No bra, no workout, no run'," says Julie Igarashi, Vice President of Global Design for Nike Women's Training. "The majority of women are wearing the wrong-sized bra. This is something we needed to fix."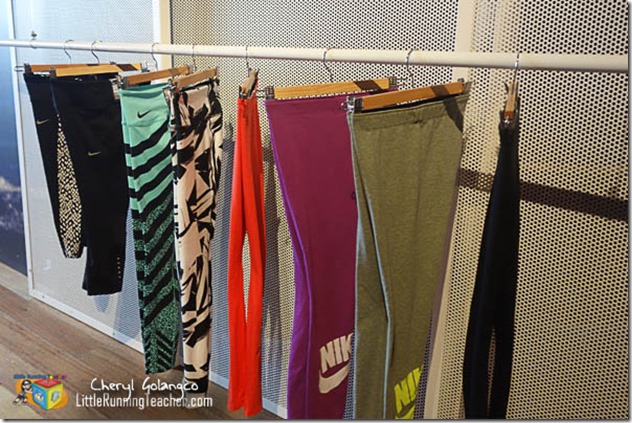 Similar to the sports bras, different tights are also used for different activities. Hence, Nike tights are designed based on their function. For example, the running tights has a pocket strategically placed in the back panel. The stitching allows runners to move freely despite having a pocket. On the other hand, the training tights loses the back pocket as it might be a distraction. Instead, it uses a higher waist band that will help women move freely when doing their insane workouts.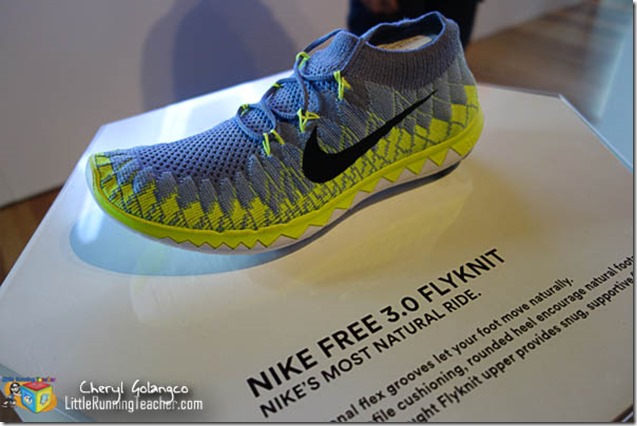 Last but not least are the very colorful and unique shoes. Women have a variety of shoes for sports, casual lunches and formal dinners. So it's just right that we also have specific shoes that cater to our specific needs when working out. Running shoes do not work the same way as training shoes, and aren't really the same as boxing shoes. Nike introduces a wide array of shoes that will work well with any sport the Nike woman desires!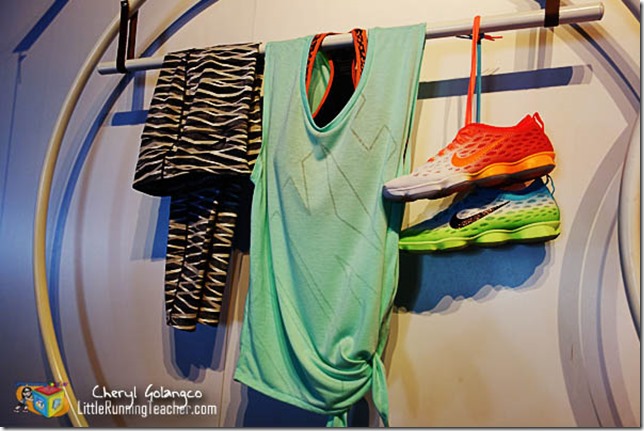 N+TC Women's Training
So after that showcase, it was time to put the Nike women to the test! I, along with a few bloggers and other lovely ladies joined the N+TC workout led by Malaysia's first and only Nike Master Trainer for Southeast Asia, Ms. Emelda Vincent.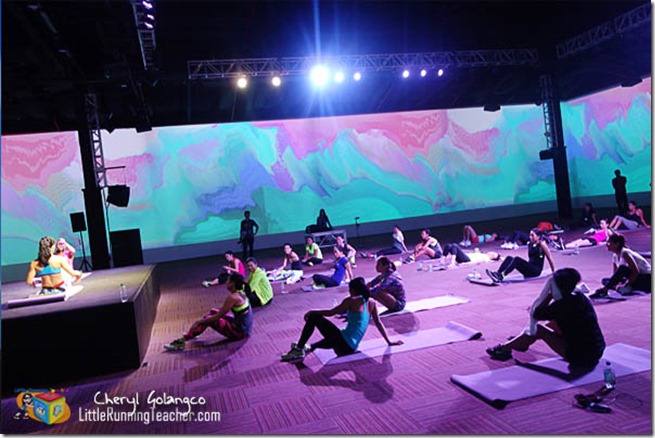 The workout at first seemed pretty easy. Each set only lasting 45seconds! ….all I can say is, it's easier said than done! Though only lasting 45seconds, I could really feel my muscles crunching and working. The sweat was dripping and my body was getting hotter, slowly burning all those unwanted calories.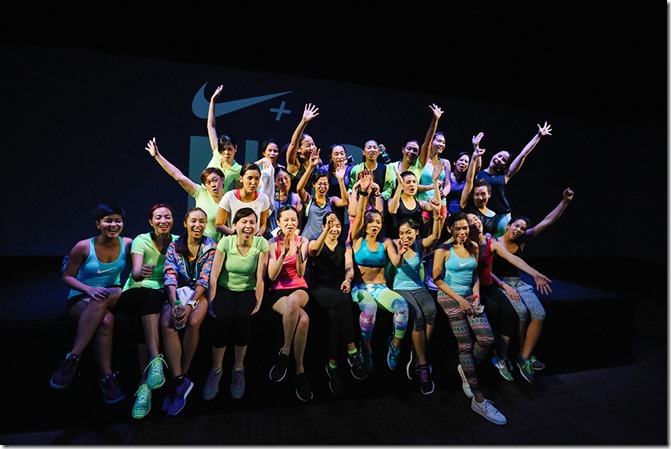 Being used to doing Shaun T.'s INSANITY workout, this preview of the N+TC felt a little easier.. or so I thought. As it was just a preview, Ms. Emelda Vincent didn't want to stress us out too much. The goal was to just have fun while working out. Funny thing though was despite not feeling much pain right after the workout, my body started reacting the following day! My abs, thighs and even my butt was hurting because of the seemingly easy workout! I LOVED IT! That pain meant I was doing it right and I was burning carbs! Woohoo!
Nike has a LOT more in store for you awesome ladies this year, one of which is of course, the 10K All Women's Run this May! Make sure you check it out and sign up before slots run out!
Woohoo! Let's do it girls!
For updates on other runs or to just keep in touch
visit http://www.facebook.com/littlerunningteacherpage
twitter.com/cherylgolangco