While browsing my Facebook page one day, I noticed a photo wherein one of my friends was tagged. It was a photo of a little stick man drawn in the simplest form possible in black and white but with eyes shaped like a heart and in the color red. I wondered what it was and so I followed the link, that's when I came across the three words, "Eat, Pray, Run"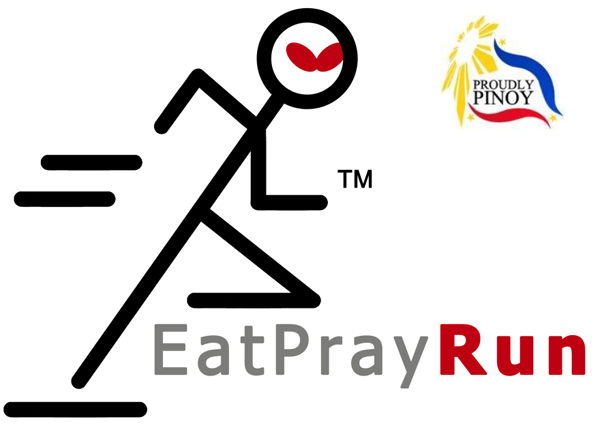 –
Strong words. I started analyzing the way I go by my everyday stuff. Eat (How could I not? Yum!) Pray (I always turn to God) and Run (not as much as I'd like but yeah!). And so I looked further into it. At first, I figured it was just another online shop. I looked at the shirt and told myself I wanted to buy one because I liked the statement. But then, there was another link. This time, it led to a video. Above the link, it says to watch the video in order to fully understand what "Eat, Pray, Run" is all about. So I watched it, and so should you:
–
After watching the video, I was decided. I'm gonna buy this shirt. Not just because of the simplicity and beauty of the design, but also because of the cause. Buying 1 shirt means granting 2 wishes! One for yourself and one for a charity. So not only did you get a new shirt, but you get to have your wish granted and most importantly make someone else's wish come true. Can't say no to that now can you?
–
Eat Pray Run's Mission and Vision
To provide market competitive & high quality running gears to runners.
To promote running not just as a sport but also a means to make a difference.
To be the first Filipino running apparel brand.
To be the first running brand that strongly promotes Charity & Friendship,

the true spirit of modern running.
(I really liked the last part of that!)
–
PRODUCTS
There are two shirts to choose from with the same price, so just check which one you'd like.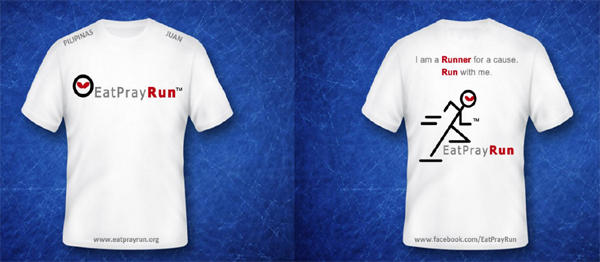 –
1st Edition Of EatPrayRun T-shirt (COTTON)
PERSONALIZABLE (check the sleeves)
Start Date: March 16,2011
End Date: May 21, 2011
Material: CVC Cotton
Print: Laser Cut Rubberized Print
Rubberized Print Perfection At It's Finest
Price: PHP550
1st Edition Of EatPrayRun T-shirt (DRI-FIT)
Start Date: March 16,2011
End Date: May 21, 2011
Material: DRI-FIT
Print: Silk Screen Rubberized Print
Dri-Fit Comfort & Durability For Your Maximum Running Performance
Price: PHP550
–
More about Eat, Pray, Run
EatPrayRun™  is  a  LIMITED COLLECTIBLE RUNNING GEAR .  It  may  come  as  a  t-shirt,  singlet, running shorts etc.
The period for purchase of every EatPrayRun™ edition is limited only for 2 months. (In this case from March 16-May 21, 2011 only!)
30% of EatPrayRun™  's net profit  from every edition  is dedicated  to charity hence  the wishes.
When you buy EatPrayRun™ you'll be asked  to

MAKE TWO WISHES

.

A personal wish & a charitable wish.

After  the  closing  of  our  edition  sales,  EatPrayRun™  will  choose  and  announce  the wishers and the wishes that he will be granting.
The  chosen  wishers  and  the  provision  of  the  personal  &  charitable  wishes  will  be featured in EatPrayRun™ 's website, facebook page & EatPrayRun™TV (Youtube).
The number of the wishers that will be chosen will depend on the edition sales.
EatPrayRun™ intends to grant many wishes as possible.
–
So basically… When you buy a shirt, they'll ask you to make two wishes. One for yourself and one for a charity foundation. At the end of the 2 month selling period, they will grant as many wishes as possible. You will be informed if you were picked. The more feasible your wish is, the more likely they'd grant it.
–
DISCLAIMER: This is not an advertisement. After watching the video and learning more about the company/group, I felt glad that there is such a group that exists. I believe in their mission and vision and am thrilled to help out.  I know I've said it but I'll say it again, I really really like that wish making thing! :)
–
THE SALES FOR THE FIRST EDITION HAVE BEEN EXTENDED AND THE FINAL BATCH HAS JUST BEEN RELEASED!! GO GET YOURS NOW WHILE SUPPLIES LAST!! :)
–
–
For more info:
Website: www.eatprayrun.org
Facebook: www.facebook.com/EatPrayRunTM
Phone: (02)4967305 / 09177399843 / 09289352533
Email:[email protected] ,[email protected]
Address: Business Center, Century Citadel Inn Burgos Street, Makati City 1210 Philippines
–
YOU CAN ALSO NOW ORDER THROUGH A RUNNER'S CIRCLE (Along Roxas Blvd) or online through Runner's Runner!!!!