Are you ready for the Quezon City International Marathon coming this Sunday? I sure am!! But… what about all our friends who haven't registered? Or maybe, our other friends who we can't just get to go with us for our runs 'coz they always complain of the high price? Well, here's the PERFECT OPPORTUNITY for you guys to not only enjoy a GREAT race with friends and family, but to enjoy and appreciate the wonderful roads of Quezon City!
–
It may be too late to register, but it's not yet too late to win some free race kits! Please note though that these FREE race kits are NOT entitled to the Condominium Unit raffle prize but they will still be given the free event shirt plus the freebies after finishing the race. Also, there are only slots available for the 5k and 10k category! :) Don't forget to thank the organizers, RUNNEX for this great opportunity!
–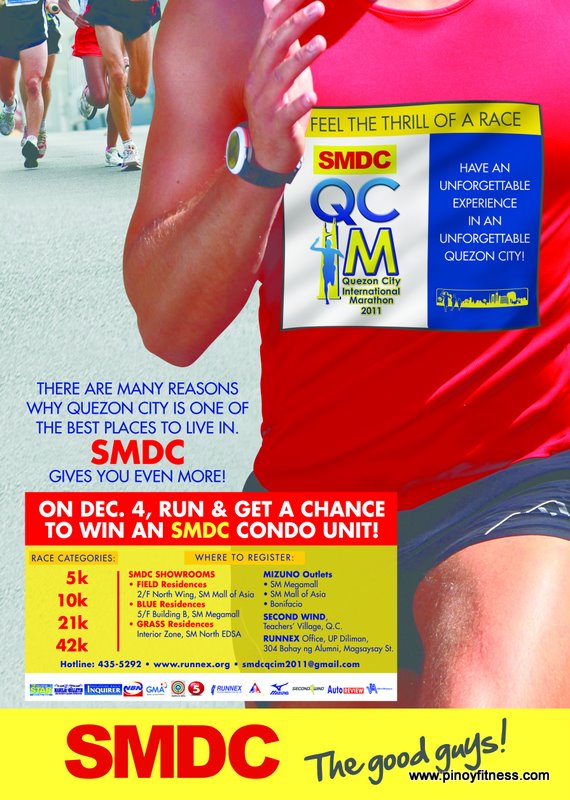 –
HOW TO JOIN:
Simply leave a comment to this post with a 1 sentence answer to the question,
"What do you look forward when joining a run?"
Also include the following details in your comment:
Name
Date of birth
Address
Email address
Contact Number
Shirt Size
Race Category (5k or 10k only)
*The first 50 people to leave a reply get the free race kits! Deadline will be tomorrow(Thursday) at 8:oopm or until slots are filled up
–
CLAIMING OF RACE KITS
Saturday, Decemer r 3, 2011, 9am to 5pm at the 3/f, Bahay Ng Alumni Bldg, UP Diliman Campus, Quezon City.
Thank you everyone for joining! Originally, I said I'd give away 50 kits, but because of the overwhelming number of people who joined, I added 15 more kits.. GIVING AWAY A TOTAL OF 65 race kits!! :) Those people whose names are on the list may claim their kits on Saturday at UP Diliman Campus from 9am to 5pm! :)
CONGRATULATIONS TO…
 

Ralph Jonar Ardio

Philippe Villareal


Henry Almeida

Roxana M. Adricula

RINALYN M. ADRICULA

Benedict de Jesus

Edrick Nicdao

ROSE ANNE M. ADRICULA

Myla S. Gonzales

Clarissa Almeida

Jeffrey Aficion

REMEDIOS M. ADRICULA

JOSE RAMIZARES

Jayson Forfieda

april lyn m. peñaflorida

Paul Villareal


MA. TERESA C. BALCITA

Claridel Guanseng

Spencer D. Tabing

Joebert dela Rosa

RICHARD GUANSENG

Apple Buenavista

Jemery L. Supnet

Ian David Vinoya

Diane Precillas

Joseph Sibal

jeffrey l. yasol

dan carlo m. peñaflorida

jose roland mesias jr

Dexter Ignacio

christopher guilas

cherie enriquez

carol manucdoc-yasol

randy cabanero

cordelia m. peñaflorida

Eugene Rebulanan

RONALD C. RETAGA

arthur natvidad

Elmer Lopez

Oriel Brian A. Briguela

renato e. peñaflorida

Russel T. Hernandez

Randy cabanero

rommel gatmaitan

mary joy puno

Mharu Pacana

Rosalie Lopez

jeumar mendoza

Mark Anthony Diaz

 rizevel bentazal

Francis Velarga

Cristina Adrias

ANGUSTIA LINTAO

Lily Flores

Janua Myrrh I. Baldomero

Catherine Dacio

Cynthia Galapon

Rosemarie bayno

RHEA ROMANO

Yliah Niña Bosh

liza sugatan

Kurt Roman Uy

Zona Uy

teresa erosa

Reylie Vergara
–
For other details on the race, do check out my previous blog about the Quezon City International Marathon HERE!