In celebration of Women's Month this March, Women's Health Philippines and Athena Milk for Women team up to stage their first-ever All Women's Run, happening on March 19. Saturday, 5:00 A.M. at SM Mall of Asia (across IMAX Parking Lot), Pasay City.
–
In line with this, I am giving away FOUR free race kits of your desired distance! Ready to run?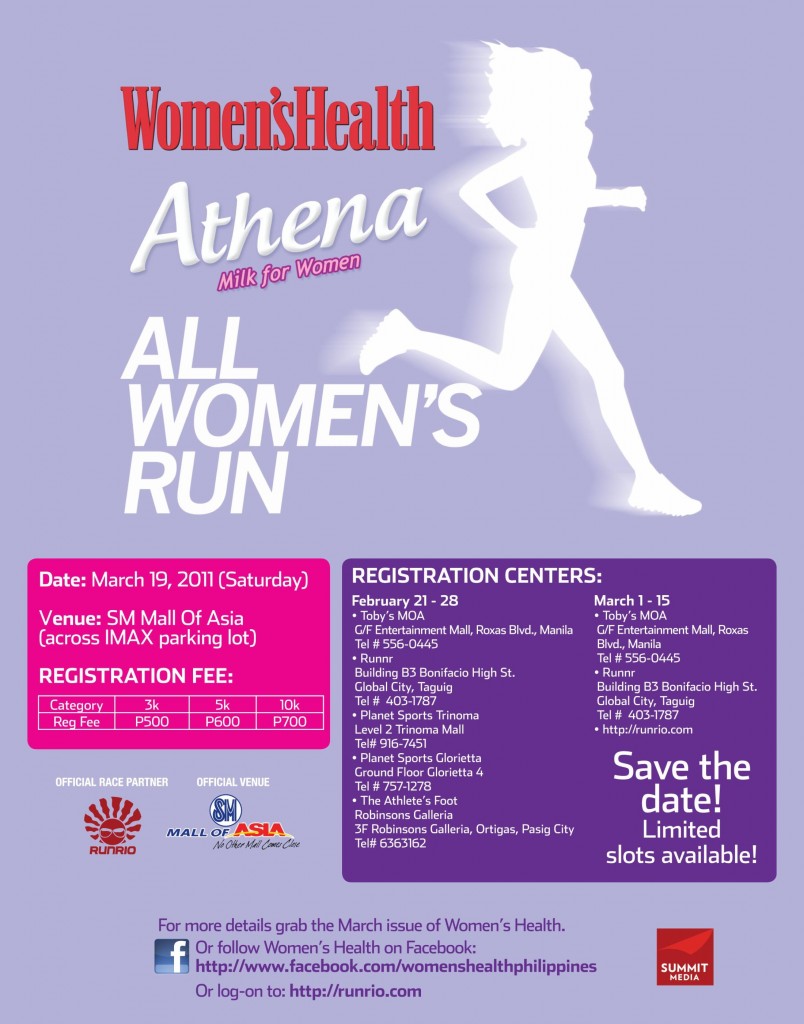 –
GOLDEN RULES:
1. Only WOMEN/GIRLS are allowed to join
2. Like the LittleRunningTeacher fan page on Facebook
3. Post a short comment about the joys of being a woman.
4. Tag the LittleRunningTeacher in your comment and a link to this post:
"(something about the joys of being a woman), LittleRunningTeacher is giving away FREE Race Kits for the Athena Run, find out how: http://wp.me/p11LPf-PY"
–

REMINDERS:
I will be posting a note on my page if I have received your entry: http://www.facebook.com/note.php?note_id=194919747205769
The winner will be picked randomly via Random.org.
Winners to be announced on Tuesday night, March 15, 2011 through my facebook page!
Remember that you have to follow the Golden Rules to win.
Winners will need to send their complete name, birthday, age, gender, email, contact number, emergency contact person and contact number plus the desired race distance and singlet size
Prizes will be claimed at the RACE VENUE on RACE DAY!
–