I love to run but I somehow always find reasons not to. I never dreamed of running more than 5km when I first started running, and it was never my goal to go an inch further. I was happy just running a few 5km fun runs once or twice each month. However, when I started blogging… I started meeting more people who were into running. I started meeting several running bloggers and running enthusiasts.. I started meeting people who somehow challenged me to challenge myself. Can I go further…? Do I dare try to go further? I wanted to… but I was afraid to. By this time, I had only tried running 10km runs twice… and even walked half the time. I was not comfortable registering for a 10km run… but a big part of me wondered.. "What if?"
–
As I continued speaking with other runners… I began wanting to take the challenge more and more. But I asked myself, how? I did not have a regular group of running friends who wanted to train with me… I had no time to run alone in the mornings and I didn't like running alone at night. So how do I train? How do I get the confidence I need to step out of my comfort zone and aim higher? and then I saw this….
–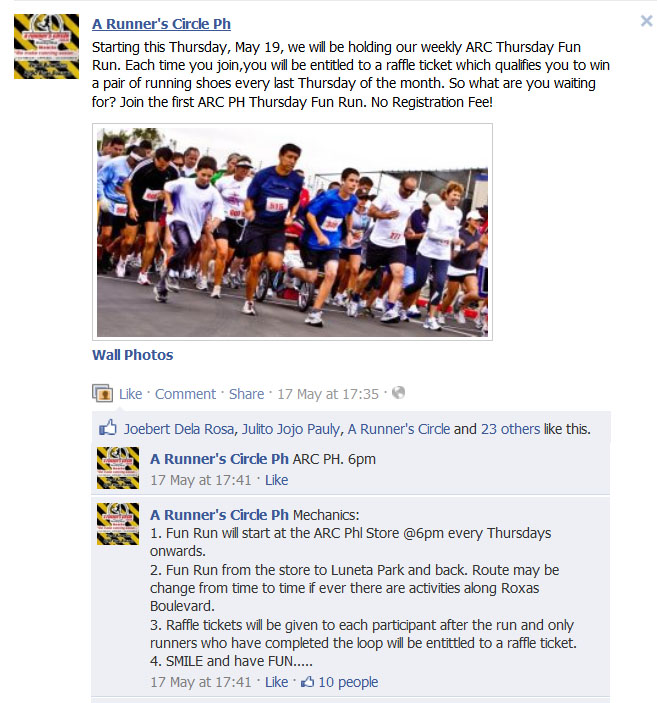 –
I knew the store… I knew the name… but I never went here until last May 19, 2011. My first reaction was immediately, "WOW!" I loved how the entire place looked, but more oever, I loved how store owner Sir Raul Acuna Jr. along with his staff/members Sir Perkins and Sir Mario were really nice, friendly and accommodating. Any business is only as good as the person/people who run it. Regardless of how successful something may be, if the person in charge can't relate well, the business will go down the drain. Which is why I am confident that ARC will be around for many more years to come! The store was not opened simply to start a business or to make money but to start a family. It was opened to support runners and to help runners dreaming to go further and aim higher.
–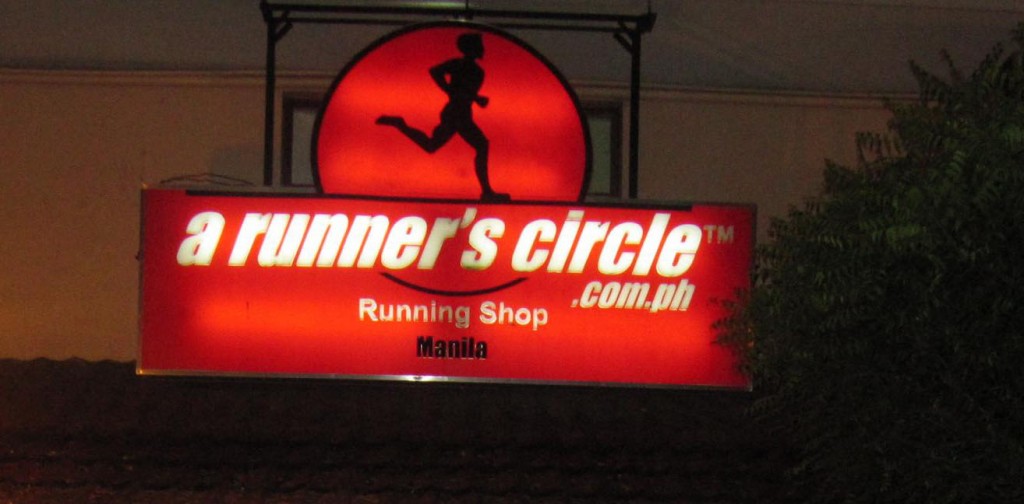 –
When I saw this post on Facebook, it got me really excited. I thought to myself that this was the perfect way for me to train. I immediately invited my friend Ivica Say a.k.a. RunNurse to join me! She had not yet joined as many fun runs that time but she was eager to try it as well. We then invited 2 other office mates and got geared up and ready for our first ARC Thursday Fun Run! Who knew that this one Thursday would make such a big impact to myself and many others… and change our lives completely.
–
The ARC Thursday Fun Run has been happening every Thursday since May 19th! On the first Thursday… there were around 30 to 50 of us there… but that number slowly grew and there are now HUNDREDS of runners supporting ARC. WOW! Good job ARC! I started out not knowing much about running, and not having too many friends in the running community… but ARC changed that for me. Though I can't recall everyone's name… I think of us all as a family. The ARC running family continues to grow each and every week, and it just keeps getting bigger.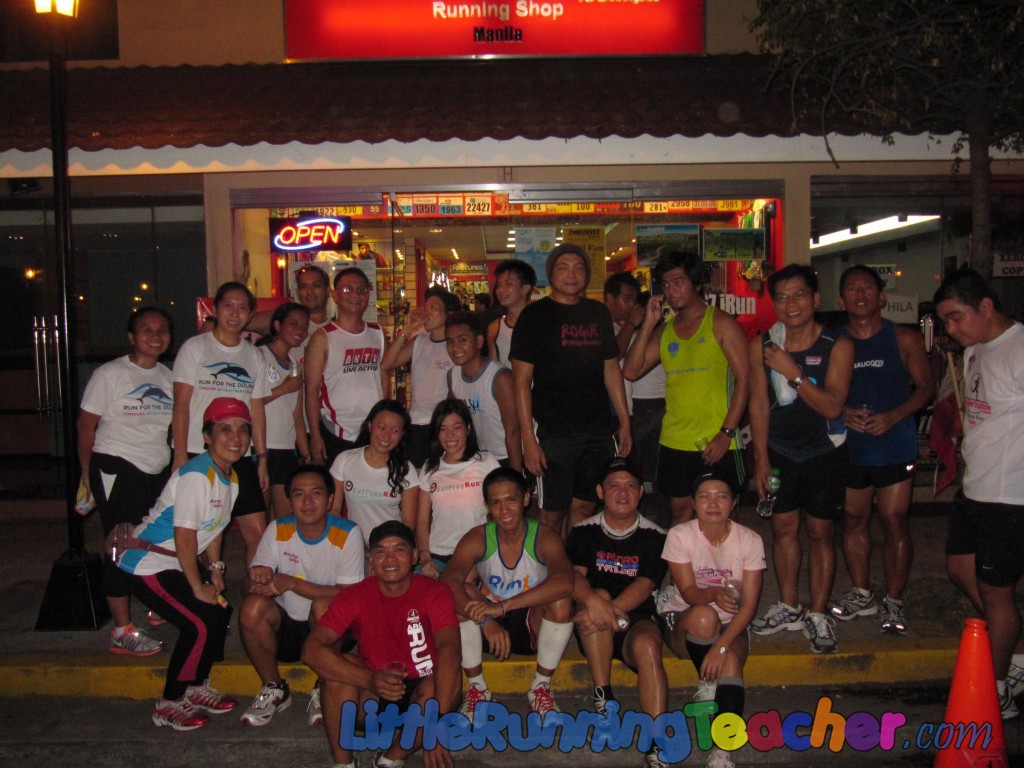 –
I first entered the doors of ARC because I wanted to complete a 10km run with confidence. I continued running with them because I wanted to run with a team. I look forward to every Thursday of every week because I love it here. So this post is dedicated to you.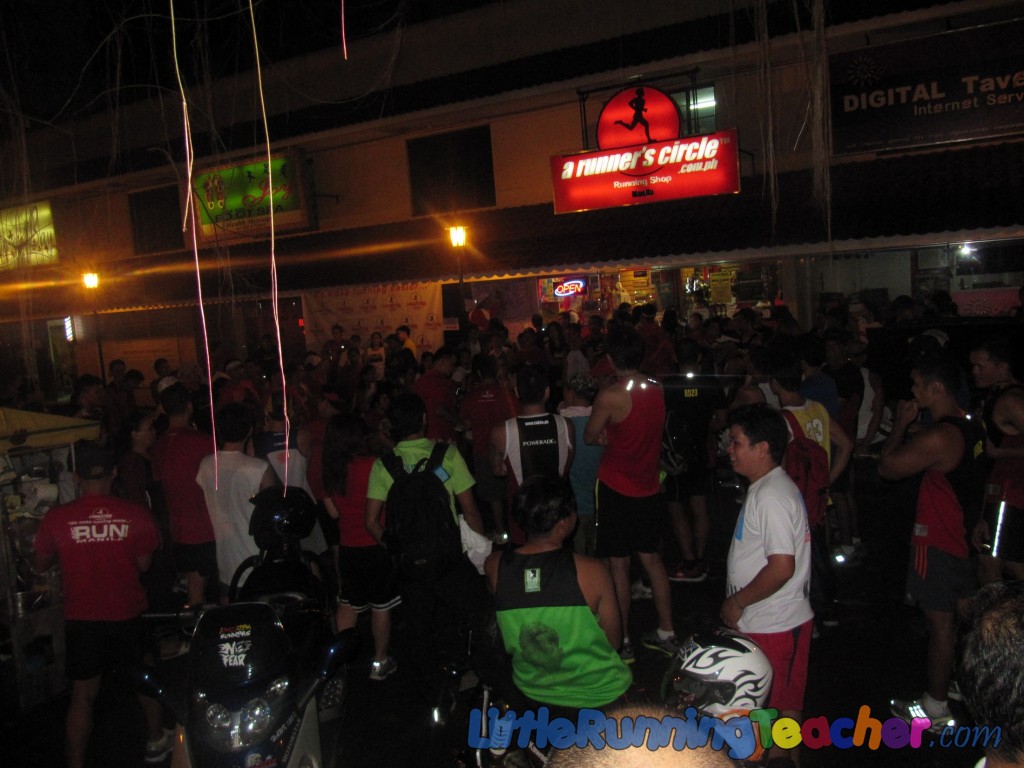 –
HAPPY ANNIVERSARY ARC!
Thank you for welcoming us into your HOME and making us part of your FAMILY!
MORE POWER!!!!
–
 Find out more about ARC on their website: http://arunnerscircle.com.ph/
To check out more photos from the anniversary party, check them out on my Facebook page.