Hey runners and PARENTS, here's a great running activity for you and your child! Don't miss out on this GREEEAATTT opportunity.
–
What: ALASKA RUN FEST 2011 RUN FOR FUN
When: May 7, 2011
Where: SM Mall of Asia
–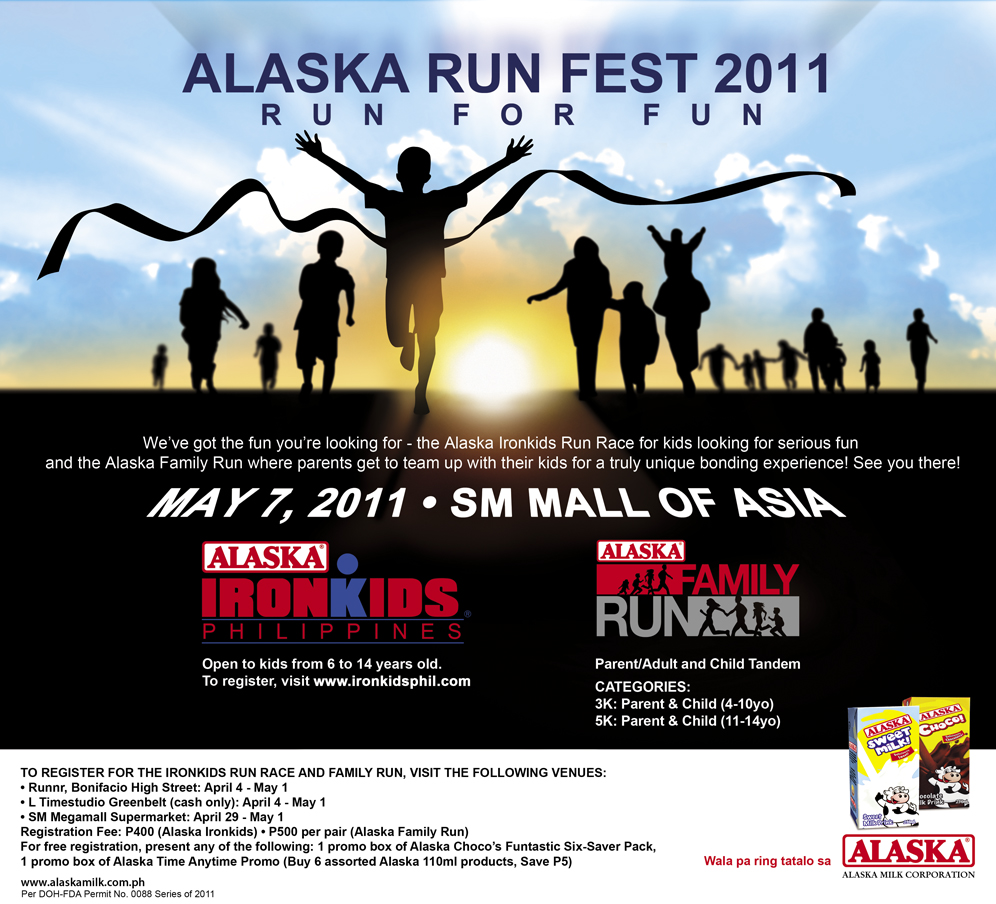 –
But hold on, there's more!!
REGISTRATION IS NOW FREE for the first 1000 registrants!
–
500 from the 5k division and 500 from the 3k division!!! Simply comment on this post with your email address so I can send you more details. FIRST  come FIRST serve! This offer is good until the slots are still not filled.
–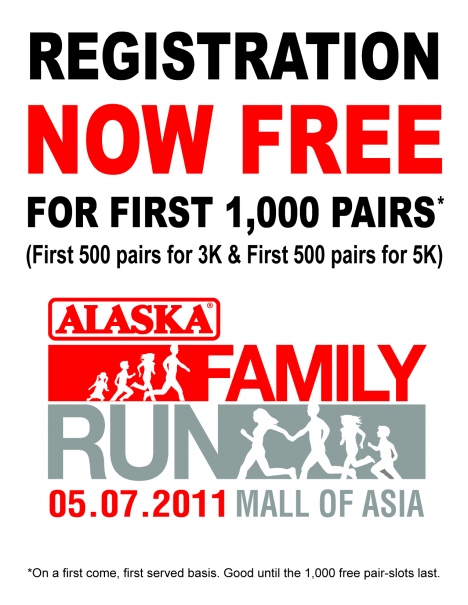 —
About the Run
What makes this run fun and unique is that it REQUIRES a match up between an adult and child. It is not a solo run and no one is allowed to run alone. I think it's a really cool and fun opportunity to bond with your child through fun and recreational sports.
There will also be TWO races during this event, one will be the ALASKA IRONKIDS RUN RACE which is open to kids ages 6 to 14. with the following categories:
1km – For kids 6 to 8 years old
1.5km – For kids 9 to 10 years old
2km – For kids 11 to 12 years old
3km – For kids 13 to 14 years old
Another is the ALASKA FAMILY RUN which requires a parent/adult and child tandem with the following categories:
3km – Parent/Adult and Child 4 to 10 years old
5km – Parent/Adult and Child 11 to 14 years old
–
Assembly/Call/Gun Start Times:
3km – 6:00AM / 6:30AM / 6:45AM
5km – 5:00AM / 5:15AM / 5:30AM
MOREOVER!!! A FINISHER's SHIRT will be given to the first 1000 pairs that cross the finish line!!

–
Isn't it awesome???
–
Thanks to kulitrunner.wordpress.com for the info and pictures! :)