Nothing to do this Saturday? Want to learn and have fun with your kid? Well then come to the Kids Expo II at the Rockwell Tent! It is an expo designed FOR the kids and By the kids! It's the ULTIMATE event for kids and kids at heart! Parents and teachers, it's our turn to listen to what they have to teach us!
.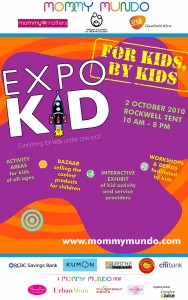 WHEN: OCTOBER 2, 2010 from 10:00am to 8:00pm
WHERE: ROCKWELL TENT
WHO: Everyone is invited to come! Kids, parents, teachers and anyone who wants to have fun and learn something new!
.
SHOP! for the latest products for kids
DISCOVER! services and activity providers for kids
DO & LEARN! at activity areas for kids of all ages
LISTEN! to demos and workshops for kids, by kids
.
ENTRANCE FEE
Entrance is 25 pesos per person. Kids below 12 years old get in free! It's a rather small amount if you consider the many things you and your child will get to enjoy! Plus, 100% of the proceeds will go to the operation of Baby Seb!
Hold on, WHO is Baby Seb?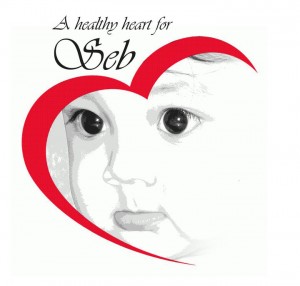 "Sebastian Aramis is our second angel. Born on April 2, 2009 at St. Mattheus Hospital via cesarean delivery. He's a preemie, weighing only 1.9 kg. at birth. He was incubated and intubated for almost tHree weeks. On his first week, we were informed by his pediatrician that he might have a congenital heart disease.
.
On his third month, after having his 2d echo-cardiogram, he was diagnosed with Tetralogy of the Fallot, a congenital heart disease which consists four heart defects and causes Cyanosis (blue baby).
.

There is no other treatment for TOF but an open-heart surgery…the earlier, the better. We are now trying to raise P400,000.00 for this procedure. and this is our mission…A HEALTHY HEART FOR SEB."
.

So what do say we help out Baby Seb? If you think about it, we really don't have much to lose, while Baby Seb has a lot to gain!
.
What can we expect at Expo Kids II?
1.) Onstage Program
______Ailly Cortez (center) teaches us how to______________Vicente Hizon tells us all about

________SEE and DRAW at 11am!___________________________Astrology at 2:00pm
.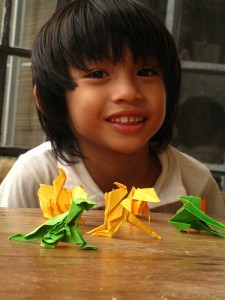 Mateo Llanes teaches us how to make DINOSAUR ORIGAMI at 3:00
.

| | |
| --- | --- |
| 10:30-11:00am | DRUM SHOW by Dona and David Esteban |
| 11:00 – 11:30am | HOW TO SEE AND DRAW by Ailly Cortez |
| 11:40-12:10am | COOKING by Lucio Racho (8 years old) |
| 12:15 – 12:30pm | RAFFLE and GAMES |
| 12:30 – 1:00pm | SPONSOR'S TALK: KUMON |
| 2:00 – 2:40pm | ASTROLOGY by Vicente Hizon |
| 3:00 – 3:40 | DINOSAUR ORIGAMI by Mateo Llanes |
| 4:00 – 4:30pm | KIDS BALLET by Dance Basics |
| 5:00-5:30pm | A Talk on HOMESCHOOLING |
*Limited seats available. Schedules are subject to change without prior notice.
.
2) Shop at the Kids' Bazaar featuring 40+ booths showcasing the most interesting products and services for kids (and moms & dads too!)

.

3) Visit the 3 Interactive Areas offering fun and educational activities, created by the following Expo Kid partners:

.
MULTIPLE INTELLIGENCE SCHOOL
HOMESCHOOL ASSOCIATION
IMAGINE THAT
Every child is smart! Learn about the different kinds of smart through Multiple Intelligence School's activity stations where kids can explore and learn about the 8 kinds of intelligences.

Activity stations for the multiple intelligences: Linguistic, Math, Spatial, Bodily Kinesthetic, Musical, Naturalist, Interpersonal, Intrapersonal.

Home schooling moms and dads show  us how they do it!

Discover personal and innovative ways to teach your children different learning concepts.

AM: Sorting activity for small children, Story telling by home schoolers and their parents

PM: Notebook decorating (w/ minimal fee), Story telling by home schoolers and their parents, Play dough and drawing activities

Get your child busy with the creative team of Imagine That.

A fun corner featuring a "mini town" complete with a mini supermarket, kitchen, theatre and construction site.
.
PLUS OTHER FUN ACTIVITIES!
cookie decorating
face painting
.
NO NEED TO PRE-REGISTER! JUST BE THERE ON THE DAY ITSELF!!! SEE YOU GUYS THERE!!
For more info, please visit www.mommymundo.com