Ho Ho Ho, Merry Christmas! It's the time of the year again for us to go shopping not just for friends, but for ourselves as well. Well if you plan to go shopping, be sure to include Enervon Activ capsules in your shopping list to get a guaranteed discount of 70% on premium Rudy Project gear! Woah! Check out Enervon's Press Release below.
–
Press Release:
Beat sports fatigue, train harder and be rewarded for it! If you have the will to push yourself, avail of the Enervon Activ Will to Win Promo. Get guaranteed discounts up to 70% off on premium Rudy Project gear online on select watches, shades, helmets and more. To avail, just purchase 60 Enervon Activ capsules from Mercury Drug Stores. Promo is from Dec 1, 2013 – Jan 31, 2014.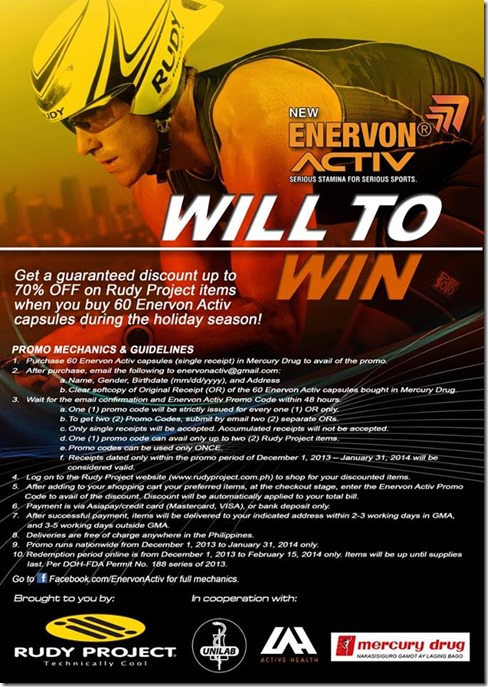 –
Will to Win: Enervon Activ and Rudy Project Promo Mechanics and Guidelines
1. Purchase 60 capsules of Enervon Activ (single receipt) in Mercury Drug.
*Only purchases from Mercury Drug are entitled to avail of this promo.
2. After purchase, email the following to [email protected]:
a. Name, Gender, Birthdate (mm/dd/yyy), and Address
b. Clear softcopy of Original Receipt (OR) of the 60 capsules of Enervon Activ bought in Mercury Drug.
3. Wait for your email confirmation within 48 hours. An Enervon Activ Promo Code will be emailed to you upon approval.
Only one (1) promo code will be strictly issued for every one (1) OR. If the customer wants to get two (2) promo codes at a single purchase, customer should request for the receipt to be split into 2, reflecting 60 capsules bought per receipt. Only one (1) promo code will be released per receipt.
Only single receipts will be accepted. Accumultaed receipts will not be acceted.
One (1) promo code can avail up to two (2) Rudy Project items only, regardless of category. For Example, 1 promo code can be used to avail the discount on 1 helmet and 1 watch only; or 1 promo code can be used to avail the discount on 2 helmets only.
Promo codes can be used only ONCE. If you want to order additional Rudy Project items, you will need to enter a new promo code.
Only receipts dated within the promo period of December 1, 2013 – January 31, 2014 will be considered valid.
This promo is exclusively for Mercury Drug purchases. Receipts from other retail channels will not be honored.
4. Log on to the Rudy Project website with the Enervon Activ promo tab to shop for your discounted items.
5. After adding to your shopping cart your preferred items, at the checkout stage, enter the Enervon Activ Promo Code to avail of the discount. The discount will be automatically applied to your total bill.
6. Payment is via Asiapay/credit card (Mastercard, VISA), or bank transfer/deposit only.
7. After successful payment, items will be delivered to the shipping address indicated by the customer. Deliveries are free of charge anywhere in the Philippines.
*Items in Greater Manila Area (GMA) will be delivered within 2-3 working days. Items outside GMA will be delivered within 3-5 working days.
8. Promo runs from December 1, 2013 to January 31, 2014 only.
9. Redemption period online is from December 1, 2013 to February 15, 2014 only. Items will be up until supplies last. Per DOH-FDA Permit No. 188 series 2013.
–
Discounts on the following items will be given for this promo:
Bags – 50% off
Eyewear – 50% off
Junior Eyewear – 70% off
Headgear – 50% off
Watches – 50% off
Accessories – 50% off
All regular items – 20% off
For more information on the Rudy Project Gear
log on to their website at www.rudyproject.com.ph
or visit Enervon Activ's FB page at www.facebook.com/EnervonActiv
–
For updates on other runs or to just keep in touch
visit http://www.facebook.com/littlerunningteacherpage
twitter.com/cherylgolangco