Every runner has their own dream to fulfill and bucket list to complete in the field of sports. Some runners dream of running a full marathon (42km) or even an ultramarathon, others dream of moving on to triathlons, still others simply dream of running in foreign land. I am one of those who dream of joining an international marathon. It will give me a chance to not only run somewhere new but also explore the culture and beauty of other countries. Unfortunately. I find that the registration + airfare + hotel accommodations for joining one are currently not in my budget. Thankfully, Enervon Activ is giving us the chance to be part of either the Angkor Wat International Half Marathon or our very own Run United Philippine Marathon through the Temple Run Digital Promo.

Photo taken from angkormarathon.org
The Angkor Wat International Half Marathon is happening this December. Being part of this run will definitely be a dream come true for most runners! It's an adventure waiting to happen. Running a marathon may already be a fun challenge to look forward to, so what more running it in Angkor Wat? Imagine running through the stunning beauty of this foreign land and getting to visit the various ancient temples that amidst time still remain standing today WOW. Just make sure that when planning to join a marathon abroad to always do your research, register early, book your hotel near the race venue and most importantly, check your passport and visa.
Enervon Activ:Keep Training Keep Performing
So before I tell you about Enervon Activ's Digital Promo… (oops, no scrolling down!) let me tell you a little about Enervon Activ first! What IS Enervon Activ anyway? I haven't been taking Enervon Activ for a long time, but I can tell you this, Enervon Activ can easily become any athlete's best friend!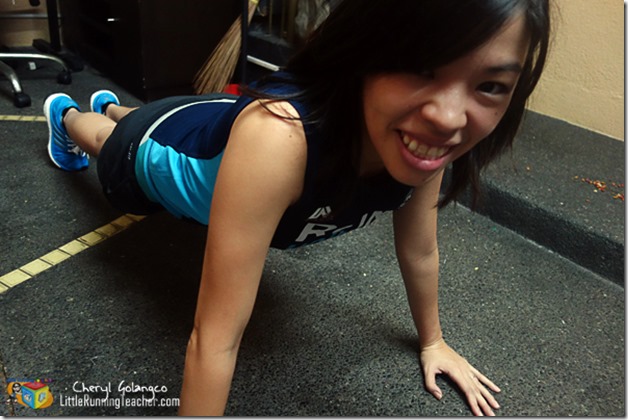 Full body training for the upcoming Run United Philippine Marathon
As an athlete, one of our worst enemies is fatigue. That feeling when despite preparing and training hard for our big event, our body just gives in and we get sick, making us unable to complete our final task. Doesn't that just suck? You see, athletes though more physically fit than the ordinary person are still very much susceptible to illnesses, especially after a long day of training. In fact, the harder we train, the more prone we become to these illnesses. Pushing ourselves too hard and training beyond our capabilities weakens our immune system and puts us at risk for respiratory infections.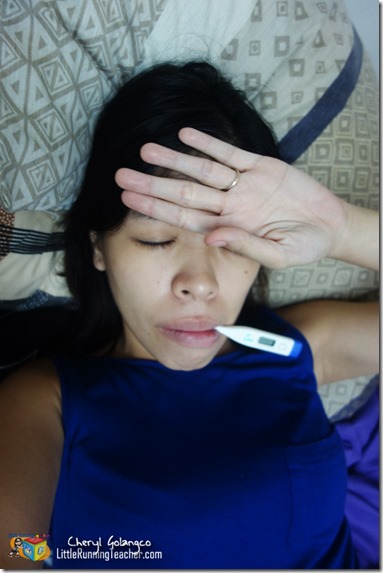 Sickness can get in the way of proper training
Enervon Activ was designed to prevent exactly that! We all know training is very important to help us perform better, but proper nutrition is much needed so we can train well. Enervon Activ was designed for progressive athletes; to help give us the energy we need for consistent trainings with its energy boosters such as vitamin B complex, Royal Jelly and Ginseng. It also protects us from getting sick or infected with its immunity strengtheners such as vitamins A, C, E and Zinc. Lastly, Enervon Activ helps give us better muscle control with its Mineral Sium 5X blended formula composed of Calcium, Iron, Magnesium, Phosphorus, Potassium.
Taking our daily dose of Enervon Activ for our everyday fitness lifestyles
–
My fiancé and I have both been avid users of Enervon Activ for several months now. He takes it before going to the gym or starting his boxing sessions, while I make sure to take it before my insanity workouts and marathon trainings. So far it has proven to be all that they say it is and more. Goodbye virus thanks to Enervon Activ! So if you have no intentions of ruining your training schedule or cancelling on your upcoming marathon, then I strongly suggest you start taking Enervon Activ today.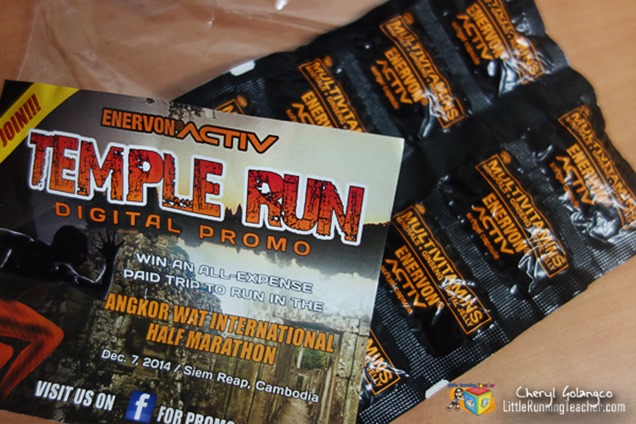 Include ENERVON ACTIV in your daily meals and get the proper nutrients you need to see your training all the way through!
–
Enervon Activ:Temple Run Digital Promo
Alright, since you've all been very nice, I'll finally tell you the details of the Enervon Activ Temple Run Digital Promo! Don't forget to take down notes or save this page in case you forget. Then again, the mechanics are pretty easy so I'm sure you'll all be fine. So what's at stake? 10 race kits to the upcoming RUN UNITED PHILIPPINE MARATHON, and 4 winners of an ALL EXPENSE PAID TRIP to run in the ANGKOR WAT INTERNATIONAL HALF MARATHON!!!! WOAH!!!!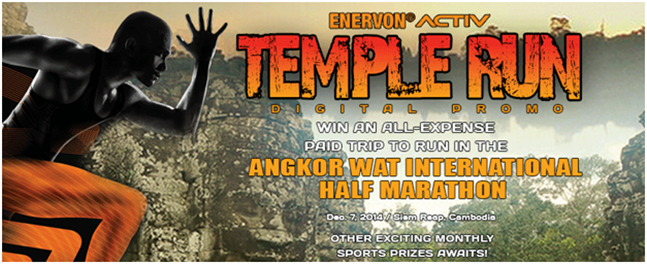 Enervon Activ Temple Run Digital Promo Mechanics:
1.Promo is open to all Philippine residents of legal age.
2.Promo starts on Aug 1, 2014 and ends on Oct 31, 2014. Entries can be submitted up to October 31, 2014 only.
3. To join, purchase the Enervon Activ promo pack by 10's from any participating drugstore, convenience store or supermarket account.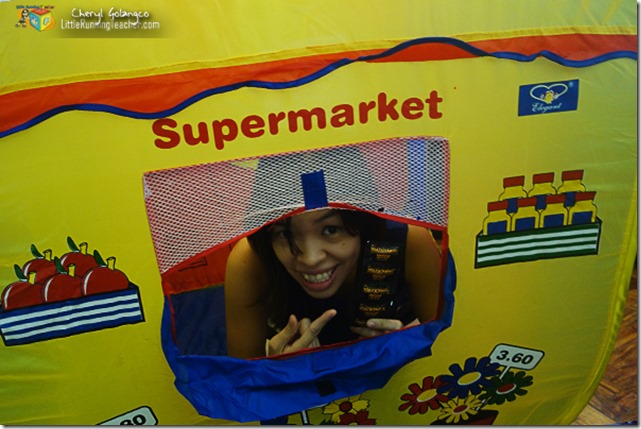 4. Look for the digital code attached to the insert of the promo pack. This digital code serves as the promo entry. All digital code inserts should be kept for claiming purposes, in the event the digital code wins in the raffle draw.
5. Enter the following in the promo website at www.unilabactivehealth.com/templerun to be part of the pool of valid entries:
Digital code
Serial number
Official Receipt (OR) number of purchase of Enervon Activ promo pack
Just log unto  http://www.unilabactivehealth.com/templerun/ and fill up the necessary details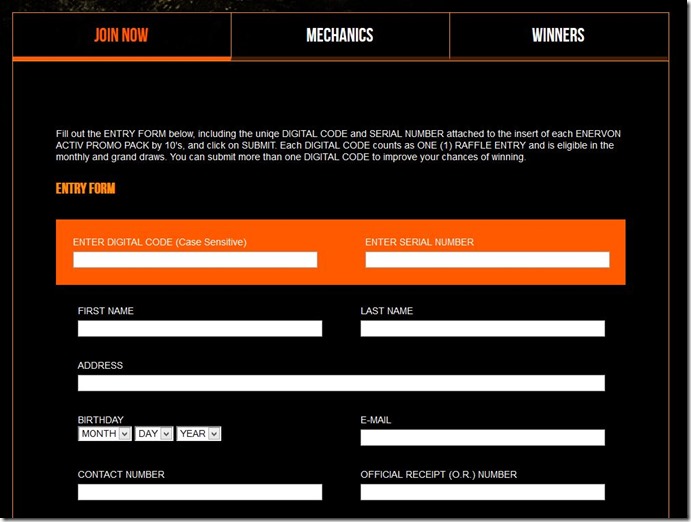 Why You Should Join the Enervon Activ Temple Run Digital Promo
Joining is REALLY easy and is pretty much a win-win situation. Think about it, buying the promo pack gives you 10 pcs. of Enervon Activ to put you into hyper drive with its energy enhancing and immunity boosting ingredients. Moreover, it gives you a chance to win either a race kit to the Run United Philippine Marathon or an all expense paid trip to be part of the Angkor Wat International Marathon! What more could you ask for?
On Selecting Winners:
1. There will be winners monthly, which will be determined by electronic raffle every 1st of the month at 12nn. Winners will be announced on the Enervon Activ Facebook Promo Page immediately after the draw.
*If date of raffle draw has to be moved due to unforeseen events, the draw will happen the following work day at 12nn.
2. Digital code can win only once. But all digital codes not yet drawn will still be part of valid entries until end of the promo.
3. Winners will be contacted through their indicated mobile number and email address instructing him/her on how to claim his prize. Winners will be emailed a notification email of their winning entry.
Winners will claim their prizes at 3F Unilab Corporate Center, Mandaluyong City from 9am-5pm on weekdays only.
No claiming on holidays.
4. Upon claiming, winners should present a valid ID, winner's print out of notification email, and the winning promo pack with digital entry code as proof of purchase of the Enervon Activ promo pack.
5. Winners will have up to 30 days from receipt of the notice to claim their prize. If the winner lives outside of GMA, the winner can send an authorized representative to claim his/prize. Representative must present an authorization letter signed by the winner, valid ID, winner's notification email and promo pack with digital entry code. If the winner fails to claim his prize within 30 days, the prize will be forfeited in favor of Enervon Activ with prior approval of DOH/FDA.
For the October winners, they must claim their wins on or before November 15, 2014 in order ensure completion of flight bookings, accommodations, and other logistical details.
In the event of a dispute, the DOH/FDA representative shall resolve the same, which decision shall be final.
6. Enervon Activ serves the right to use the photos of winners claiming their prizes to be used on the brand Facebook pagefor promo announcement purposes.
7. Employees of United Laboratories, Inc. and those of its affiliates, subsidiaries, distributors, dealers, suppliers, advertising, digital and promotional agencies, DOH-BFAD representatives, and their relatives up to the 2nd degree of consanguinity or affinity, are not qualified to join this promo.
8. By joining this promo, the participant warrants that he or she is capable and healthy to travel and that he or she assumes full and complete responsibility in the prizes that he or she may receive, including during the travel itself. The participant if he or she wins, hereby waives, releases and forever discharges the promo organizer from any claim of whatever nature upon receipt of the prize. Participant acknowledges that the promo organizer shall not in anyway be responsible for the winner while he or she is travelling. This promo is not valid for minors.
9. Monthly prizes will be given out as follows:

All-expense paid trip involves the following only:
Flight to and from Angkor Wat, Cambodia from the Philippines (Dec 6-7)
Overnight accommodation (Dec 7)
Registration for the race (Dec 7)
Meals, including Special Cultural Dinner
For inquiries, email enervonactiv @ gmail.com

For more info,visit http://www.unilabactivehealth.com/templerun/