One thing I love about being a preschool teacher besides working with my adorable students is the wonderful experiments we get to do day in and day out! Part of these experiments of course is ART!
We have different themes per month and the famous artists and their art works was one of our themes this school year. It's funny how we don't seem to appreciate the art works of these famous artists and yet kids can find so much joy in doing the same art!
Well this summer, Ayala Museum launches the 2012 ST'ART SUMMER ART WORKSHOPS! 
CALLING ON ALL CREATIVE MINDS OUT THERE FROM AGE 7-12! This workshop is for you!!!
 Ayala Museum Art Workshop posters
Art Workshop in Manila
"Discover the artist in your child by enrolling them in this summer's hottest workshop at the Ayala Museum! Through 8 creative workshops, your child will be introduced to the techniques and movements popularized by some of the biggest names in the local and international art scene! Workshop fees are P250 per session or P2000 for all. Enroll in all 8 and get a complimentary student membership good for 1 year for your child! Classes are from 3 – 5 pm on all Thursdays of April and May. (Except for the first week which will fall on April 4 (Wednesday)"
Art Workshop in Manila with Ayala Museum
What: Summer St'ART  Your first steps towards art!
Where: Ayala Museum
Who: For kids ages 7 – 12
When:
Schedule of Activites:
APRIL  
4            St'ART   Fernando Zobel – syringe painting
12           St'ART   Henri Matisse – drawing with scissors
19           St'ART   Andy Warhol – pop art portrait painting
26           St'ART   Jose Joya – clay art
MAY  
3            St'ART   Pablo Picasso – Cubism Painting
10           St'ART   HR Ocampo – collage art
17           St'ART   George Seurat – puncher pointillism
24           St'ART   Jackson Pollock – marble – action painting
With these cool art lessons, not only will your kids literally learn to make art like the famous artists, but they'll also be able to experiment with their own creativity, have fun and maybe even learn a little art history while they're at it!
If only they had classes for adults, I'd enroll in an instant! :D
Each session only costs P250 and you can get all 8 lessons for P2000! Classes are every Thursday from 3 to 5pm at the Ayala Museum!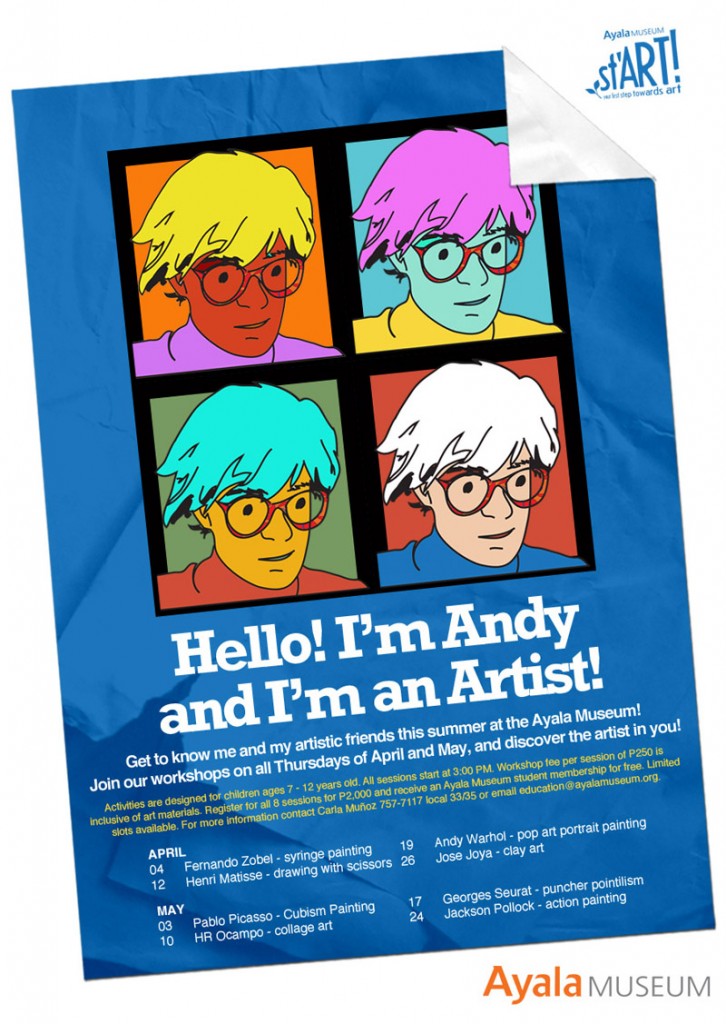 Doesn't that sound like fun? We tried some of these in class too.. such as PAINTING WITH SCISSORS! Check out my students' work here: /painting-with-scissors-like-henry-matisse-2/
So what are you waiting for? Get those creative juices flowing and sign up for Ayala Museum's St'art Summer Art Workshop NOW!!!
Download the registration form here .
********************************************************************
For more information,
you may contact Carla Muñoz at 7577117 local 33 or 35
or email [email protected] 
You may also visit the website at www.ayalamuseum.org
Art Workshop in Manila for Summer 2012