The 2013 issue of the Multisport Directory is out and it's time all you runners, swimmers, bikers and athletes grab a copy and be in the know.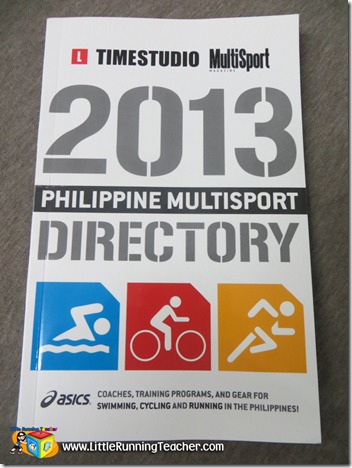 "The 2013 Philippine Multisport Directory is an essential guide in finding the best multisport resources in the country. Nowhere else can one reference the most comprehensive list of coaches and other specialist that can make a big difference in a multisport athlete's enjoyment of and improvement in the sport."
Similar to the past 2 year's directory or Sourcebook, the 2013 Multisport Directory will again contain a variety of training tips, training programs and good-to-know facts about swimming, biking and running. There are also special portions dedicated to the coaches who can help beginners striving to reach the top of their athletic career. Moreover, different gears such as shoes, watches and the like are also cited in the book.
This directory will be a very handy guide throughout the year so I suggest you guys head on to your nearest bookstore and grab a copy now! SRP is only 150 PhP.
See you on the road!
-Cheryl