"For 58 years in the Philippines, international child-focused organization, World Vision, has taken huge strides to ensure that Filipino children enjoy the fullness of life thy deserve. These efforts gave birth to what is now the most-anticipated running event of the World Vision supporters and partners, the World Vision Run."
The idea first started back in 2011 when a few members from World Vision decided to put up a fun run for a cause in Cebu. The public quickly accepted this idea which somehow encouraged the team to organize another one the following year. After much success over their first three (3)  fun runs, the World Vision Run 2015 is back on it's 4th year. This year, they are offering a BIGGER and more fun filled event for the whole family.
What makes World Vision Run different?
With all the fun runs happening in Manila, what makes the World Vision Run any different? It's not the organizer, nor is it the cause. The difference, as the title suggests is love. More than just hoping to raise awareness on the mission and vision of World Vision, this run also hopes to be able to inspire children to run and help. It is a run of like-minded people who believe Filipino kids can still reach their dreams with just a little help.
The World Vision Run boasts partners who understand the importance and impact sending 1 kid to school makes on his life. The World Vision Run therefore sends out the message that EVERY FILIPINO SHOULD HELP THEIR FELLOW FILIPINO." Sponsoring a child through World Vision, or at least registering for the run to support their cause makes a big difference. This isn't a short term deal, sponsoring a child means we're in it for the long haul. This run aims to promote that. Are YOU in it for the long haul? Are YOU willing to support this cause? Do YOU want to make a difference? More details below.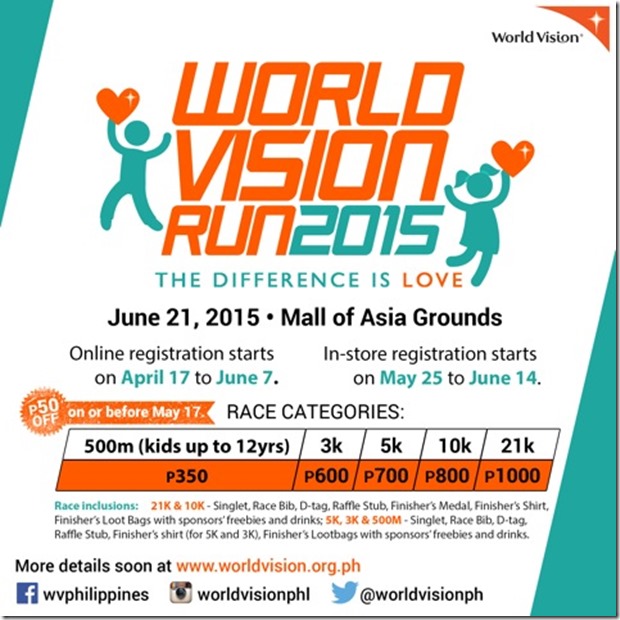 World Vision Run 2015: The Difference is Love
When:                            June 21, 2015 (Sunday)
Where:                           Seaside Blvd., Mall of Asia Grounds
Race Categories:        500m, 3k, 5k, 10k, 21k
Assembly Times:
500m – 6:00am
3k, 5k, 10k – 4:30am
21k – 3:30am
Race Organizer:         RunRio
Race Beneficiary:        World Vision Child Sponsorship Program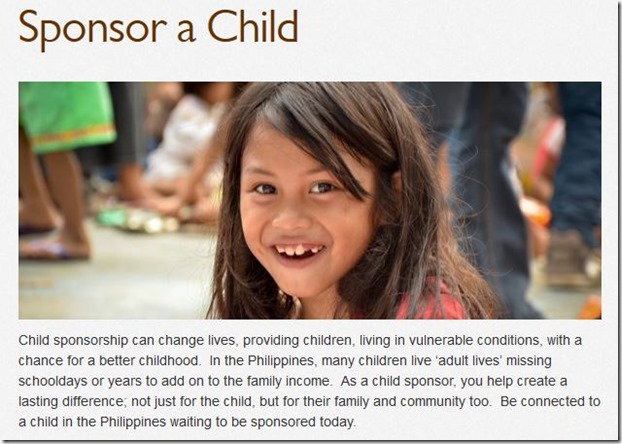 World Vision Run 2015 Registration Details:
Registration Fee: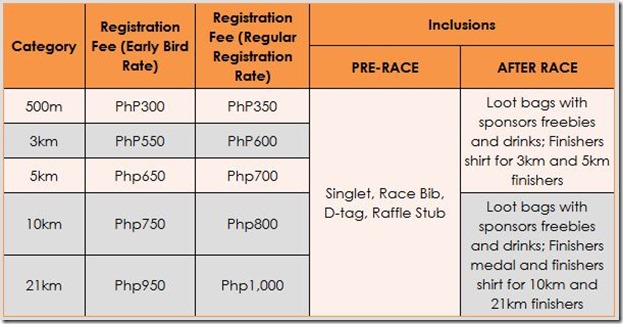 *Get P50 when you register BEFORE May 17
Registration Period:
Online Registration: April 17 – June 7
In-store Registration: May 25 – June 14
*Early Bird Registration: Before May 17
Registration Sites:
Online Registration: World Vision Run REGISTRATION
In-Store Registration:
Runnr (BGC)
Toby's (Edsa Shangri-La, SM North The Block, Mall of Asia)
World Vision Run 2015: Runner's Kit
Singlet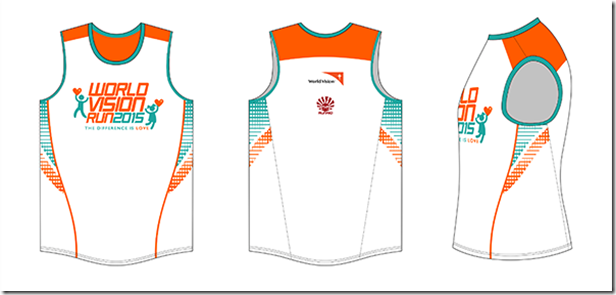 21k Finisher's Shirt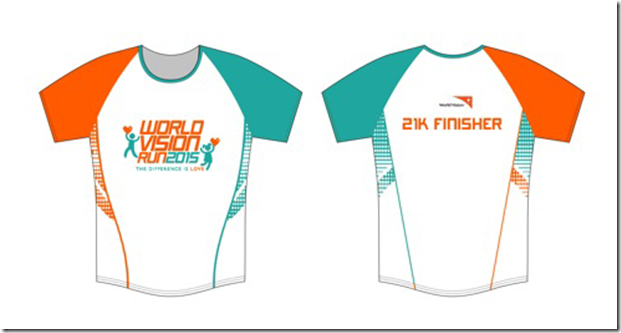 Actual photo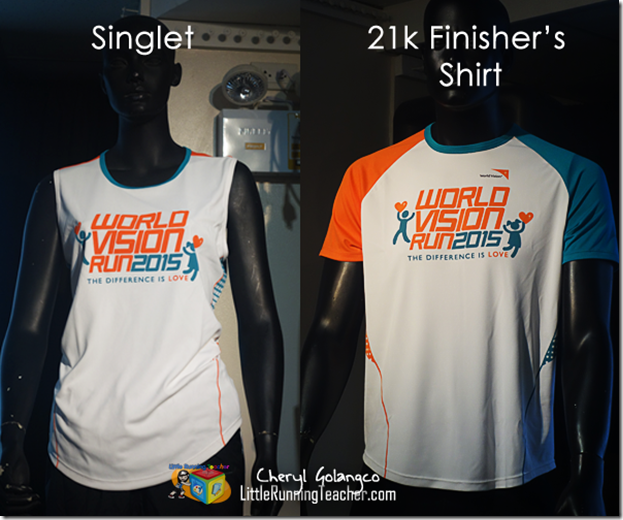 Top Finisher's Medal and 21k Finisher's Medal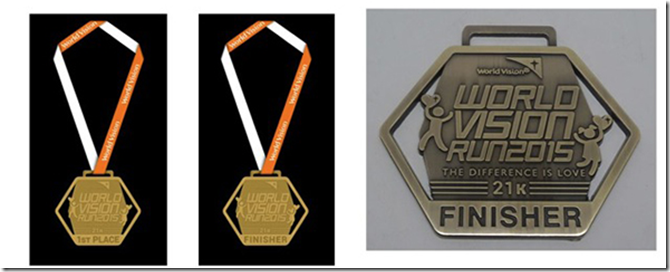 Why Do We Run?
Different people have various reasons for running. And we all expect different results:
Some run to be in shape — the means to achieve fitness goals; some run for good health. — the secret to long life and vitality; some run for the fun of it — the perfect bonding activity with family and friends. We may run for different reasons, but this time, we will all run to make a DIFFERENCE.
At World Vision Run 2015, the reasons you run are countless, and just as priceless. When you run, it shows you care that children enjoy: a sip of clean water, where there was once dirty; a healthy child in a community where death and disease were once commonplace; a vibrant classroom, in a village where schools used to not exist; and a  future that overflows with promise and hope.
You are running so that more children can make huge strides towards a brighter future. Because when you run for World Vision, you make a difference. And that difference, is LOVE.
Are you ready to make a difference with me?
For updates and more info,
visit the following:
http://www.worldvision.org.ph/press-center/world-vision-run-2015
FB: https://www.facebook.com/wvphilippines
IG: @worldvisionphl
Twitter: @worldvisionph
For updates on other runs or to just keep in touch
visit http://www.facebook.com/littlerunningteacherpage
twitter.com/cherylgolangco