Our theme for the week was sand and sea! I saw several wonderful ideas that I wanted to try, and this was one of it!  When I first saw this through TeachPreschool.org, I wondered if the little ones would be able to do it. It looked fairly easy, but then again… maybe not. Still, I decided to give it a go. Regardless of how it turns out, the important thing is that they tried and they had fun!
What made this activity great is the unique way of painting done. It's not everyday that the child gets to watch the paint drip from his paper!
–
What you will need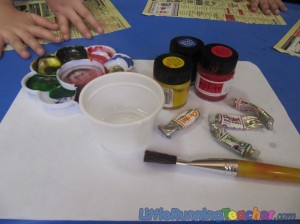 Watercolor
Thick Paper
Paint Brush
Water
–
–
*I actually ran out of colors so I tried using both watercolor and poster paint. What I noticed is that the paint dripped much faster with the watercolor, while a lot of water needed to be used to get the same effect on  the poster paint.
–
Step 1: Paint the head of the jellyfish. Use different colors
–
Step 2: Hold the paper upright and let the paint drip down
–
Step 3: Paint some more tentacles. Use more water to have a lighter effect.
–
Step 4: Splatter a little paint to make the bubbles!
Check out the violet jellyfish on the first picture! My kid wanted to decorate its head! Cute and creative!
–
Step 5: Add the final touches and display your beautiful work! :)