It's March again… and while mostly everyone is thinking about the summer break, teachers like myself are busy collating and finishing up class records and certificates for our students. The last few weeks of February till the end of March is super hectic for me. I really needed a break, and I got just that thanks The Circle Hostel in Zambales!
I first step foot at the Circle Hostel to do the Passion Play with Lois Yasay around June last year. 2 weeks ago, I was back!  When I first saw The Circle Hostel back then, I could already sense how calm this place was. The aura was very cool and relaxing, it was calm and 'friendly'. The walls were painted with a variety of text and random pictures which set the "artsy" mood. For the second time around, I still got that same old familiar feeling. This was gonna be one relaxing weekend.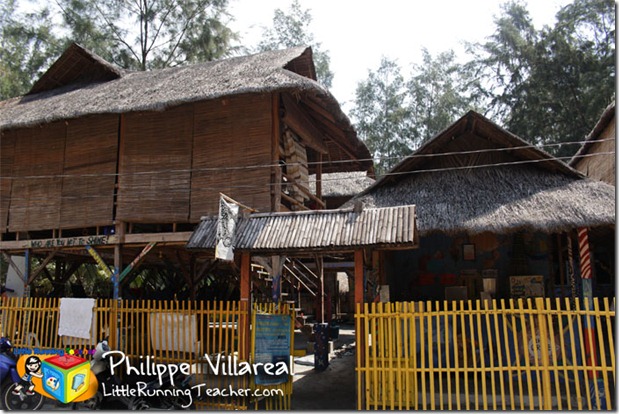 The simple yet artsy façade of The Circle Hostel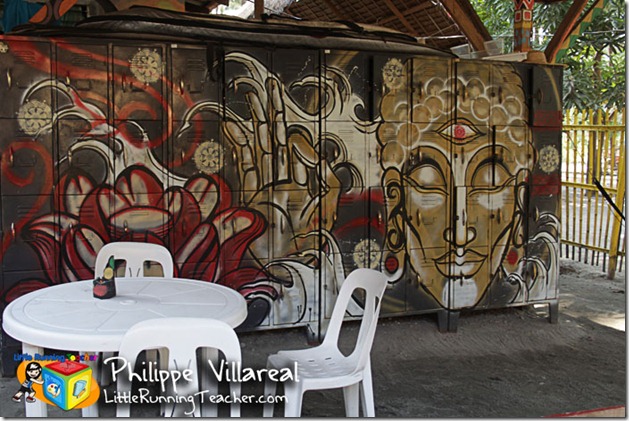 Beautiful artwork on the lockers
Clean and Comfortable Lodging at Affordable Rates
When I first cam here, I had no idea what a HOSTEL was. For a moment, I actually thought it was just a smaller version of a hotel.
A hostel is a an establishment that provides cheap food and lodging for a specific group of people, such as students, workers, or travelers. It is similar to an inn or dormitory, which basically meant, there were no private rooms just for you. What you rent out was just your bed. At the time, I did not feel comfortable with the setup. I felt uneasy simply because I don't like sleeping in "public". However, there's something about THE CIRCLE that just made everything better. In fact, I feel that the more I visit, the more the place feels like "home".
No Internet? No Problem!
Just to warn you, there is barely any wifi here. Being a blogger who needed to be online 24/7, I felt it that this would be a problem and I feared the thought of it. However, after staying at The Circle Hostel for a while, I realized it's just what I needed. A few hours away from the hustle and bustles of the internet! Peace and quiet for a change. Our generation has relied too much on technology and the internet that we forget how much more there is to do in the real world.
So what to do when there's no internet….A LOT!!!
Play some FRISBEE!!
It was one team VS the other, only a fourth of the team actually knew how to play.. which meant it was even more tiresome but also twice the fun! haha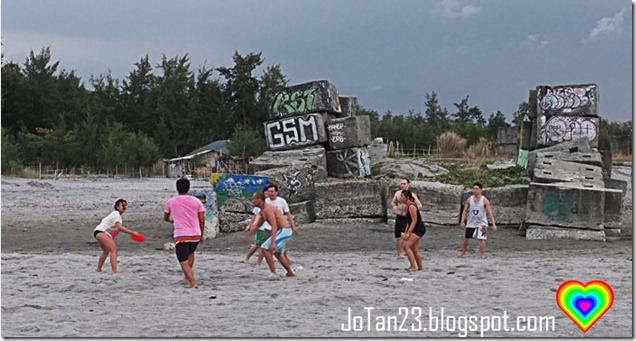 Drinking Games with Friends
We were supposed to go out and light up a bonfire but the rain started to pour! I was sad but also happy because those games of KING'S CUP, RANDOM GAME and ARROGANCE were definitely worth remembering! We were soooooooo noisy and it was so much fun!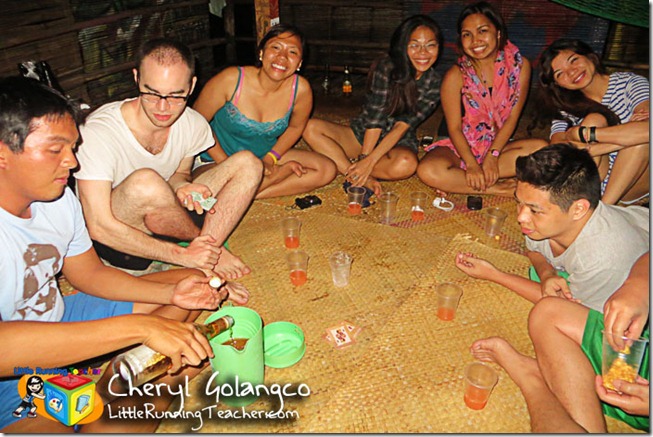 Art Attack: Paint anywhere and everywhere around the Circle Hostel
This has got to be one of my favorite parts, what better way to leave your mark than by painting it directly on the walls right? Now tell me, how many places have you been to that actually allows you to do this??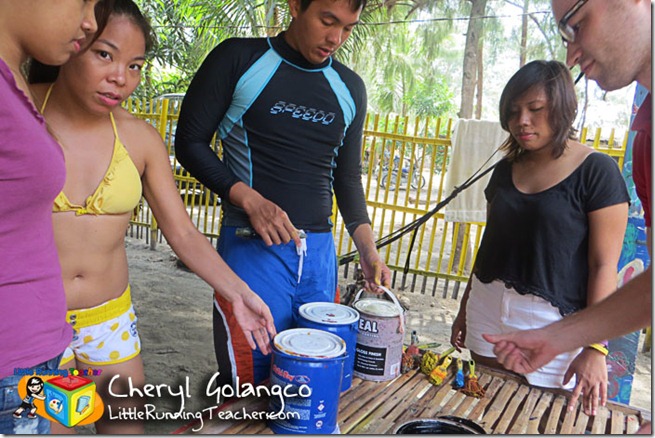 Selecting colors for our painting session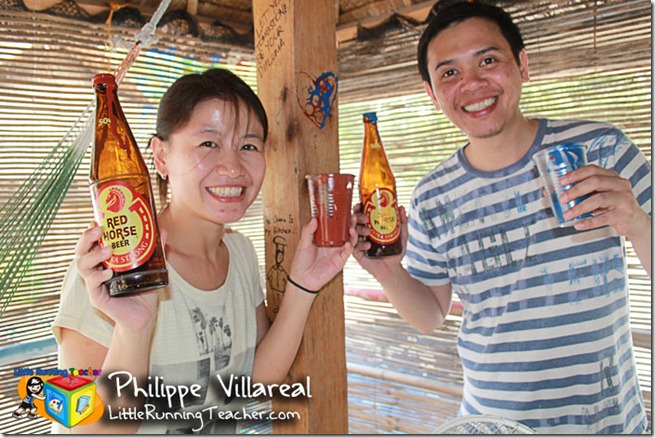 JoTan and husband Mark Davis painting using old bottles of beer
–
Of course, last but not least…when there's no internet, we go surfing!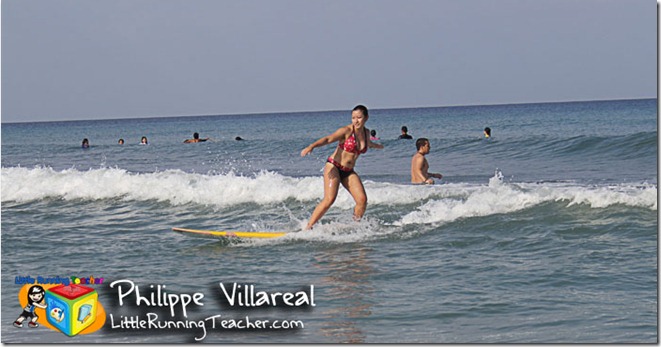 Hannah gracefully rides the wave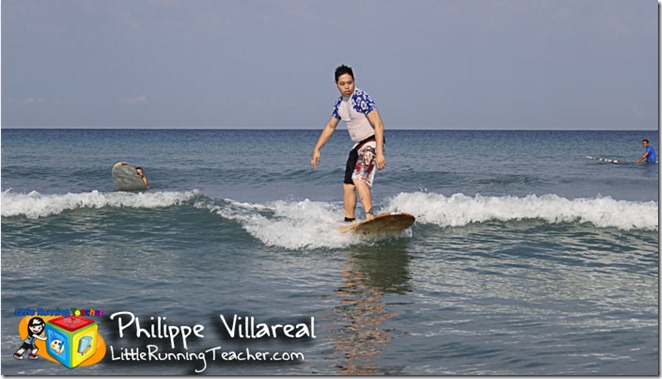 Vince rides the wave like a pro
Breaking Ouf ot My Comfort Zone through Surfing!
I don't swim… I can't! So the mere thought of surfing frightened me. I knew that there was no chance I would EVER touch a surfboard regardless of how old I got. I had everything planned out, I was going to take everyone's picture as they enjoyed the open waters. It was fine by me. Seriously!
Everyone started surfing, including Philippe. Some were able to get up, while others just relaxed on the board. After a while, I borrowed a board and laid on top of it. I had no plans to surf and when asked why, I simply answered, " I don't want to fall!" Plain and simple. I didn't want to fall, I didn't want to drown, I didn't want to die! (LOL) I know I was being overly dramatic but I really didn't want to! Eventually though, Philippe pushed me off the board. I was pissed at first but then again, I guess I needed that push to make me realize, it wasn't so bad after all. So what if I fell? I can ALWAYS get back up.
My brother Vince then tried teaching me to surf. I was able to "ride" the wave but I never got up, the most I did was kneel on the board. That's when it got addicting. I finally got over the fear of drowning and finally understood why it was okay that I couldn't swim. The waves were getting weak though, so we had to wait another day.
The next day, I decided to hire an instructor! He was really nice and tried to teach me  the best way he can. Though I was no longer afraid to fall, I feared to get up now. I kept kneeling on the board! Funny thing was, balance didn't seem to be a problem. I always trip on land but it felt easy on the surf board! haha So anyway, I told them I didn't want to stand up coz I knew standing would make me lose my balance and I'd fall off. They assured me it would be okay. So… I finally stood up. The feeling was magical! No words could describe it.  I did it!! I got up! And I was surfing!
Now I know why it was so addicting! It's all in the detail! The patience for that wave to come, the proper timing to get up just as the wave pushes you and not too soon or too early, the courage to actually get all the way up and the concentration and confidence to be ONE with the surfboard! That may sound like a cliché but it really felt like my feet were attached to the surfboard! I can't wait to try surfing again! ….and to all those who have the same fears as I had…. it's gonna be okay!! Just try it, one step at a time!
Munch Time at Mommy Phoeobe's
So just beside The Circle Hostel is Mommy Phoeobe's place. They have the best food! Yummy yummy garlic longanisa and really good Choco Banana shakes! Besides food though, you can also drop by her place to a surfboard.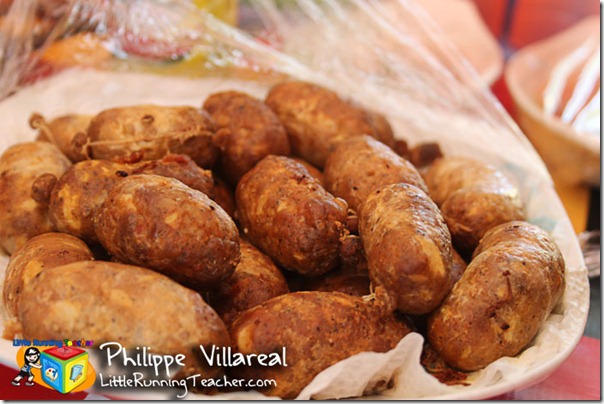 Delicious Garlic Longanisa! No added coloring or sweeteners!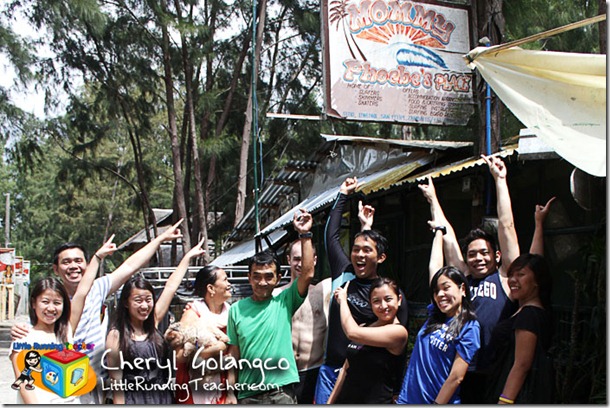 The When In Manila team supports Mommy Phoebe's!
Meeting New Friends and Building Connections
The Circle encourages art and community. Here, there are NO STRANGERS. There is a common area where everyone is encouraged to just go hang out and even meet new friends… and so we did just that! During our stay here, we got to meet some lovely ladies namely Clang, Chez and Ken. We even got to meet Mr. Craig Pulsifer, an awesome photographer and owner of the website, http://www.craigpulsifer.com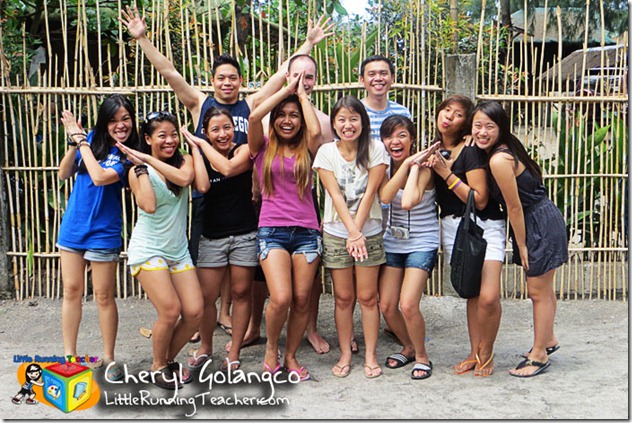 The When In Manila team with our new friends Clang, Chez and Ken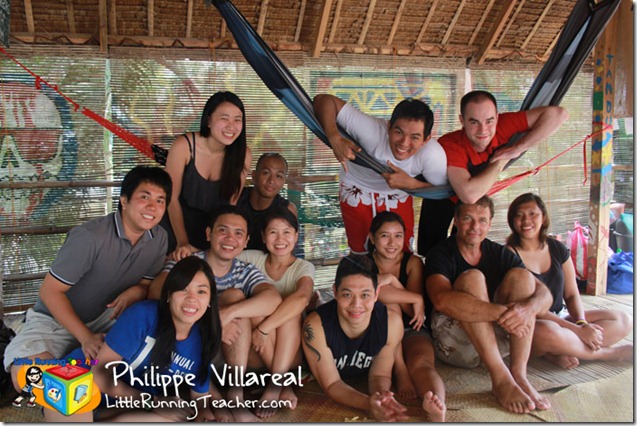 The When In Manila team with Circle owner, Raf Dionisio and awesome photographer Craig Pulsifer
The Circle Hostel currently has 2 branches, one in Zambales and another in La Union! Visit their website for more details!
The Circle Hostel
Liw-Liwa, San Felipe, Zambales (HOW TO GET THERE)
[email protected], [email protected], [email protected]
09178611929
The Circle Hostel, Zambales Accommodations
Bunk bed: P350 / night includes bananas and toast for breakfast
Hammock: P250 / night includes bananas and toast for breakfast
Mommy Phoebe's Place
09173200700 / 09185458007
Surfboard rentals: P200 per hour
Surf instructor: P200 per hour
Just a quick reminder from the Circle Hostel….

What are you doing still reading this? Step away from the computer and leave your gadgets behind. Be one with nature and find out how much you're missing out on at The Circle Hostel!
P.S. I guess what makes the place different is not just the structure itself but the people in it. The people behind The Circle Hostel try their best to make sure everyone has a good time by coming up with a variety of activities for all. Moreover, they really live by their motto that there are NO STRANGERS in The Circle! Godspeed!