Once a year, adults are given a free pass to act like kids again and play dress up! I wouldn't mind playing dress up everyday… but then again, people might think I'm weird! haha. St. Peter Life Plan had their first run back in 2010 which I am proud to have been part of. That time, races were priced at 500 and up while St. Peter priced theirs at 50 pesos! Being so inexpensive, I expected the worst but was happy to have been wrong. Come 2011, they organized their second fun run which was just as successful as the first. Greentennial on the other hand has also been around for quite some time and organized their first Halloween run last year along White Plains Quezon City. It turned out to be a very fun and spooky fun run for all!
This year, Greentennial will once again celebrate Halloween with a midnight run, and to make it even better, they've decided to partner with St. Peter Chapels to make this run the spookiest ever.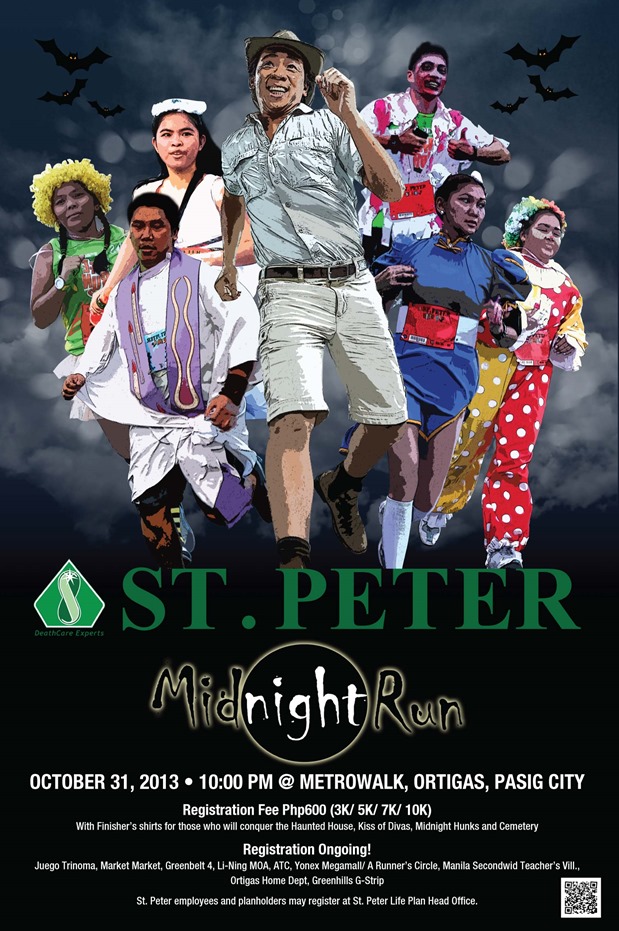 What:      St. Peter Midnight Run
When:     October 31, 2013 (Thursday)
Where:    Metrowalk, Ortigas, Pasig City
Race Categories:     3k, 5k, 7k, 10k
Race Organizer:       Greentennial
St. Peter Midnight Run Registration Details:
Registration Fees and Gun Start Times:
3k – PhP 600 – 12:00mn
5k – PhP 600 – 11:50pm
7k – PhP 600 – 11:40pm
10k – PhP 600 – 11:30pm
*Finisher's Shirt will be given to all those who conquer the 4 zones
*Though gun start isn't till 11, the program and judging will start at 10pm! So if you're in a costume, be there early!
4 Zones to get Finisher's Shirt:
Haunted House (near starting line) – get a loopmarker
Cemetery – get a loopmarker
Kiss-of-Divas (for the men) – get a kiss mark
Greentennial hunks (for the ladies) – get a loopmarker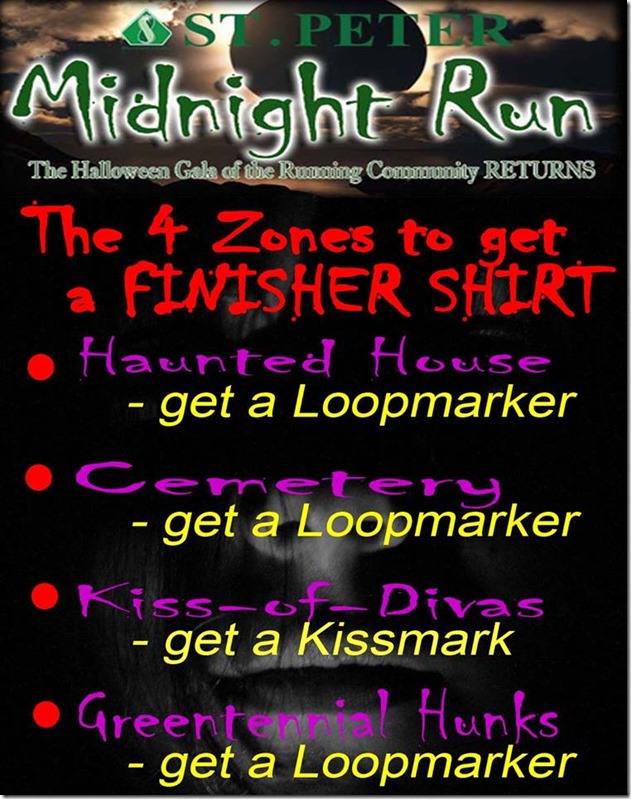 St. Peter Midnight Run Registration Sites:
A Runner's Circle
Yonex
Secondwind Outlets
Ortigas Home Depot
Teachers' Village
Greenhills G-Strip
Juego Outlets
Trinoma
Market Market
Greenbelt 4
Li-Ning Outlets
Mall of Asia
Alabang Town Center
St. Peter Midnight Costume Contest
The organizers are still very much open to more suggestions, but for now, here are the categories for the best costume at the St. Peter Midnight Run on Oct. 31!
Best Run Team/ Company
Cutest
Sexiest
Best Partner Costume
Best Trio Costume
Best Super Hero
Best in Filipiniana
Best Iconic
Best Retro
Most Colorful
Parent Child
Family Costume
Most Frightening
Most Controversial
Most Resourceful
Most Extravagant
Mr. and Ms. St. Peter
And why not come wearing a pink casket?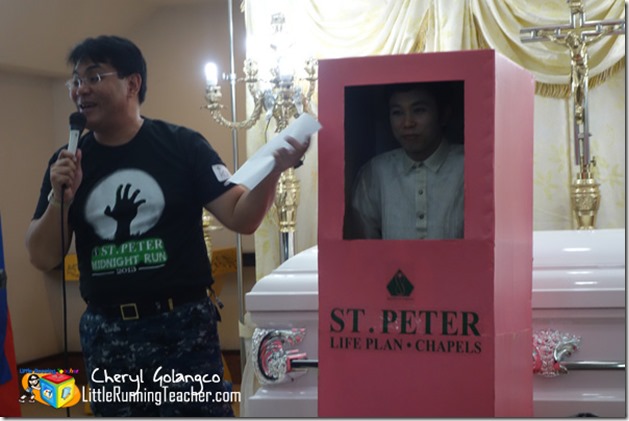 Here's an example..heehee
A cash prize will be given to the runner that comes dressed in the Best St. Peter Pink Casket Costume!
1st – P5,000
2nd – P3,000
3rd – P2,000
 And, as in all St. Peter runs, a pink casket will be available for pictorials on race day!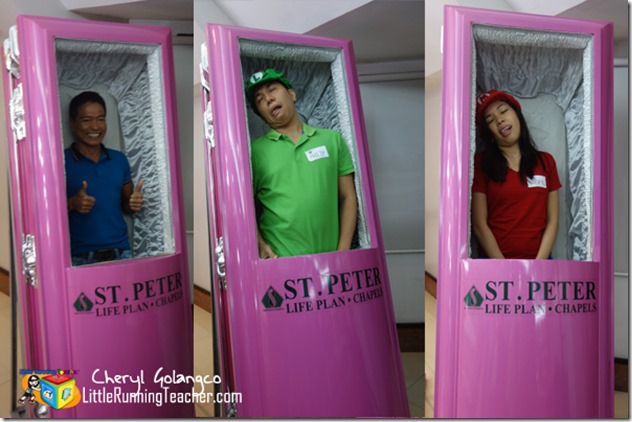 St. Peter Midnight Run is also held in celebration of the annual St. Peter Death Care Week which will commence on October 27 until November 2. It is brought to you by St. Peter Life Plan and St. Peter Chapels in partnership with The Greentennial Run, the race organizer of the successful 2012 Midnight Run.
For more details, visit http://www.facebook.com/stpeterlifeplanandchapels/
or its website at www.stpeter.com.ph
or the Greentennial page at https://www.facebook.com/greentennial.photos
For updates on other runs or to just keep in touch
visit http://www.facebook.com/littlerunningteacherpage
twitter.com/cherylgolangco
See you there!