Every time a new year rolls in, runners have one question in mind, "When's the next run?" In this case, "when does Run United begin?" Run United has quickly grown to be one of the most anticipated races of the year, not just because of the well organized run, but also because of the "puzzle" medals runners aim to collect! So mark your calendars because the trilogy begins this March 16!
What:        Run United 1 2014
When:       March 16, 2014 (Sunday)
Where:      Mall of Asia
Race Organizer:       RunRio
Race Categories:     21k, 10k, 5k, 500m dash ( 5-8 yrs. old and 9-12 yrs. old)
Gun Start Times:     4:00am, 5:30am, 5:45am, 7:00am respectively

Run United 1 2014 Registration Fees:
500m – PhP
5K – 700 PhP
10K –  800 PhP
21K –  900 PhP

* Singlets shall be available upon purchasing your Run United 1 Prepaid Card.   Runners who register via credit card online shall receive their singlet together with the rest of their race kit at Race Kit Collection.
* The rest of the race kit shall be distributed to runners at Race Kit Collection on the following dates:
March 13- 14 Music Hall at the Mall of Asia, 10am – 10pm
March 15 Active Health Village, Block 16 Mall of Asia, 10am – 6pm
Run United 1 2014 Registration Details:
Online registration will start January 31, 2014 at www.runrio.com
Prepaid Card Selling Venues:
Prepaid cards will be available starting February 8, 2014 (12noon to 8pm) at the following venues:
Riovana Store BGC – 28th Street corner 9th Avenue, Bonifacio Global City, Taguig City
Riovana Store Katipunan – 3rd Floor Regis Building, Katipunan Avenue, Quezon City (across Ateneo, and beside KFC)
Toby's SM North – The Block G/F, North Ave. cor. EDSA Quezon City
Toby's SM Mall of Asia, G/F Entertainment Hall, Roxas Blvd, Manila
Run United 1 2014 Prizes for Top Finishers:

Run United 1 2014 Singlet Design
The 3 legs of Run United this year are named CITIUS meaning faster, ALTIUS for leg 2 meaning higher and FITRIUS for leg 3 meaning stronger. In all 3 legs, these words will be printed at the back of your singlet. The twist however is that the print could barely be seen! Don't worry, it wasn't a mistake. The words will magically appear when your singlet gets wet (assuming from sweat). Cool huh?
Run United 1 2014 Health Ventilation Bag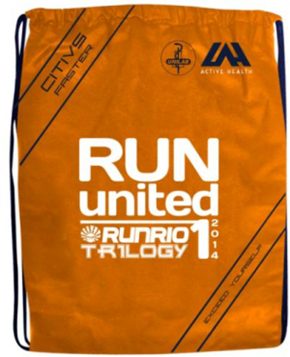 Run United 1 2014 Sun Visor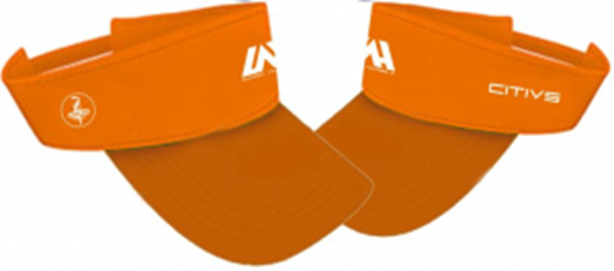 Run United 1 2014 21km Finishers Shirt
It already looks cool from a distance, but upon closer inspection, you'll see that the seemingly "pixelated" runner actually has different times "falling off". These aren't just dots or lines!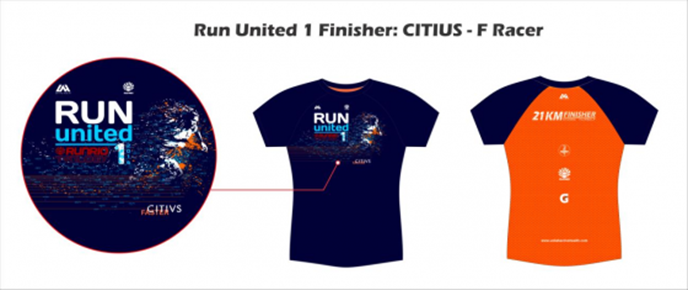 Run United 1 2014 21km Finishers Medal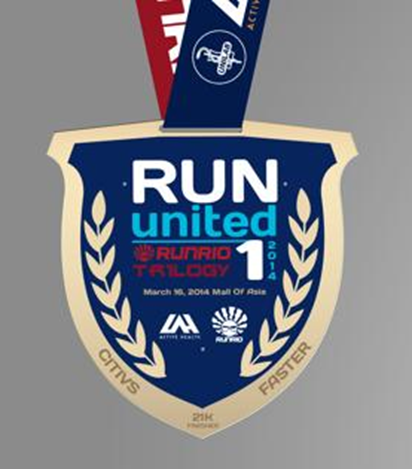 Run United Trilogy Finisher Medals Collection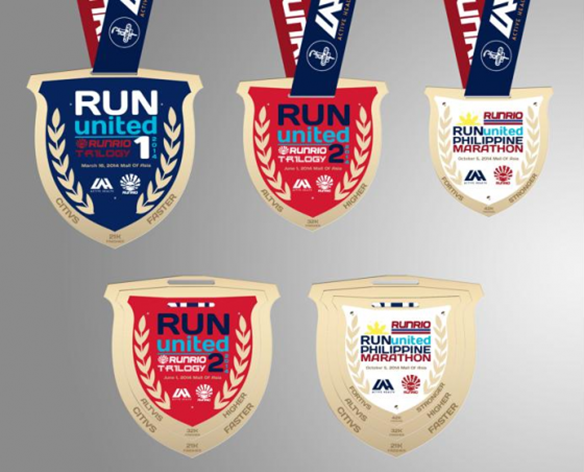 For more information visit
https://www.facebook.com/pages/Runrio-Inc/168186619868593
For updates on other runs or to just keep in touch
visit http://www.facebook.com/littlerunningteacherpage
twitter.com/cherylgolangco