Michelle Estuar hasn't been running for a long time but is already one of the top female runners in the community today. She has joined several fun runs and marathons and will soon join her first Triathlon event in a few days. She writes for Front Runner Magazine and had become the cover girl of Runners World Magazine last year. But besides all these achievements, Michelle Estuar is one cool girl! She's nice, friendly and approachable! And for her upcoming birthday, she's going to organize a run for a cause!
On November 14, Michelle will be celebrating another year of blessings. What better way to show gratitude for the joys and blessings of life than by sharing it right? So save the date, 'coz on November 30, 2011, FIVE HUNDRED (500) runners will have the privilege of enjoying a run with snacks, a finisher's shirt, give aways and a chance to win special awards WITHOUT PAYING A REGISTRATION FEE.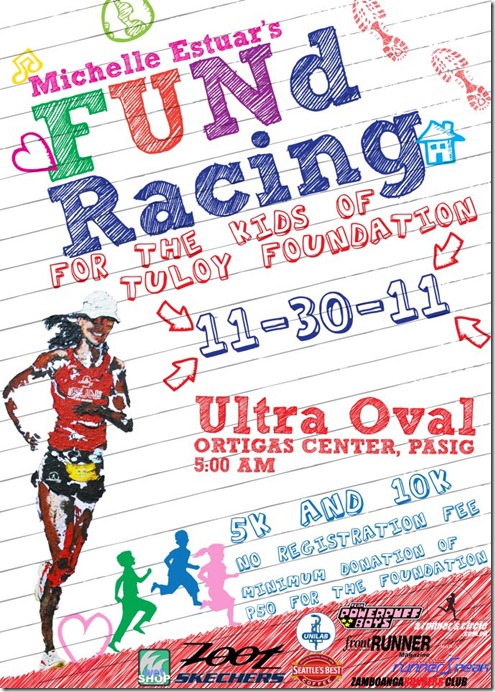 "The point of the run is TO RUN WITH PASSION & WITH A PURPOSE" – Michelle Estuar
–
What: Michelle Estuar's FUNd RACING for the kids of Tuloy Foundation
When: November 30, 2011, Wednesday 5:00am (It's a holiday guys, so NO WORK)
Where:Ultra Oval, Ortigas Center, Pasig City
Race Categories: 5k and 10k
Registration Fee: FREE!! But we're all hoping you guys donate at least 100php
Beneficiaries: Tuloy Foundation
How to Register:
ONLINE
1. Only the first 200 runners can register on-line. The first 100 runners for 5K and the first 100 for 10K.
2. You can register by posting on the Facebook wall of this event with the following information:
NAME:
AGE:
GENDER:
DISTANCE:
ADDRESS:
CONTACT INFO:
E-MAIL ADD:
DONATION:
3. The organizers will reply to your post with your assigned bib number as a confirmation.
4. You may pick up your race kit and hand your donation starting November 14 until Nov. 21 at A Runner's Circle, Roxas Blvd., cor. Quirino Ave., Manila.
5. Kits that will not be picked up until Nov. 21 would mean forfeited slot and would be given to other interested participant.
ON SITE (Nov. 10 until Nov. 27. )
1. Registration will be at the following venues:
A Runner's Circle (Roxas Blvd., cor Quirino Ave., Manila)
R.O.X. (Bonifacio High Street) – Nov 17 – 21, 2-9pm only
All Sketchers branches
2. Fill out a registration form.
3. Donation indicated in the form shall be handed immediately upon registration.
What to expect on Race Day
Shirt, Food, giveaways, special awards,

best hydration station

(among 5 running teams namely: Boring, PowerPuff, RUnnex, Team Endure, ChiCem), and lots of games and more FUN!
The KIDS OF TULOY FOUNDATION will also be joining the run to personally thank the runners for all the help!
So what do you say we all make Michelle's birthday memorable by joining the run and helping these kids in the process?

See you guys there!

Summary of dates to remember:
October 24: Online registration opens
November 10-27: On-siTe registration opens
November 14-21: Pick up of race kits and handing of donations for online registrants
November 14-27: Pick up of race kits for on-site registrants
November 30: BIG DAY!!! ;)
–
For more information, you may contact Reylynne F. Dela Paz at 0922-8266775