2 years ago, I remember being invited to AffiniTea's first ever run dubbed "Raise D' Roof." It was a very intimate gathering with few bloggers, the organizers and Affinitea's owner Mr. Anthony Liu. It was his first time to create a race; you could see how excited he was. It wasn't just about the money, but about everything else – the beneficiary, the runners and most especially the experience. Today, AffiniTea continues to grow bigger and better but with the same goal still in mind – to help others through the grace of God.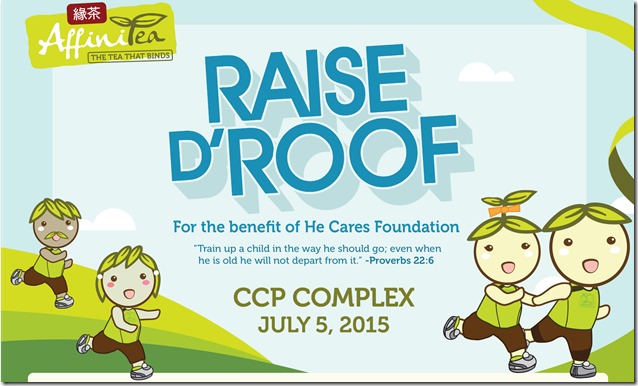 AffiniTea Raise D' Roof 2015

When:       July 5, 2015 (Sunday)
Where:      CCP Complex
Race Categories:      Lala 3k for Kids, Lene 3k for Adults, Hermrei 5k, Manong 10k, Nini 16k and Macky 21k

Assembly/ Gun Start Times:

Race Owner:               AffiniTea
Race Director:           Saul Navarro
Beneficiary:                 He Cares Foundation

He Cares Foundation, a Christian non-profit organization that helps extremely poor street children in Metro Manila by providing basic needs like food, clothing, education and medical assistance as well as spiritual support. It was founded by full-time lay missionaries, Joe Dean Sola and his wife, Ardis in 1996.  He Cares Foundation is located in 11, Acuna Drive, Philverra Homes, Project 8, Quezon City.
AffiniTea Raise D' Roof 2015 Registration Details
Online Registration (April 15 – June 7, 2015)
Prepaid cards are available at the following:
Mizuno (MOA, Trinoma, Megamall, BHS, Alabang Town Center)
Garmin (Glorietta 5)
AffiniTea (Buendia Makati, Binakayan Cavite, CEU Mendiola, CSB Taft)
*race kits will be shipped to your address. FREE of charge
Early Bird Registration PROMO (from April 15-19)
Promo A:  Register 21K and get AffiniTea Premium Card and AffiniTea 2014 Singlet
Promo B: 10 + 1. Register 10 to any categories and get 1 race kit for FREE.
AffiniTea Raise D' Roof Top Finishers Awards and Prizes
AffiniTea Raise D' Roof Race Route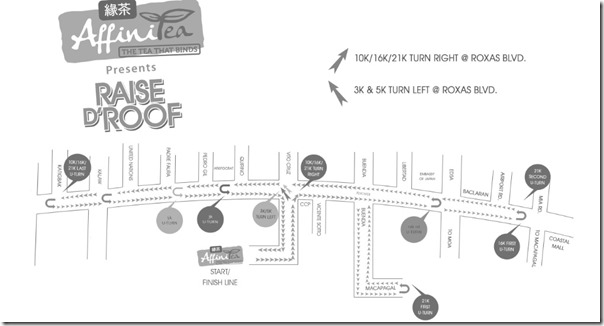 AffiniTea Raise D' Roof Runner's Kit
Singlet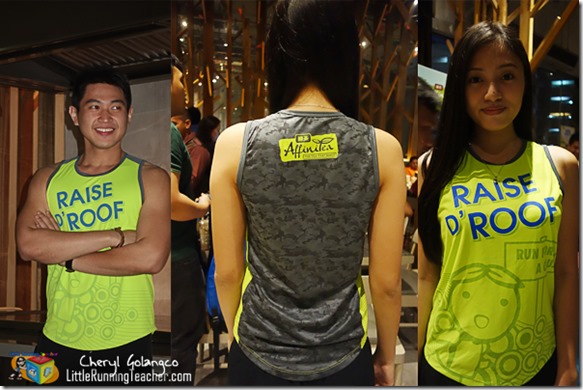 Finisher's Shirt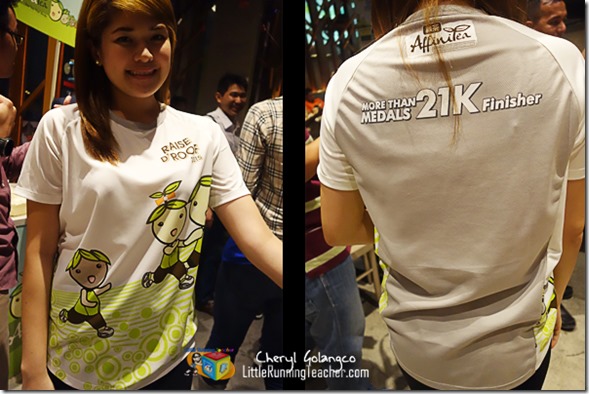 Finisher's Medal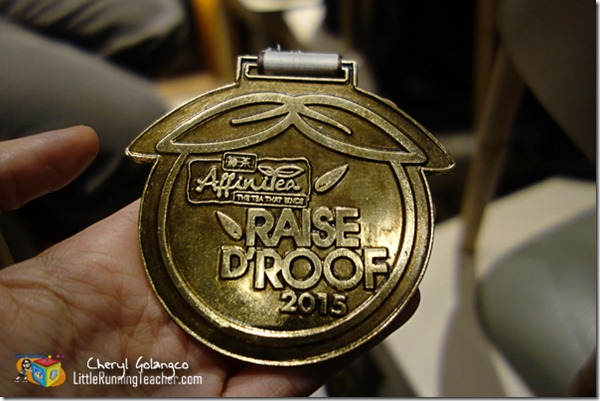 Besides Raise D' Roof, AffiniTea has another surprise coming this December – the AffiniTea Brown Race! More details on HERE -> /affiniteas-brown-race-marathon-for-a-cause-this-december-2015/ So check it out, if you register for BOTH races now, you get a really good discount! Not bad!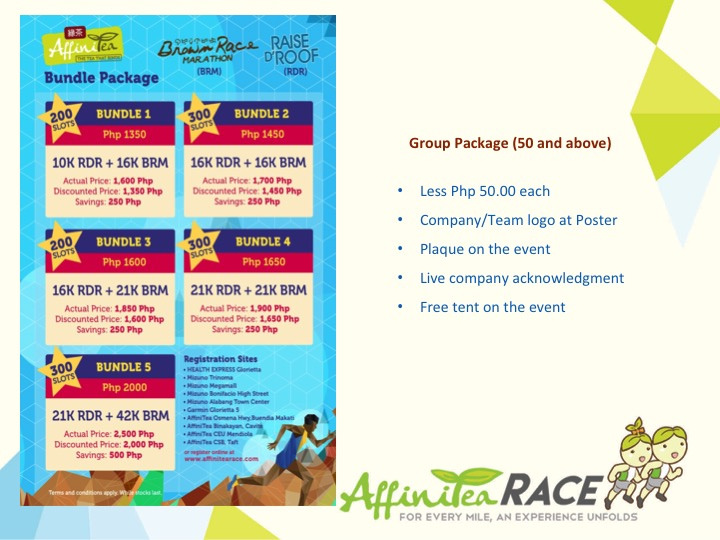 For updates and more info,
visit AffiniTea Run FB Page, or AffiniTea Philippines
Website http://www.affinitearace.com/
IG: @affiniteaphilippines
Twitter: @affiniteaPH
Email: [email protected]
Contact No.: (02)945-0655 / (0917) 861 – 1425
For updates on other runs or to just keep in touch
visit http://www.facebook.com/littlerunningteacherpage
twitter.com/cherylgolangco