We all want to make a difference in people's lives. So what do you think of making a difference in ONE person's life? More like one little girl's life. Will you run for Anika?
Anika, now 5 years old, is a baby girl who has a single ventricle loosely translates to having a HALF HEART.
A 'unity run' organized by Team Breathe Hope along with Breathe Hope Runners to help save a toddler's heart and give her a brighter life.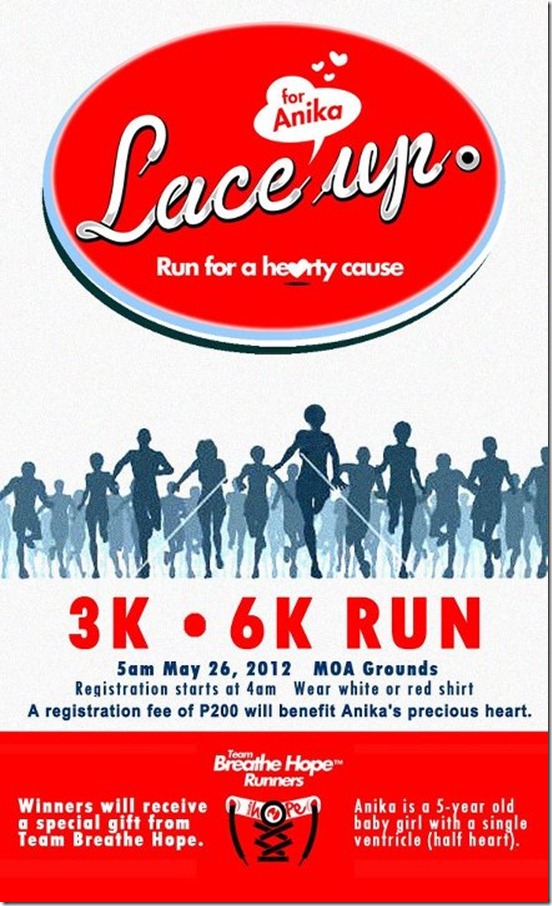 What: Lace Up for Anika: Run for a Hearty Cause
When: May 26, 2012 at 5am
Where: Mall of Asia Concert Grounds
Race Categories: 3k and 6k
Registration Fee: 200 Php for all categories
Where to Register:
Pre-register HERE. but you still need to register ON SITE on race day
 On site Registration will start at 4am
Beneficiary:  5-year old Anika's heart
More about Anika's medical condition:
–
The 2d echo showed that she had a Single Ventricle defect (basically half a heart), a rare type of CHD (Congenital Heart Defect) with other heart defects such as:
Single Ventricle – A complex heart defect that results in one of the heart's pumping chambers (ventricles) being underdeveloped.
Dextrocardia – is a congenital defect in which the heart is situated on the right side of the body; a otherwise harmless condition. Or refers to the heart being a mirror image situated on the right side.
Pulmonary Valve Atresia –She has a small pulmonary artery. Blood can't flow from the right ventricle into the pulmonary artery and on to the lungs so low-oxygen (bluish) blood mixes with the oxygen-rich (red) blood in the left atrium.
Atrial Septal Defect (ASD) – also known as a "hole in the heart". Is a congenital heart defect in which the wall that separates the upper heart chambers (atria) does not close completely."
–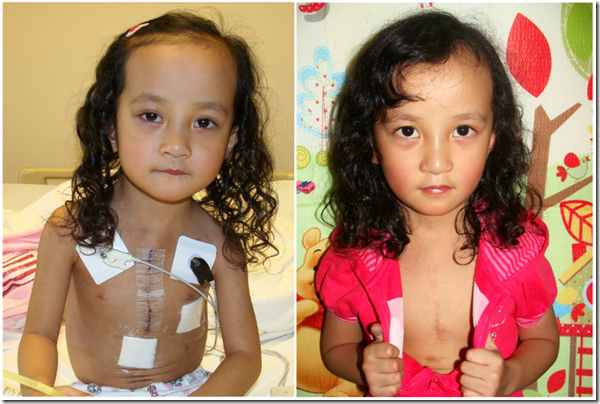 Anika one year ago
With this, a unity run was organized for Anika's heart. A fee of 200 will bring BIG changes in her life. Lending a hand couldn't be this fulfilling!
If you want to help her live a better life, come & run for her!
Have a heart, save hers!
For updates on Anika's condition, visit her blog at:
http://anikasheart.blogspot.com/
For more info, visit the events page HERE
or contact Raianne at