If you're a preschool teacher, then ELMER by David McKee is one story I think you should know! The story may be a little complicated for toddlers, though it may be simplified. Still, I think it's one of the cutest stories around! Plus, the follow up activities are always so much fun to do!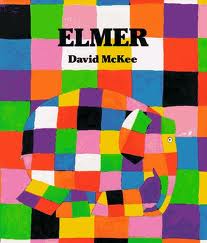 After reading this story to the kids, we decided to make some masks and look just like Elmer! My partner found the pattern from the internet, and I suggested to used torn paper of different colors to resemble Elmer.
.

What you will need:
Crepe Paper/Japanese Paper
Glue
Mask Pattern
Long tissue tube/2 short tubes
Paint
Popsicle sticks
Colored paper for the elephant's inner ear
Folder
.
.
Step 1: If you have a long tissue tube then great, but if not, tape 2 short tubes together to make a long one and let the kids paint it
.
Step 2: Cut out the mask using a folder
.
Step 3: Let the kids tear some paper and start sticking it on the mask. Don't forget to also glue on the inner ear
.
Step 4: Help the kids glue on the trunk (tissue tube) and the popsicle sticks
.
Step 5: Have fun!