Got milk? Ever since we were young, our parents have already taught us the importance of milk, but as we grow up, we tend to neglect this need. The worse part about this that even kids are beginning to dislike milk, and we all know how growing kids need milk.
Nutrition disorders such as malnutrition and obesity are particularly rampant with children. They interfere with the child's grown and development which could lead to serious health problems. Based on a 2008 survey of the World Health Organization (WHO), more than one in ten adults are obese. Obesity and being overweight are the fifth leading risk for global deaths. And what's alarming is that even children are experiencing overweight issues as nearly 43 million children are overweight based on the 2010 WHO data.
Alaska Milk Corporation is on a continuing mission of providing Filipino families with superior and affordable nutrition.With its firm commitment of putting the benefits of drinking milk and healthy lifestyle at the forefront of consumer awareness, Alaska Milk joins in the celebration of the World Milk Day starting June 1, 2013 as they hold the first-ever ALASKA WORLD MILK DAY.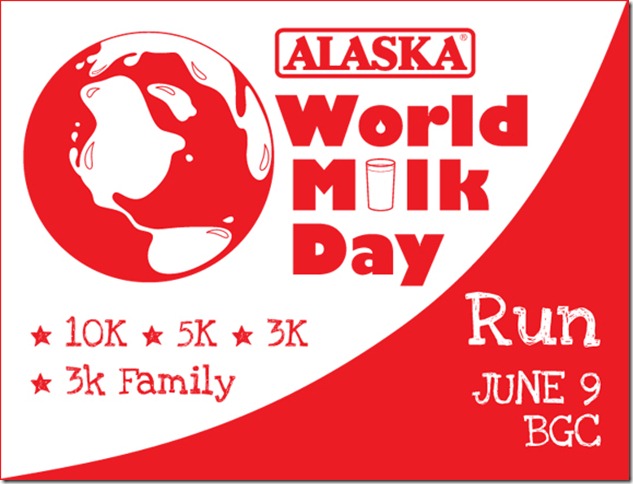 Alaska World Milk Day Run Race Details:
What: Alaska World Milk Day Run
When: June 9, 2013
Where: Bonifacio Global City
Race Categories: 3k individual, 3k family, 5k and 10k
Gun start time: 6:30am, 6:00am and 5:00 respectively
Alaska World Milk Day Run Registration Details:
In-store/On-site registration from May 11 to June 7, 2013 at G/F Glorietta 3 (infront of Zara Store beside Mercury Drug)
Online registration from May 8 to June 2, 2013 HERE
Registration Fee: 3km individual – 500php, 3km family – 1200php (4 members), 5km – 600php, 10km – 700php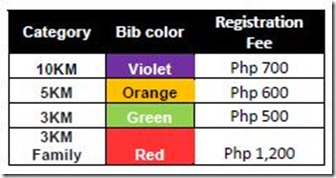 Who can join?
3KM- Child and Adult (Age on December 31, 2013)

3KM Family- 4 members (2 Adult and 2 Child)

5KM- 8 years old and above

10KM- 15 years old and above
ON SITE REGISTRATION STEPS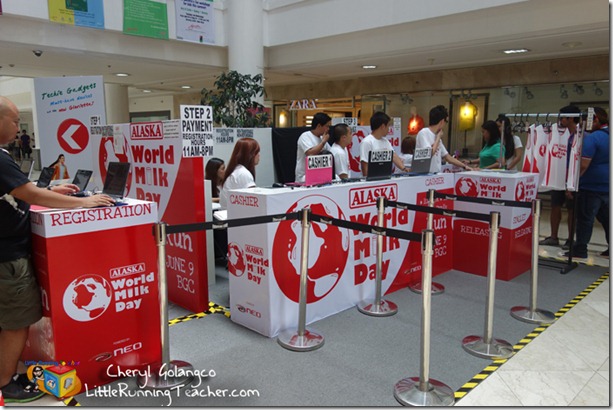 Registration Kiosk at Glorietta
Step 1: At the computer provided, encode all details on E-Registration Form, double check the details then print.

Step 2: Once accomplished registration form is printed, sign the waiver which will be seen at the bottom part of the registration form.

Step 3: Present the signed registration form at the CASHIER and pay for the registration. Registration staff will give the race kit upon payment.

Step 4: Present your singlet stub at the SINGLET RELEASING area to claim your singlet. Note that singlet size is subject for availability. We follow first come, first serve basis.
Alaska World Milk Day Run Singlet Design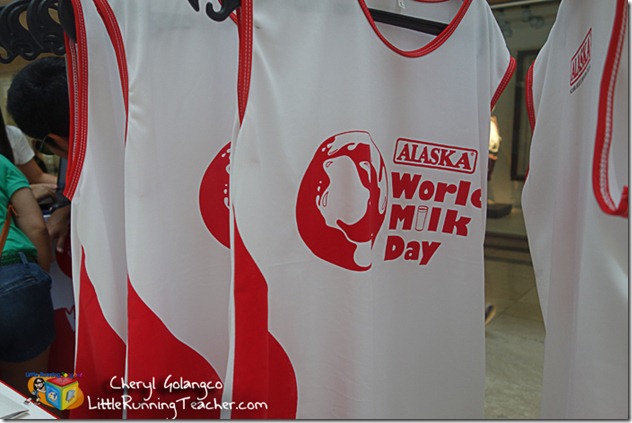 Alaska World Milk Day Run Race Maps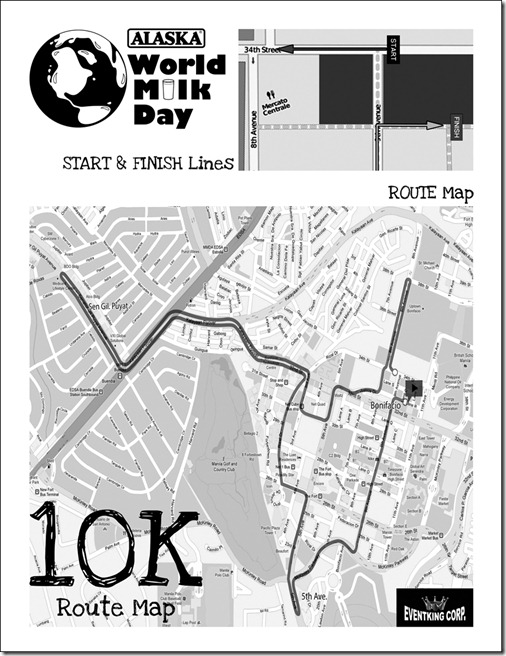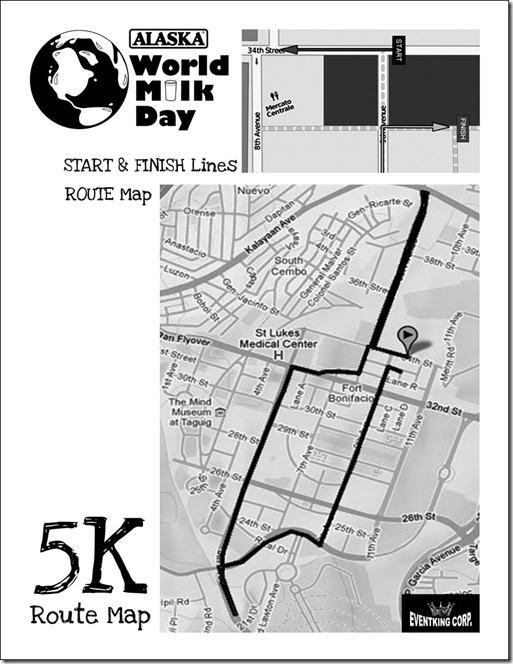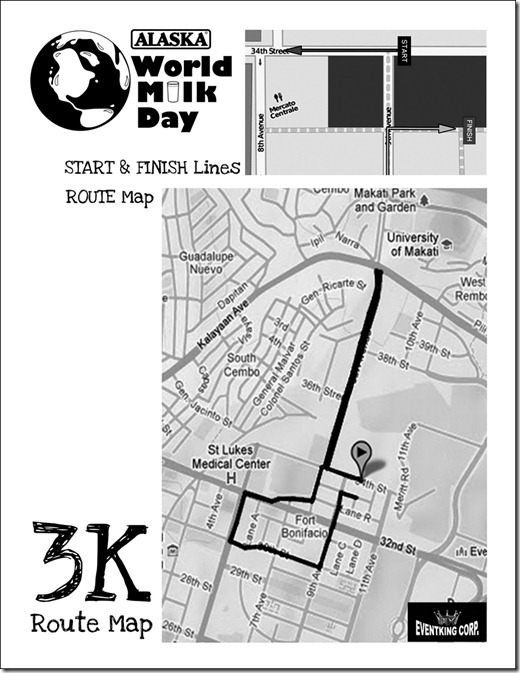 World Milk Day PH will also feature "Look Who's Drinking Milk" digital advocacy campaign where photos of local celebrities and other personalities drinking milk and wearing a milk mustache will be posted. This aims to help educate people that drinking milk is cool, healthy and fun all at the same time.
Alaska Iron Kids Run
The Alaska World Milk Day event will kick-off with the Alaska Iron Kids run which is part of the three-pronged sporting event of Alaska IronKidsPhilippines. With today's generation, it is just fit that kids realize the fun their missing outside. The run aims to get kids into sports without the pressure.
Alaska World Milk Day Run is organized by Eventking Corp.
For updates,
Follow the Little Running Teacher on FB and Twitter
For more information,
visit the www.alaskaworldmilkday.com