Some people say, that unless you've participated in the National Milo Marathon, you are not yet a 'real' runner. It is considered the godfather of races and labeled as the country's most prestigious running event. For  the past 38 years, Milo has continuously been encouraging runners to go after their dreams. This year, the National Milo Marathon, is set to mark its 39th season… and I'm just as excited as all of you!
The Milo National Marathon will have 18 regional legs, starting with its Dagupan leg on Jun. 28. The 2 new locations in Balanga and Calapan are also something runners can look forward to.  The run will then culminate with the National Finals which will be held in Angeles, Pampanga on Dec. 6. The reason for the change in venue is to be able to better care for the runners as well as provide new and exciting experiences for participants. "With these routes, runners will be able to get a chance to enjoy being away from the hustle and bustle of Metro Manila, will less traffic and pollution. We believe that our runners will appreciate this," said Rio Dela Cruz, Milo Marathon Organizer. Personally, I think it's a good move. Though it might be give those residing in Manila a harder time in terms of travel, we have to remember that runners are coming from all over the country… so there's nothing wrong with going an extra mile if you really want to join.
230,000 runners are expected to participate this season, with runners coming from all walks of life, from across the country and internationally.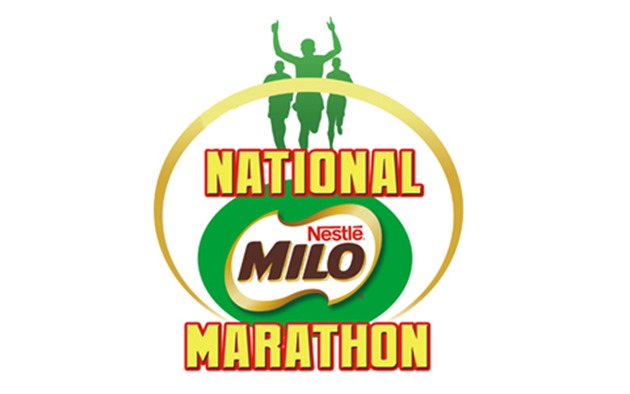 39th Milo National Marathon Race Schedules:
Dagupan – June 28, 2015
Baguio – July 5, 2015
Tarlac – July 12, 2015
Bataan – July 19, 2015
Metro Manila (SM MALL OF ASIA) – July 26, 2015
Calapann – August 2, 2015
Lipa – August 9, 2015
Naga – August 16, 2015
Lucena – August 30, 2015
Iloilo – Sept. 20, 2015
Bacolod – Sept. 27, 2015
Tagbiliran – Oct. 4, 2015
Cebu – Oct. 11, 2015
Gen. Santos – Oct. 18, 2015
Davao – Nov. 8, 2015
Butuan – Nov. 15, 2015
Cagayan de Oro – Nov. 22, 2015
Angeles (Finals) – Dec. 6, 2015
Gun Start Times:
42k (Manila and Angeles only): 3:00am
21k – 4:30am
10k – 5:00am
5k – 5:30am
3k – 5:35km
Milo National Marathon Registration Details:
Interested participants are required to pay a non-refundable entry fee plus one (1) Milo 300g. empty pack alongside the accomplished and signed official registration form
Registration Sites:
Registration Fees: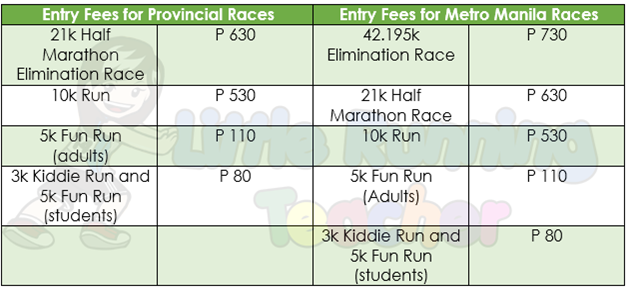 P 10 will be donated to the "Help Give Shoes" advocacy
Milo National Marathon Rules and Regulations:
Participants SHOULD WEAR their Milo Marathon singlets and race numbers during the race or they will NOT BE ALLOWED to run.
Participants need to follow the following age requirements for the various categories: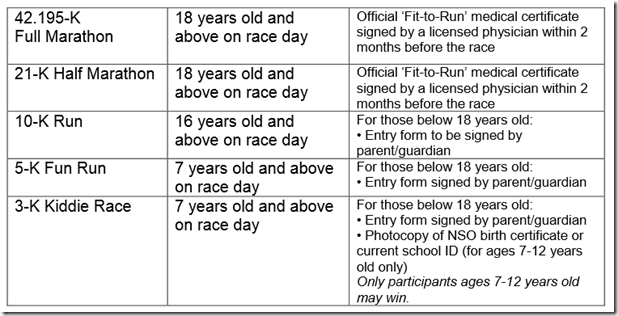 Only local participants (Filipino and foreigners with working visa) can join and win in the 42.195k and 21k elimination races. Overseas participants may join and compete in the 42.195k and 21k National finals for as lng as they fulfill the requirements (to qualify, overseas runners must provide proof of finish in any AIMS/IAAF accredited races dating back at least one (1) year before race day or they may quality in the Manila elimination race. They must a a finish time within the specified age-bracket and time identified.
**Download the complete list of rules and regulations HERE.
Milo National Run 2015 Cut Off Times:
42.195K Race – 6 hours after official start of the race
21K Race – 2 ½ hours after official start of the race
10K Race – 1 ½ hours after official start of the race
5K Race – 1 hour after official start of the race
3K Race – 1 hour after official start of the race
To ensure timely re-opening of roads to normal traffic, race organizers will set time limits at specified distances. Participants who fail to reach these distances in the times specified are automatically disqualified. They must stop running and board the official vehicle, which will take them directly to the finish venue.

Milo National Marathon Champions: Prizes and Awards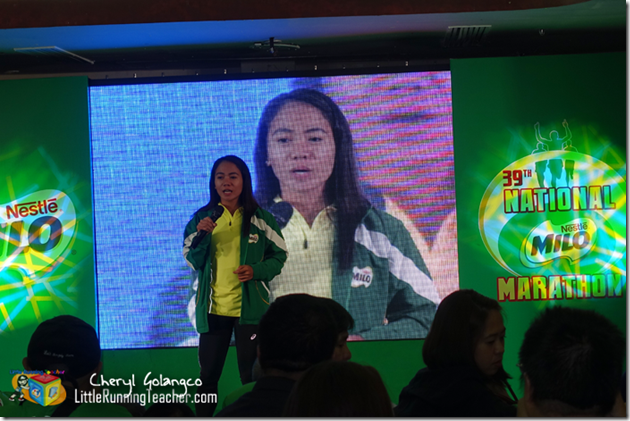 SEA games silver medalist and Milo Marathon queen, Mary Joy Tabal
Last year's winners Rafael Poliquit and Mary Joy Tabal will be looking to defend their coveted National MILO Marathon King and Queen crowns as they go head-to-head with the country's best this season. In line with MILO's commitment in supporting the country's finest athletes in establishing their prowess in the global competitive arena, this year's National Finals victors will be given a chance to join the 2016 Boston Marathon, one of the six World Marathon Majors, and the world's oldest annual marathon which ranks as one of the world's best-known road-racing events/.
"The Boston Marathon is considered as the Mecca of all races, where the best of the best runners compete. We at MILO believe that our Filipino runners have what it takes to go head-to-head with the world's finest athletes," said Andrew Neri, MILO Sports Marketing Manager. "It will surely be a challenging yet fulfilling experience for our 2015 MILO Marathon King and Queen as they represent our country with pride in the Boston Marathon."
MILO Elimination Prizes and Awards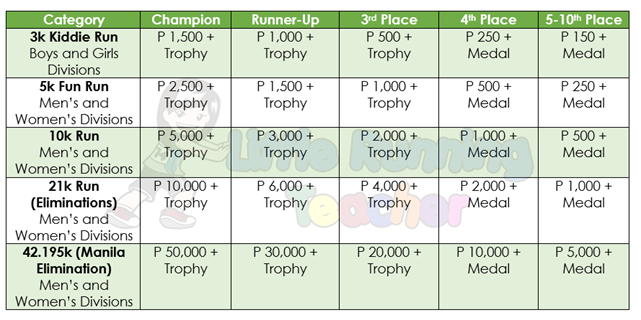 *Note: Finishers in all categories within the cut-off time will receive a certificate of finish.
*Note: All 21k finishers within the cut of time will receive a medal and loot bag.
*Note: All 42k finishers within the cut of time will receive a medal, loot bag and finisher's shirt
MILO National Finals Prizes and Awards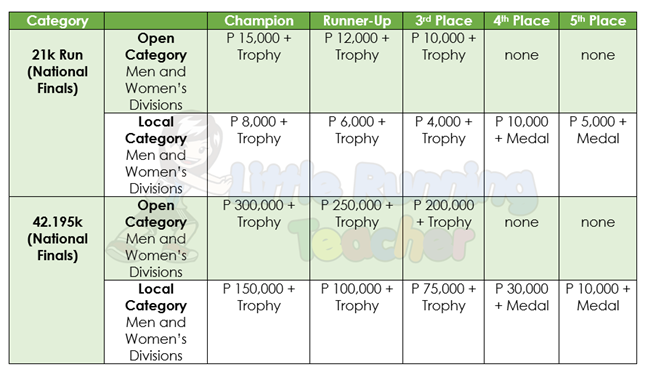 *Fast Filipino winners  42.195k (male and female) will be dubbed as the 2015 Milo Marathon King and Queen respectively and will be given the opportunity to compete in the Boston Marathon. All expenses will be shouldered by MILO.
Bonus for local runners
If local runners are amongst the top winners of the open category, they will also win the prize for the local category corresponding to their respective ranks.
P100,000 bonus for the first runner who breaks the 2:15:00 invisible time barrier
P50,000 bonus for the first runner who breaks the 2:18:52 men's course record of Eduardo Buenavista
P50,000 bonus for the first female runner who breaks the 2:48:00 women's course record of Mary Joy Tabal
Winners must by physically present to receive their awards during the awarding ceremony. Uncollected prizes will be donated to the "HELP GIVE SHOES ADVOCACY" or disposed at the discretion of the race organizer.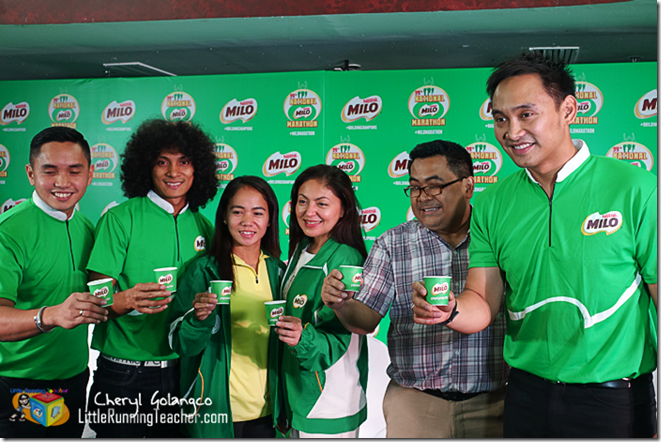 From left: Robbie De Vera, MILO Sports Executive, Coach Rio De la Cruz, National MILO Marathon Race Organizer, Mary Joy Tabal, 2014 MILO Marathon Queen, Sherilla Bayona, Business Executive Manager, Beverages Unit, Nestle Philippines, Atty. Tonisito Umali, Asst. Secretary for Legal & Legislative Affairs, DepEd, Andrew Neri, MILO Sports Marketing Manager
For other questions and concerns,
visit http://www.milo.com.ph
or https://www.facebook.com/milo.ph
Twitter @MiloPh
Instagram @MiloPhilippines
For updates on other runs or to just keep in touch
visit http://www.facebook.com/littlerunningteacherpage
twitter.com/cherylgolangco