Kids love playing with robots! They play with a variety of these each day. They play with simple robots like toy cars to more complicated robots that walk, talk or even fly. The world of science fascinates them without any of us even realizing how deep this fascination could go.
I personally am very much fascinated with robots, however, playing with them and learning to make them are two very different things. The idea of learning robotics is one that intimidates me a lot, and I feel learning it would be so difficult. So imagine my surprise when I found out about a learning center that actually teaches robotics to preschoolers and young children? Uhm, can I enroll too? *wink*
I first heard of First Robotics Learning Center at the Superkids Conference last September and immediately scheduled a visit to their center. Here's a quick video to give you an idea what First Robotics Learning Center is about.
First Robotics Learning Center

The environment
I really liked the place! The moment I stepped in, there was a feeling of fun and play, as if I were in my preschool classroom. It could've been because of the toys, the vibrant colors or the simplicity but nonetheless, I liked it. I was then led inside where there were around 4-5 other rooms for each level of the robotics class. Before entering those rooms though is a tall locker type cabinet where children are asked to leave their belongings. I especially liked that these cabinets were kept simple but with a single cartoon character in the middle for identification. Cute.

The 4cs of learning
Connect: Knowledge is created by actively engaging our minds in problem solving and by linking our previous learning experiences with new ones.
Construct: Putting ideas into physical building team work, innovation and sharing.
Contemplate: Analyze and reflect on the results to deepen understanding
Continue: Urge to improve and fine tune work, create cycle of better and higher learning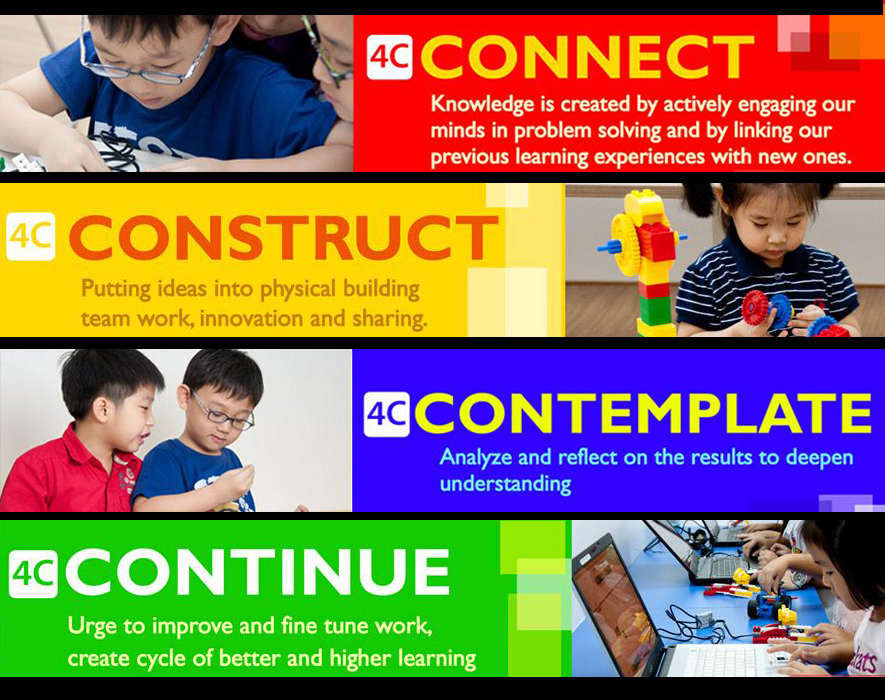 The classes
There are 3 courses offered. One for children 5 and up, another for children 7 and up and another for children 9 and up. On the child's first day, they will be placed in their age group, however, if they are advanced or lag behind, they will be adjusted to the right level for them.
In each age group, the manner in which robotics is taught varies. I got to witness how each class makes every learning experience unique. In each class, the 4Cs are followed. Hence, they start out with a story, then they are presented with a problem in which they need to construct a robot, after which they will test the robot and answer a short worksheet and lastly, they continue to play and build their robot to make it even better.
The teachers also introduce a vast list of vocabulary words such as element, sensors, etc. They explain the meaning of these terms at the beginning and use it throughout the class to help kids really grasp the concept.
5+ Our World of Adventures
Most of the kids here are getting their first experience with robots and building. Hence, their goal is much simpler than the older kids. After hearing the story, they all tried to solve the problem presented at the end and built their own cars. They even got to test which launcher would make the car go faster! Cool.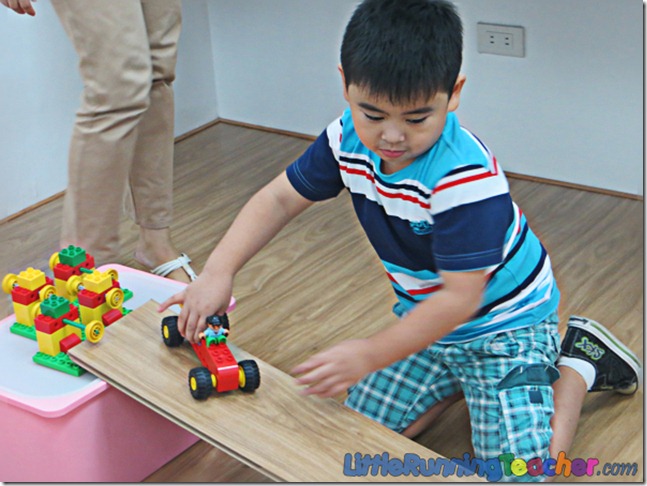 Check out Zac as he tests if he's car can go up and down smoothly.
7+ Our World of Science and Technology
The kids in this level learned their lesson the same way, however, the constructing part is much different. Here they used pre-programmed elements to connect to the robot. These were also connected to the computer so they could further manipulate it. It was fun to see how each child tried to figure out how to put together the robot or what part to use to make the robot do what was needed. E.G. "Make the robot sleep and wake up!"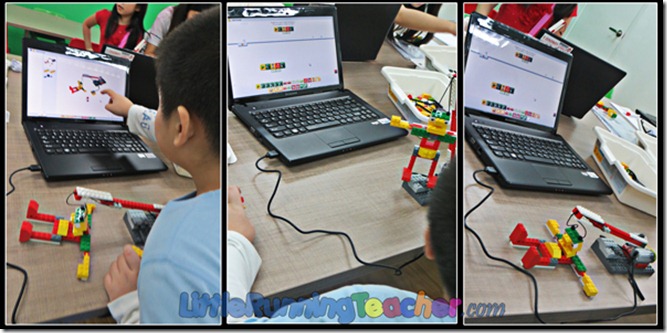 The same process still follows for the kids in this level, the difference is though that the robots aren't pre-programmed yet. Hence, they are able to let the robot do whatever they want. They get to program on the computer what they want their robots to do!  (Can I please enroll too??)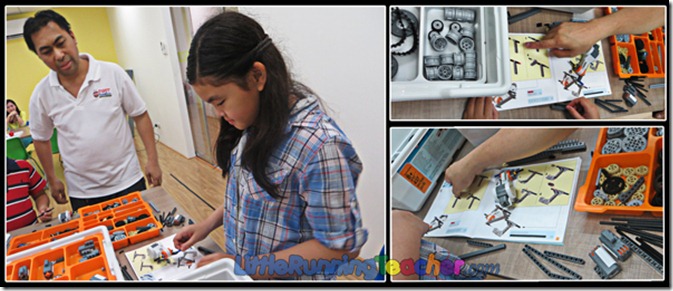 Paige trying her hand at robot building with her First Robotics teacher guiding her through it
First Robotics Learning Center activities develop students through the STEM education approach; an acronym for SCIENCE, TECHNOLOGY, ENGINEERING and MATH. Children will have fun and gain knowledge by engaging both their minds and hands. They will learn to solve problems by building models, observing and reflecting on the results, and facing challenges that will inspire them to continue learning.
Schedules
The 5+ and 7+ have one and a half hour per week while the 9+ have 2 hours per week. It's just one session a week by the way, and you can select your most convenient time. There will also be a graduation upon completion of 12 sessions. For more inquiries, kindly contact them through the contact details listed below.
My thoughts
I have always been a fan of multiple intelligence. I have always thought that each child learns on his own pace and in his own way. Just because your child isn't getting good grades in school (by this I mean the traditional school), doesn't mean he's clueless on the subject, it's possible that he just isn't learning the way he does best. Even adults fall asleep at a seminar, so why expect the opposite from kids? What I loved about First Robotics is the fact that kids get to PLAY continuously while also learning math, science, technology and engineering! They figure out how to put the robot together or how to make it move. They take on various challenges and complete tasks simply because it is fun.
I strongly urge parents to enroll their kids or inquire about the school, especially for those kids who enjoy taking things apart or putting them together. Imagine being able to develop math and engineering, science and technology at such an early age -without even making them feel the pressures of traditional schooling. It's all just good, clean, fun!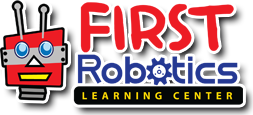 First Robotics Learning Center is located at
Unit 2, Ground Floor, Gold Hill Tower,
5 Annapolis Street, Greenhills, San Juan
Tues-Fri 11am to 7pm
Sat and Sunday 9am to 7pm
(02)696-3333, (0999)8849256