I think I was in high school when people started going gaga over gelato! A variety of gelato shops started opening here and there. Everyone loved it, except me. I  still preferred ice cream over gelato, until I tried Bono.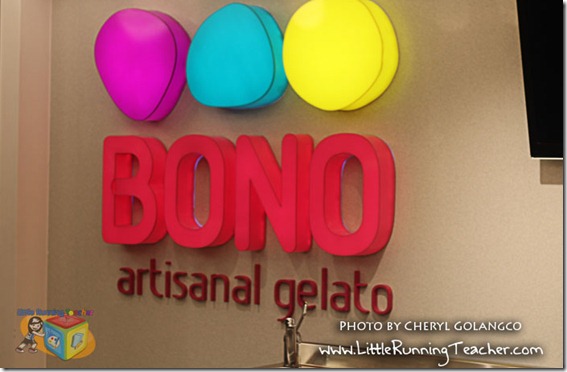 There are only 2 gelato shops I loved, one is Café Publico in Greenhills and the other, Bono in SM Makati. I first discovered Bono while I was on my way to Glorietta from the MRT. This corner shop's light and colors were so vibrant that I had to slow down and check it out. I tried a few flavors, and the one that really stood out for me was their "Movie Night", their Chocolate-Dipped Potato Crisps flavor. . I didn't notice the description when I first tried it out and I was really curious what it was. When they told me it was potato chips, I was like, "What?? I can't believe it tastes so good!" I really couldn't imagine potato chips and gelato and I figured it wasn't a good match, but I was wrong! It's was delicious!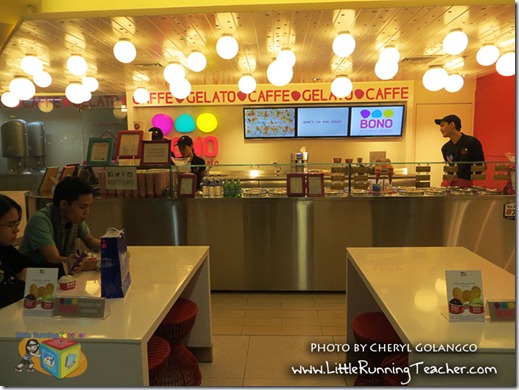 Don't you just love those vibrant colors?
I loved Bono so much that I came back for a second and third time with random friends. It really isn't difficult to find, so I suggest you guys drop by too. So what makes Bono stand out from other Gelato brands anyway?
Their ingredients come from ALL OVER THE WORLD. There's Tahitian Vanilla, California Strawberries, Belgian Chocolate, Japanese Matcha, Philippine Coffee and more!

They make their gelatos the REAL way, everything is made from scratch, no shortcuts and definitely NO artificial flavoring! Every scoop is made not more than 12-20 hours prior to it's release and is NOT just stored in the back.

They use fresh fruits that are in season

Their gelatos are slow-churned giving it less fat, less air and MORE flavor!
Plus, the people behind Bono actually went to a UNIVERSITY to study about gelato! Yep! I didn't even know there was one! It's the Carpigiani Gelato University in Bologna! Cool huh?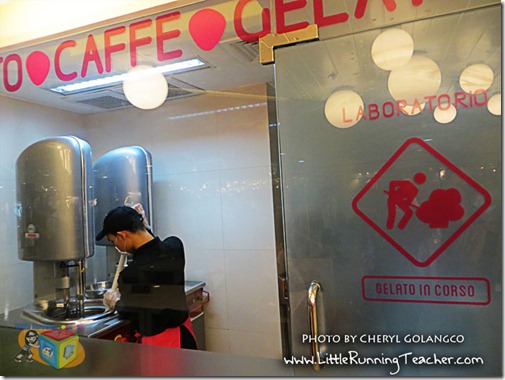 Ice cream being churned at Bono Artisanal Gelato
Besides Movie Night, Bono has several other flavors to offer. Their best sellers are available all day everyday while other flavors are only available on selected days.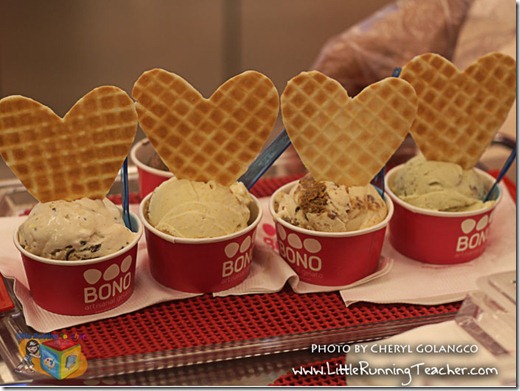 Cute heart waffles on each gelato cup for Valentines Day
I actually got to taste most of their flavors but let me just share some of it with you! Another favorite for me would be the Pistachio flavor! I love Pistachio and Bono's version not only tastes fresh and good, but has actual roasted pistachio in it! yum!
Then there's Speculoos! Sounds like a magic word doesn't it? Abra Kadabra Speculoos Palooza! Ok, just playing around. The Speculoos is actually composed of Belgian Cookie Butter. To me, it tasted like I was eating a cake that was magically turned into ice cream! It actually tasted a bit like Leche Flan or Mango Graham Cake..without the Graham! I just loved it.
Another unique flavor they offered was Cereal and Milk. This flavor tastes like actual cereal that was turned into a gelato flavor! Cereal and milk just got more exciting with Bono!
Peperoncino with Siling Labuyo was my friend Ivy's favorite flavor. You read it right… WITH SILING LABUYO! I've never heard or tried anything like it. It tastes really sweet when you eat it, but a few seconds later, your throat would slightly heat up and you'd feel the hot chili! I can't take chili foods but this was one unique and even challenging flavor to try!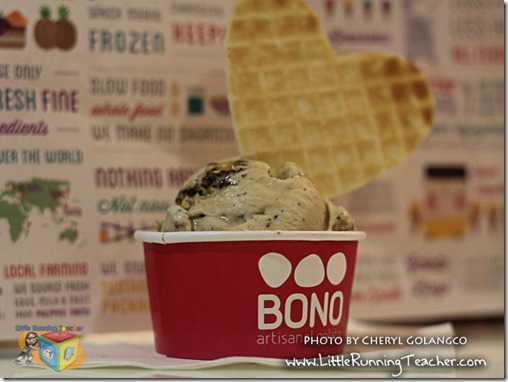 Bono Artisanal Gelato's Coffee Honeycomb
One of their newest flavors is the Coffee Honeycomb! It was super yummy and somehow tasted like Malteasers! This was the first time I've tried honeycomb in gelato/ice cream. I love it!
If you prefer your gelato without any milk, then try out their Strawberry and Proseco or the Ciocolato. The Strawberry and Proseco actually tastes like sorbet while the Ciocolato is made of 70% pure chocolate!
Bono releases a minimum of 8 flavors and a maximum of 14 flavors per day but they have so many more to offer! So I suggest you guys drop by as often as you can to check what flavors you have yet to try.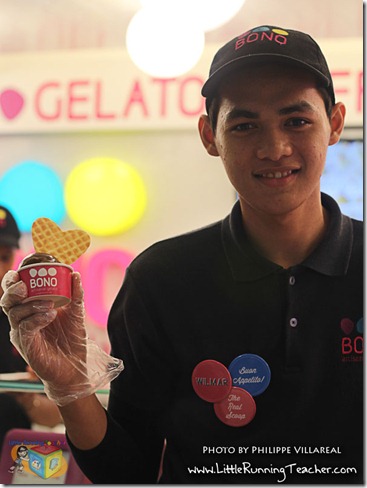 Bon Appetito!
Prices are at P85, P130 and P200 for each cup.
Bono Artisanal Gelato
2/F SM Makati
(right before crossing to Glorietta)
https://www.facebook.com/BonoGelato