Education is a very valuable thing! Those who have it, often take it for granted, and those who don't, strive hard to get it. St. Scholastica's Academy Marikina Alumnae Association understands this need and organized a fun run called "ScholaRun" in hopes of raising enough funds to send those deserving to school.
SCHOlaRUN is a fun run activity organized by SSAMAA to raise funds for financially challenged but deserving scholars of St. Scholastica's Academy Marikina . The title comes from the school's name, St. SCHO, the term "scholar" and the event, Run. It features 10k, 5k, 3k and 500M (Kiddie Run) events.
Proceeds of this activity will go directly to the scholarship fund that will help these students go back to school. Last year, the group was able to help 17 students! What do you say let's lend a hand and help them be able to give the gift of education to EVEN MORE kids?
What: SCHOlaRUN 2
When: May 6, 2012 (Sunday)
Where: Marikina Heights, Marikina City
Race Categories: 10k, 5k, 3k, 500M
Gun start 5:30, 5:45, 6:00 and 6:15 am respectively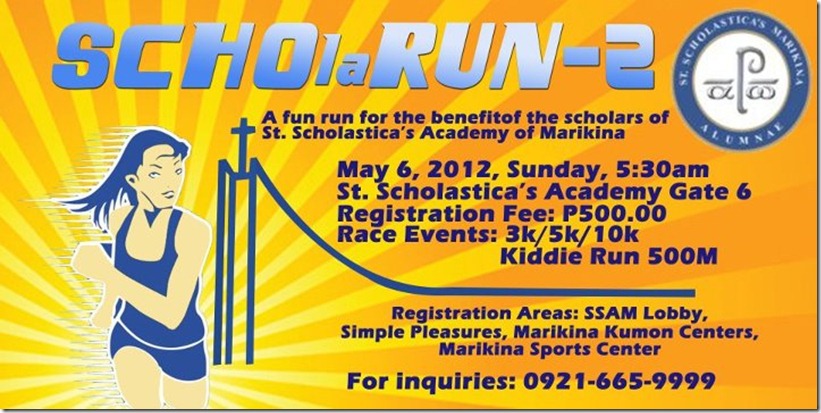 REGISTRATION FEE
Php 500 inclusive of singlets, bibs, and race routes.
Php 300 for KIDS (no singlet, race bib only).
Php 150 (no singlet, race bib only) for SSAM students with valid SSAM ID SY 2011-2012 or early enrolees for SY 2012-2013 with official receipt.
*Kids 8 years and below should be accompanied by an adult. Companions will be charged accordingly.
REGISTRATION SITES:
Register Online HERE
SSAM Registrar's Office (Mon to Fri 8:00am – 4:30pm)
Payment should be made at the SSAM Business Office
Joji Ventanilla-Torres '78/Belen Ventanilla-Camarista '83
CMT Bldg. 90 Katipunan Road, Concepcion 2 Marikina City
Store Hours: 10 am to 7 pm (Closed on Sundays)
Telefax: 997-1829 OR Mobile: 0917-511-9478
SSS Village Center (Closed on Wednesdays)
c/o Teacher Arlene (934-5649)
23 Russet St., SSS Village, Marikina City
Marikina Heights Center
c/o Teacher Lilit (940-4891)
2F C&B Circle Mall, Marikina Heights
(Top of Jollibee)
 Masinag Center
c/o Teacher Naty (646-8832 or 925-0844)
8am to 5pm (Closed on Wednesdays)
/F J&F Building I, Marcos Highway
Concepcion Uno Center
c/o Teacher Jocie (942-2558)
731 JP Rizal, Lamuan, Marikina City
(front of South Supermart)
 KUMON Tuazon Avenue Center
c/o Teacher Rommel (369-7840)
Thaddeus Arcade, A. Tuazon Avenue
San Roque, Marikina City
Eastwood Center
c/o Teacher Aggo (Tel. No. 634-3631)
2/F Magnitude Building
186 E. Rodriguez Ave., Bagumbayan, Quezon City
–
Singlet Design: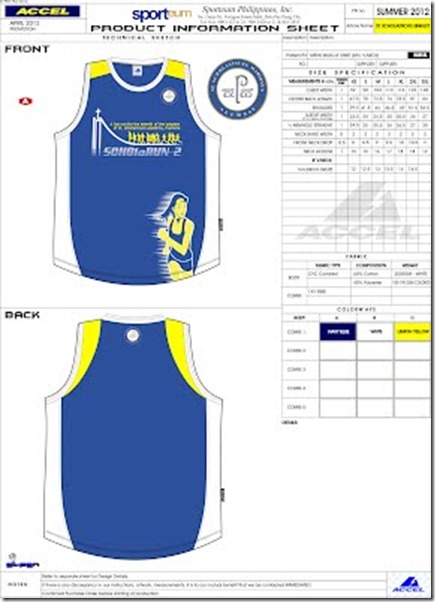 For more info, you may contact 0921-665-9999 or email them at [email protected]
or visit their website
ScholarRun 2 is organized by St. Scholastica Academy Marikina Alumnae Association