So last year, I saw this amazing art activity from Deborah of TeachPreschool.org, and had to try it right away! We did almost the exact thing that Deborah showed in her tutorial and it turned out to be a huge success. Not only did the kids love how it felt, but they also enjoyed the unique experience in making these shaving cream ice creams! Some of them even tried to eat it! Lucky we caught them in time!
–
This year, I have a new batch of students and it's their turn to experience this puffy ice cream activity! However this year, we decided to experiment a bit and turn it up a notch. Instead of just letting them play with the shaving cream and make the ice cream, we had our own ice cream party and let them put some pretend candy sprinkles on their ice cream.
–
What you will need
Shaving cream
Glue
Paper
Cone cut out (optional)
Art paper/Japanese paper
Scissors
–
Before handing the kids the materials, we cut some Japanese paper and art paper into shreds to make it look like candy sprinkles! :)
 –
To make the mixture, you can check out my previous post on Puffy Ice Cream –> HERE.
We let the kids mix the glue and shaving cream in one container, and then have them scoop it out using their hands and spread it on their papers! They had fun choosing the flavors (mango, strawberry, bubblegum, chocolate, etc.) and getting messy with the mixture!
*To view a more detailed article/tutorial, check out the PUFFY ICE CREAM activity HERE.
–
Experiment #1: Experimenting with "Candy Sprinkles"
After the kids were satisfied with the ice cream they've made, we handed them small cups filled with the candy sprinkles. Some of them slowly sprinkled it on top, while others just poured the whole thing in!
–
Experiment #2: Experimenting with "Chocolate Syrup" and "Whip Cream"
I also tried putting some "chocolate syrup" on mine with cherry on top by squeezing out some paint. (which I put into a small glue container)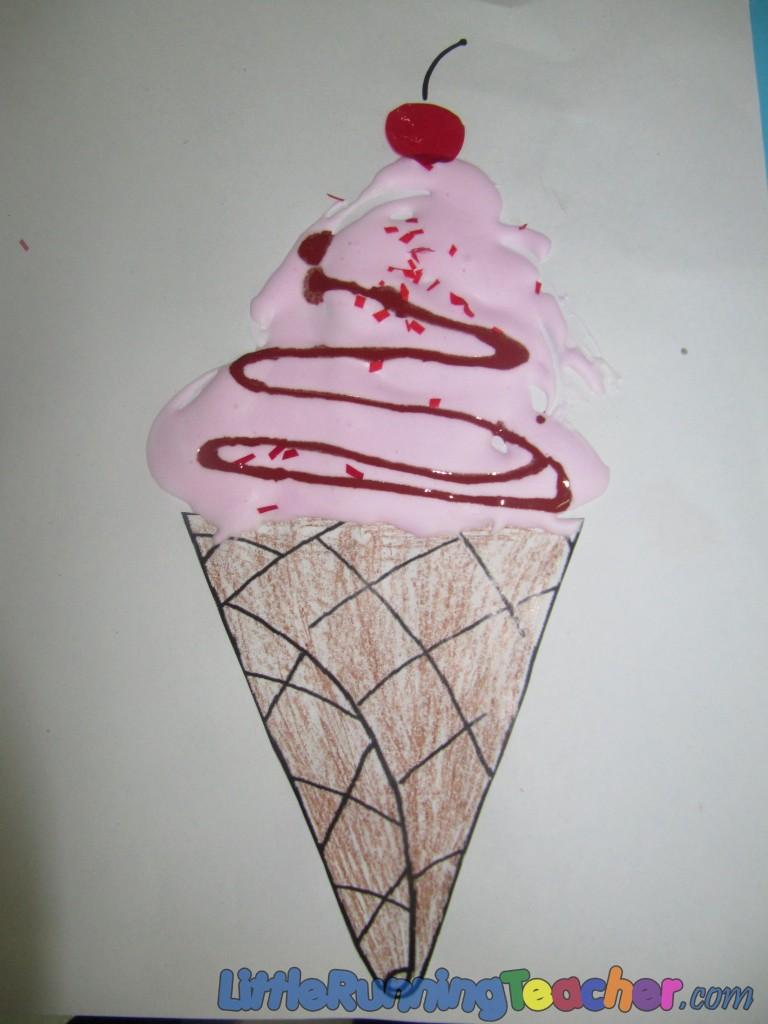 –
It didn't quite turn out the way I wanted it to though…
The shaving cream which I pretended to be whip cream seemed to sink into the glue/cream mixture. Leaving that as the result! Guess next time I'll just stick to the candy sprinkles! :)
–
Then again, if you just want to keep it simple and stick to the original, you can always do so!
The Original Puffy Ice Cream Art!
–